Sunny Hill Intermediate School – Reaching for Excellence
In the principal's office of Sunny Hill Intermediate School, there's a piece of art made from metal hanging on the wall. It's difficult not to notice. The metal is twisting and turning as it branches outward and upward toward the ceiling. It resembles lightning splintering the sky or maybe even veins on the back of a hand – connected, but diverging in unpredictable ways.
"That's Darwin's Tree of Life," Alex Aitken explains, pointing to the branch-like structure on the wall.
Alex is a few months into his first year as principal of Sunny Hill Intermediate School in Brownsville, Tennessee. And, much like the art on his wall, Alex's journey to this career was full of twists and turns.
"I was in a Biology class and my professor was a man named Billy Williams. It was the first time I saw anyone who loved what they did; he was so passionate about it. After that class, I pursued Biology and ended up at the University of Memphis," Alex explained.
While at U of M, Alex was in the pre-med program and had plans to become a pediatrician. He volunteered at clinics and at the MED (now known as Regional One Health) in Memphis. That experience, however, had him questioning whether or not a job in the medical field was right for him.
"When I volunteered at local clinics and the MED in Memphis, I liked the work but I hated the system. The first question when a patient was admitted was always 'What's your insurance?' and not 'What's wrong?' That really turned me off."
Alex believed the basis for a job in healthcare should be prioritizing the patient's health and not how or if they could afford the care being provided.
Two weeks before he graduated, he realized that he didn't want to go to medical school.
"Education wasn't really a thought for me; it was plan Z. But, I got a call from the principal at Munford High School about an open Biology position, and, after the first day of teaching, I was hooked."
After spending six years in the classroom, Alex was ready to branch out and begin a new role as an administrator. That is what brought him to Haywood County.
"When I had the opportunity to come to Haywood and be an assistant principal, I talked it over with my principal at Munford. I decided that I could learn more about administration in six months as an assistant principal than I could in six years as a classroom teacher," Alex explained.
After three years as an assistant principal at Haywood High School, Alex started his first year at Sunny Hill Intermediate School this past August. The transition from teaching older students to leading a school of elementary students has been challenging but also rewarding.
---
"One thing I love about this age, though, is how engaged they are in learning. In a lot of ways, this age is the second and last opportunity for these students to find a love of learning."
---
"I've taught eleven years at the collegiate level and six years at the high school level," Alex said. "This is my first year with this age group, and it's been a huge transition. One thing I love about this age, though, is how engaged they are in learning. In a lot of ways, this age is the second and last opportunity for these students to find a love of learning."
He points to the piece of art on his wall again.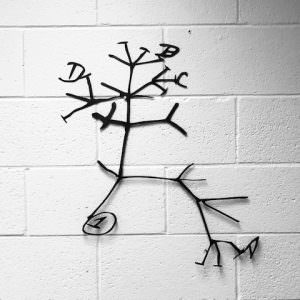 "Darwin's Tree of Life – I talk to every kid that comes into my office about this. I tell them 'Your major tree and pathways haven't been developed yet. Your preparation now, though, will determine which tree you're going to be.'"
While evolution is a consistent theme throughout Alex's journey to education, it is also intertwined in the faculty he has assembled at Sunny Hill as well as the building itself. Twelve teachers at Sunny Hill are new to the building for the 2021-2022 school year and nine of those twelve are first year teachers. While some administrators would see that number of new teachers as a burden, Alex saw it as a way to develop and mold the culture of the school at Sunny Hill.
"We hired twelve new teachers and of those twelve, only three had prior experience. It's honestly really fun to have that. They're teachable and want to constantly get better," he said. "They know they don't know everything and so they want to learn. You can't pour anything into a cup that's already full."
Not only are a lot of his teachers new, the rest of the administrative team at Sunny Hill is new, too, and it's something that is very exciting for Alex.
"A big reason I love my role as a first year principal is because my two assistant principals are brand new, too. I'm brand new as a lead administrator. My instructional coach is brand new. They want to learn. They know they don't know it all. It's refreshing."
As an administrator, Alex wants to be a leader who will come alongside his faculty and support them by doing the work with them.
"My idea of a leader is one who's rolling up their sleeves and doing the work alongside everyone else," he said.
This was evident during the summer when Alex and his staff literally rolled up their sleeves and put fresh coats of paint on a building that had served as the district's alternative school for nearly a decade.
The aesthetic appearance of a building can be important in the role it plays in learning. Students want to feel welcome and safe and valued. A fresh coat (or more) of paint goes a long way in changing the feel of a building.
---
We don't want to erase history, just reset it.  We're  starting a new branch for this school.  We're evolving"
---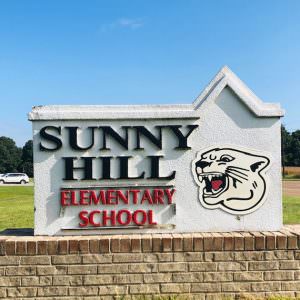 "My hope was to take pride in the building. For a long time, Sunny Hill was the alternative school. All of the kids who attend here, that's all this building has been to them until now. That's what we're trying to beat. So, when kids walk in we want them to see new paint – it's bright; it's crisp. The cafeteria has new paint and there's new fans, new lighting, and soon new tables. The plan is to extend the same concept down the hallways – get rid of the leftover red. We don't want to erase history, just reset it. We're starting a new branch for this school. We're evolving"
Anything new has the potential to be a little scary. Change simply for the sake of change can be negative, but evolution is something completely different. It is growth along with change. Sunny Hill is evolving. There are new students, new grade levels, new teachers, and a new principal.
"We're a new branch," Alex said. "Reaching for excellence."