Tanya Harrah – SOA Teacher of the Year
There's a lot to be said for picking up and moving to a new state, new city, and new part of the country. For some people, monumental change can feel overwhelming, but for others a life-altering change can be invigorating. 
Four years ago, Student Options Academy teacher Tanya Harrah left Southern California – the place she'd lived her entire life – and moved with her daughter and parents to Haywood County. She bought her house by searching for it on the internet; she interviewed for her job with Haywood County Schools over the phone. She and her family rolled into Brownsville the day of the Homecoming Parade in 2018, and she knew she'd made the right choice.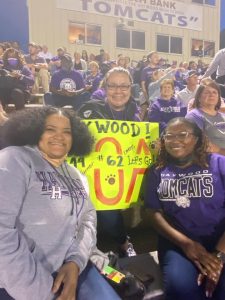 Since that day, Tanya and her family have invested in the community and the school system in every way possible. You can see Tanya at every football game on Friday nights – home and away. In her pictures on social media, you'll see more purple than you would at a Minnesota Vikings game. In fact, no one in Brownsville would be surprised if Tanya bled purple instead of red. That's how much she's invested in Haywood County and Haywood County Schools.
From the beginning of her career in HCS, Tanya has taught at the Student Options Academy. The SOA is a unique and necessary learning environment that helps meet students where they are and provides support for students to finish their high school degree as well as be prepared for whatever comes next in their lives.
Tanya loves her work at the SOA and the opportunity it provides her to work with students that some people have counted out.
"This building houses the Alternative Learning Center and the Student Options Academy. The ALC is for students who may have been suspended from school and need to be separated from their peers for an extended amount of time. During this time, they still receive state approved curriculum and are able to keep up with their work so that they're not behind when they return to school," she explained. "The SOA is a place where students can come if the traditional school setting isn't working – things like work or having a child. These students still need to finish high school and learn in order to move forward, so we set them up with supports that make sure they reach their goals."
What led Tanya into education was having to deal with a tragedy that greatly impacted her and her parents when Tanya was just starting college.  With the intent to become a Marine Biologist, Tanya began her college career by majoring  in BioChemistry.  That changed early into her college career. 
"When I was in college, my brother committed suicide. I saw how that affected my parents at home; I saw how it affected me. I changed my major after that from BioChemistry to Psychology. I wanted to do bereavement counseling, but that felt too close," Tanya said. 
Because of her brother's suicide and the effect it had on her family, Tanya wanted to pursue a career where she could help people. She wanted to help families and individuals work through difficult times in their lives in hopes of helping prevent a similar tragedy from happening to other families.
"I ended up working with children with autism as a therapist. When I would make a difference with one of those children, I could see a positive impact. If I couldn't give my parents their child back, I could at least help other parents have positive experiences with their children," she said.
Tanya eventually ended up working in a charter school with high school students. When she reflects on that time in Los Angeles and her time in that school, she can see the similarities in those students and the students she has now at the SOA.
"I worked in a high school in Los Angeles and those kids had my heart just like these students at SOA do. Some kids just need to be steered back a certain way and a program like this gives them a second chance to improve their life," she recalled.
This year, Tanya was named the Teacher of the Year at the Student Options Academy. It's an award that is well-deserved and made extra special by the fact that it is voted on by the faculty at each school. Even with the individual accolades, Tanya remains focused on what SOA can provide students rather than what she has done to win this award.
"One of the misconceptions about the SOA is that people think this is the place where 'bad children' come to school and that is not true at all. Our kids are amazing; they are not bad children. They are incredibly capable. I believe there are kids that people count out, but I'm here to be an advocate for them. We want to help them; we care about them. Because we have a smaller environment, we're able to hone in on that one on one instruction," she said.
There are many instances Tanya can think of where she has seen how beneficial the SOA has been for students to attain certain goals that they believed were unreachable. She's seen students finish with their high school diploma after they considered dropping out. She's seen students enroll in college who never thought they could. She's seen students go straight into the workforce after graduating. Not only has she seen it, she's played an important role in those things happening. One story, though, always comes to her mind when she thinks of the SOA and her role in it.
"I had a student in 2018-19. He started off in the ALC and I would work with him one on one. This student was very quiet, but he worked hard. I advocated for him to move up to the SOA rather than going back to high school.  He stayed with us until the pandemic and when that hit, I was on the phone with him making sure he stayed caught up.  He completed his academic work a year ahead of schedule. He wanted to go to Tennessee State, but his GPA wasn't where it needed to be, so he came back and was willing to retake classes to get his GPA up. He would walk here everyday regardless of the weather.  He got his GPA up to 3.06 and a month after that TSU announced that any senior in Haywood would receive a full scholarship, and he's there now. He's very happy and successful.  I don't know that all of this would've happened had he not been in the Student Options Academy," she recalled. 
One story like that would be enough for Tanya to know she made the right choice by changing her career path while she was in college, but she sees stories like that every year. She realizes how lucky she is to be part of them. She also knows the work it takes for stories like these to have happy endings, and she will do everything she can to make sure her students are ready for the next steps in their lives.
"My students are going to know how to read; they're going to know how to problem solve. They're going to set goals for themselves and obtain those goals," she said.
In the end, what makes Tanya a worthy winner of Teacher of the Year at SOA is how much invests in her students and in this district. It's what she set out to do on day 1 and hasn't wavered since. 
"I had a mindset when I moved here that I was going to invest my life wherever I ended up. When we lived in California, I missed out on a lot of my daughter's life, but my whole goal of moving to Tennessee was to slow down. This community lends itself to investment – if I'm going to work here, my daughter will go to school here. I want to work to make this place somewhere that I can be proud to send my daughter. And, I am proud to send her here."