Teaching as a Profession – HHS
In the Teaching as a Profession class at Haywood High School,  Maclin Williamson is teaching his students the skills it requires to be a successful teacher in the classroom by allowing them to organize and teach lessons, observe other teachers, and navigate challenging discipline situations as they prepare for a possible future career in education.
"My goal is for the students to experience and practice as many real-life teaching situations as possible.  Students will go to each school in the district and shadow a teacher once a month.  That way, they are exposed to different grade levels of education.  After observing a teacher, the students will write a reflection report on what they saw and process the observation," he said.  
Not only do students observe teachers across the district, the students also prepare and teach lessons to the class.  
"In class, students will write lesson plans for lessons, teach the lessons, and learn classroom management techniques in real-time," he explained.  "I gave the students my lesson plan template, and they filled it out the way they would if they were a teacher.  I try to break down every aspect of the lesson they need to think about – where would a game fit, where would group work fit, beginning activity and exit ticket, etc."
Students in the class didn't realize how much work went into being an educator.
"None of them realized how much work went into the planning of a lesson and the execution of a lesson until they had to do it," he said.
One of the most challenging aspects of teaching is learning how to manage student behavior.  It can be difficult for teenagers to spend nearly eight hours of their day sitting and listening to instruction.  Sometimes students get a little restless, a little bored.  And, sometimes, when that happens, students can become distracted and disrupt learning.  How a teacher responds to those disruptions can be the difference between the lesson continuing smoothly or everything completely falling off the rails.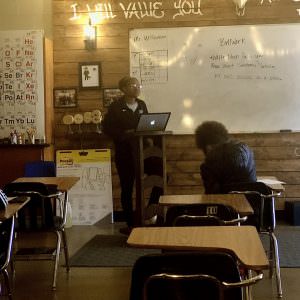 While teaching her lesson to the class, junior A'Nevia Taylor had to deal with a few behavioral disruptions (students weren't actually misbehaving, but acting) while explaining the differences in protons, neutrons, and electrons.  Her calm demeanor and consistent personality helped to diffuse the behavioral situations and allow the lesson to continue.  At the end of the lesson, students in the class gave her three positive points of feedback as well as two things that would have made the lesson a little more effective.
Nearly all the students in class praised the way she handled the behavioral issues in class, but also said they would've liked the opportunity to work in groups or have a review game to play to reinforce the content in an engaging way.  This feedback allows the students to understand what effective teaching looks like as well as hone their teaching skills at an early age should that be something they would want to pursue after high school.
Maclin also realizes there are deeper issues to tackle in the world of education, such as learning equity and equal academic opportunity.  He hopes to explore those topics in class, as well.
"Ideally, I would love to have a lot of conversations with students about what learning equity looks like in a classroom or what having a fair shot at a quality education looks like and the things that are preventing some children from having that.  And, as a teacher, what you can do to make sure every student gets a fair shake," he explained.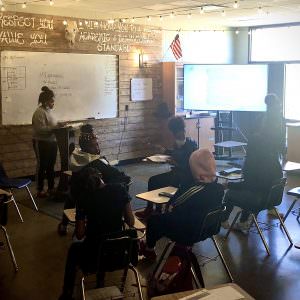 The Teaching as a Profession class at Haywood High School is one of many Career/Technical programs aimed at exposing and preparing students for life after high school.  While students may not be "job-ready" when it comes to being a licensed educator, they are learning skills and principles that will give them a head start as they pursue a career in education in a post-secondary environment.  And, hopefully, they will find themselves returning to the very same building to teach the next generation of Haywood High School.