The Ayers Foundation – Providing Support for Post-Secondary Education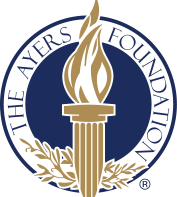 In 2013, Sarah Carr wrote a book titled Hope Against Hope: Three Schools, One City, and the Struggle to Educate America's Children.  In the book, Carr illuminates the challenges of educating children in the 21st century against the backdrop of a post-Katrina New Orleans that was in the process of rebuilding itself.  The following is an excerpt from the book that shows just how challenging it was (and still is) for students to navigate the college application process even after they had been accepted and even offered a scholarship.
One spring afternoon, O. Perry Walker High School Principal Mary Laurie made her way to the school's courtyard, where a lone student sat at a picnic table with a large stack of papers in front of him and a frustrated look on his face. Laurie recognized the student as a shy senior with one of the highest GPAs in his class. The documents, it turned out, were all from Tuskegee University. Tuskegee had accepted the 18-year-old, offering him a full scholarship. But they required a $500 deposit within the next few days if he wanted to secure his spot. The student had no idea what to do.
"If that's where you want to go, let me know," Laurie said. "I'll try to get the five hundred dollars."
The student said nothing.
"You want to go to college, baby?" Laurie asked gently.
The young man nodded and wandered off, a confused look on his face.
If one of Walker's top students was struggling to navigate the college-admissions and financial-aid maze, Laurie worried about how less-motivated students were faring. Earlier that winter, she had decided Walker needed to do a better job helping its students sift through the process. Now she saw how far the school still had to go.
While educating children in New Orleans after a devastating hurricane brings its own, unique challenges, the excerpt above isn't necessarily isolated to that city.  College applications and financial aid can present very real obstacles for students who desire to go to college but need a little help in traversing the ever growing landscape of opportunities and the paperwork that accompanies those opportunities.  The need for that help is even greater in rural areas.  Seeing that need in Tennessee, Jim Ayers started The Ayers Foundation as a way to bridge the equity gap between rural school districts in Tennessee and more developed districts across the state.
The Ayers Foundation's purpose is to improve the quality of life for the people of Tennessee by positively affecting the fields of Education, Conservation, and Social Welfare.  The foundation also strives to provide educational scholarships and community grants for the state of Tennessee.  One particular grant provided by the Ayers Foundation pays for counselors in rural school districts for the purposes of helping students take advantage of scholarship and financial aid opportunities as well as help students navigate the application process for post-secondary options.
The Ayers Foundation provides services in eleven rural counties in Tennessee with Haywood County joining that group this school year.  By placing two counselors in Haywood High School, Haywood County students now have added support when it comes to acquiring knowledge about the post-secondary application process as well as guidance in filling out the application for Free Application for Federal Student Aid  (FAFSA). 
Sara Benard and Tahesia Owens are finishing up their first semester as Ayers Foundation counselors at Haywood High School and are already seeing the impact they are making with students.
"As of the first week of December, we have almost 70 FASFA's completed.  In some shape or form, we've met all of those students, but we're still trying to get the word out to students about the Ayers Foundation and how it could help them," Sara said.  "We pull students during the day during Tomcat time; we've partnered with GEAR UP and the counselor's office on FASFA nights."
"If the students don't come to us, we go find them,"  explained Tahesia.  "The goal is 100% of our seniors signed up for FASFA."
Even though they haven't met their goal yet, they are still ahead of last year's numbers as far as the amount of college applications that have been completed by seniors.  
Because Sara and Tahesia are new to Haywood High School, getting the word out about their roles as Ayers Foundation counselors has been challenging but important work.
"We've bombarded and bribed all our kids with candy and chips just to get them in our office to tell them about what we can offer and the opportunities they have available to them," Tahesia said.  "We sit in the lunchroom and we team with GEAR UP and really have just tried to spread the word about what we can do for students here."
The importance of the Ayers Foundation cannot be understated when discussing the support it provides for the application processes for financial aid and post-secondary schools, but what makes the foundation so special is what happens after students graduate high school.
"What separates us from the other post-secondary support systems in high school is that we follow the students after they graduate high school.  We track them and help support them even when the students are in their post-secondary schools," Sara said.  
"School counselors and GEAR UP get students to college; we help get them through college," Tahesia said.
In order for students to get to college, or any post-secondary educational setting, and have the financial support to do so, the paperwork has to be done, and that's what Sara and Tahesia emphasize to the students.
"We encourage students to take advantage of TN Promise because it's two years of college for free.  A student can take their core classes at Jackson State for free and then transfer to the university of their choice.  They could enroll at TCAT and have that fully paid.  We're just trying to get the word out about all of these options," explained Tahesia.  "We'd rather our students apply and not go than not apply and wait until it's too late and not have any money available."
Because this is Sara and Tahesia's first year at Haywood High School all of their work has been focused on seniors.  Next year, however, that will change.  Building relationships with freshmen and even 8th grade students will play an integral role in getting students information at an early age about the post-secondary process.  
"Starting next year, we really want to focus on 8th grade students and capitalize on the career exploration work that Haywood Middle School is already doing.  We want kids to take advantage of our CTE programs at the high school level and then have them feed right into TCAT and have that training paid in full through TN Promise.  Next year, the students who start their freshman year won't know high school without us," Sara explained.  
For this year, though, Sara and Tehasia are making up for lost time with the class of 2022.  
"The goal is to take each senior on two college tours this year.  We got a late jump on that this year, but we're still planning to make that happen," Tahesia said.
Educational equity is a pillar of the mission of Haywood County Schools, and The Ayers Foundation is helping HCS students access options and opportunities for post-secondary education.  And that truly can improve the quality of life for Tennesseans and Haywood County residents.