The word "dynasty" is used a lot in sports – specifically in football.  College football programs such as Miami and Notre Dame and Nebraska were all National Champions multiple seasons during the 1980's and 90's.  Most recently, the University of Alabama can lay claim to the title of "dynasty"  due to their dominance during the 2010's.  In the world of the NFL, the New England Patriots are the front of the dynastic class.  
Locally, in Haywood County, we have our own sort of dynasty unfolding on the football field.  Even though none of the previous four seasons has yielded a state championship, the winning that has occurred and the depth of play-off runs that have occurred each season cannot be denied.  As the 2022 season approaches, Coach Chris Smith sat down and reflected on his time thus far in Haywood County, as well as how his time at Germantown High School helped prepare him for the success he's experiencing now.  He also looked ahead to what promises to be a season full of potential in Haywood County.
---
In May of 2019, Chris Smith became the head football coach of the Haywood Tomcats.  The previous season, the Tomcat football team played in the state championship game, but they also lost over 30 senior football players to graduation.  Coach Smith wasn't sure what to expect, but quickly found out that the talent pool in Haywood County runs deep.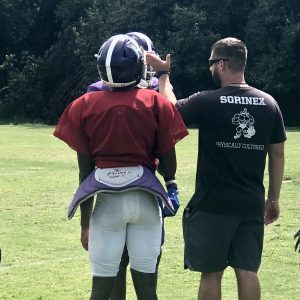 "In 2019, I came here from Germantown High School.  The year before we came, Haywood High School made it to the State Championship game, but they graduated over 30 Seniors from that team.  We got here in mid-May and didn't know what he had.  We thought we might have to rebuild the entire team, but that wasn't the case," he recalled.  
In his first season as head coach, after losing 30 seniors, Coach Smith guided the Tomcats to a 12-2 season.  The momentum continued to build.
"We went 12-2 in our first season and lost in the state semifinals on a last second play.  The following season, we made it all the way to the championship game.  Last season, we lost a lot of veteran players, but we went undefeated during the regular season and lost to the eventual state champions in the semifinals.  That team who beat us had 22 seniors," Coach Smith explained.
In the three seasons that Coach Smith has been at the helm, the Tomcat football program has advanced to the state semifinals twice and the championship game once.  The Tomcats were undefeated during the regular season last season, and their only loss came at the hands of the eventual state champions.  Coach Smith knows, however, that every season is different and past accolades don't guarantee future success.
"I'll be entering my fourth season as head coach of the Haywood Tomcat football team," he said, "and a lot of blood, sweat, and tears have gone into making this a winning football program.  Every year brings new challenges and new excitement and we're looking forward to it."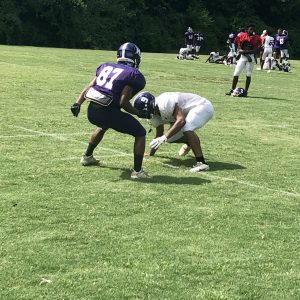 ---
Before this season starts, though, it's important to trace Coach Smith's journey to Haywood High School and the lessons he learned as the head football coach at Germantown High School.
Winning football games should be a priority for any head coach and Coach Smith is no different in that regard.  He does, however, place high value on making sure his players are given opportunities to continue playing after high school if that's something they choose to pursue.  Of course, being part of a winning high school program can provide a scouting advantage for those players.
"My first season as a head coach in Germantown was 2015.  I was a very young head coach.  We had a lot of success there.  Our last two seasons at Germantown, we were a combined 23-2.  I've been fortunate to have a lot of great help around me," he said.  
The recipe for success isn't limited to a coach or his staff; the players on the field are the ones who throw, run, and tackle.  A coach's job is to set up those players for maximum success on the field as well as off the field.
"We make it a priority to get our players scholarships.  We don't want to simply get them to college, we want them to be successful when they make it there," Coach Smith said.  "Since I've been coaching, we've had over 80 players play college football who had played in our football program.  All the players are at the original schools where they signed.  We want to have those guys who value the journey and the hard work that goes into being a great football player."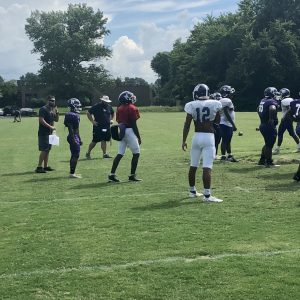 Every high school athlete who pursues a collegiate athletic career does so because they love the sport; if that love isn't there, success won't follow.  Beyond that love for the game, however, are opportunities to get a college degree and maybe have some of that degree paid for by a scholarship.
"I tell our kids that scholarship money and a college degree are all the same regardless if the program is an NCAA Division 1 program or an NAIA program or a Junior College program; a college degree is a college degree," Coach Smith explained.  
In Coach Smith's eyes, football can provide postsecondary opportunities for some players, but it can provide life lessons for all players.  
"I think everything in life becomes much easier after playing the game of football.  I know I'm partial to that because I'm a football coach, but I'm a big believer in the life lessons that football teaches anyone who plays it the right way and puts the work into it that it deserves," he said.
---
At the end of the 2018 season, Coach Smith's football journey was about to change directions – about 30 miles northeast to be exact.  
While he will always be grateful for the experience and opportunity Germantown provided, he had always envisioned coaching in a district that was located in a tight community.  He found it in Haywood County.
"A big thing that drew me to Haywood County was that it was a tight community; there's one team to watch on Friday nights and everyone is either at the stadium or listening on 95.3.  Everybody knows the kids that play on Friday nights," he said.  "I think high school football should be about building a kid up from a young age – to get to know them and their families.  I want to see those younger kids watching us play on Friday nights and dreaming about being on that field when they're in high school."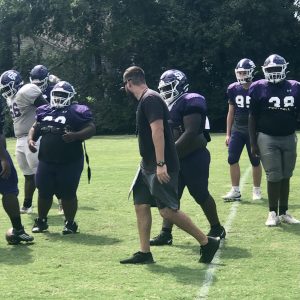 In Germantown, he said, there was always competition for athletes from Memphis and the surrounding schools in the municipal district.  There were seasons where students would move in and out of the program and continuity was difficult to establish.
"In Haywood County, there's one high school, one mascot, one game on a Friday night.  Everybody's gonna look out for each other here.  Our district has the mission statement of knowing every student by name, strength, and need – that's not just something we say; it's something we do," he said.  
There has been a long standing athletic tradition in Haywood County that stretches back generations.  That tradition still continues today and Coach Smith can see and hear it within the walls of the field house.
"I've seen some freshmen coming in this year who are saying, 'I wanna wear Jaylin Lewis's number'  or 'I wanna be like Derion Williamson'.  That's what you don't get in bigger districts," he observed.
Speaking of former players, Coach Smith knows there are some holes to fill as he looks ahead to the upcoming season.  While the number of students that graduated isn't quite as many as when he took over the program that first year in 2019, the talent that departed is immense.
"We lost Jaylin Lewis who went to the University of Arkansas.  We lost Reid Russell who was an excellent kicker for us.  We lost Ja'Kylon Taylor who rushed for over 2,000 yards last year.  And, of course, Cam Douglas is now at the University of Tennessee.  But we're good with all of that.  We're going to reload and feel really good about where we are coming into this season.," he said.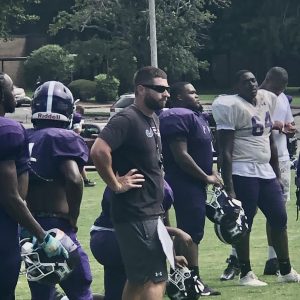 As the 2022 season approaches, there are plenty of things to be excited about regarding the Tomcat football team.  
"I love our defensive front seven.  There are a lot of athletes there.  We also have some depth in the secondary," Coach Smith said.
What he might be most excited about, though, is having his starting quarterback back for consecutive seasons which is a first for Coach Smith since he's been at Haywood High School.
"This is the first time I've had that (a quarterback returning) since I've been here.  Cordero (Walker) had to play last year as a sophomore and did great, but he's grown a lot since last season and that will balance our offense really well," Coach Smith explained.  "I've seen tremendous growth in Cordero.  He studies the game all the time; he has a great passion for the game.  He's very smart and that's important for that position.  We're going to be able to do a lot on offense with him under center.  He's basically like a Swiss Army knife at the quarterback position."
Because of the success and physicality of the Tomcat football team, finding scrimmages with other teams can be challenging.  Last week, though, the Tomcats found a team that was willing to scrimmage and that was Bartlett High School.  Bartlett has quite a few more students and is a much bigger school than Haywood, but none of that mattered once the players stepped on the field.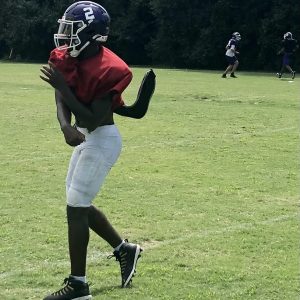 "We scrimmaged Bartlett last week, and their coach complimented our guys on how physical they were," Coach Smith said.  "We're excited about the potential this season has."
Based on the pattern of winning that has been established, it's safe to say that the 2022 season will most likely be a success on the football field.  What happens beyond the field, though, is what ultimately concerns Coach Smith and his staff.
"I pride myself in the fact that our players are finding success after high school on and off the field."
Here's to another successful season on and off the field for our Haywood Tomcat football team.