Tressy Halbrook: Combining Learning and Fun at East Side Elementary School
Tressy Halbrook: Combining Learning and Fun at East Side Elementary School
At its most essential level, opportunity comes down to two things: being in the right place at the right time.  
If someone is going to be able to take advantage of their talent, skill, and work ethic, they have to be presented with an opportunity.  And in order to be presented with an opportunity, a person needs to be in a certain place at a certain time to even have a chance at success.
For Tressy Halbrook, that opportunity came on an autumn afternoon while picking up a deep fried turkey at a fundraiser.  Not many people can say they went out for a turkey and got a side order of a career-changing opportunity.  Tressy can say that, though.
"I went to pick up a turkey for a softball fundraiser and ran into Mr. Hassell.  He asked me if I had my administrator's license, and I told him I did.  I was working in Jackson-Madison County Schools at the time, so I was a little torn about leaving in the middle of the school year but this was an opportunity I couldn't turn down," Tressy explained.  "He told me there was an open position for an assistant principal, so I applied.  I interviewed in December of 2017."  
In January of 2018, Tressy started as the assistant principal at East Side Elementary School.  By the end of that school year, she would be named head principal and sought to make some changes based on her previous experience in other districts.
"The people I worked for in Lauderdale County really set the precedent for how I wanted to lead a school," she said.  "I had to make a fair amount of changes when I came in.  I really just tried to make things as fair as I could for the people in the building, and there were some things that needed to change." 
Philosophically, Tressy is data-driven.  She loves to dive deep into the data.  That was the starting point for her as the principal of East Side Elementary.
"I really wanted to dive into data and make sure everyone understood how to interpret it and how to use it in the most effective way for our students," Tressy explained.
 While a conversation about data may sound like the shortest route to a nap for people outside of education, the importance of analyzing data in relation to student learning is integral for growth and intellectual development.  However, Tressy also realizes that learning has to be tied to emotional excitement.  Having fun while learning is extremely important for Tressy and her staff at ESE.
"I want kids to have fun.  It's important sometimes for kids to see adults play, so we have different days when kids and adults can play kickball and dodgeball.  I think that's really important," Tressy said.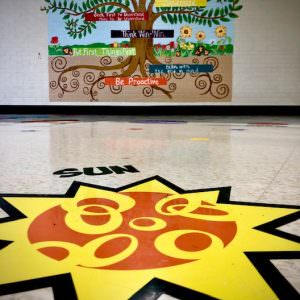 Days where students and teachers can interact in a way outside the classroom that is fun can help build trust and camaraderie in the student/teacher relationship.  One of the most important aspects of learning is cultivating a relationship built on trust.  While data is extremely important in the learning process, trust between a student and teacher is more easily built on a kickball field or a dodgeball court.  Tressy knows the value of data, but also the importance of fun.  
She explains that in the way she wants her students to feel about learning.
---
"I want everyone in this building to engage, communicate, and reflect.  When kids are engaging with one another and with their teachers, I want them to be excited.  I want kids to be excited when they're being assessed because they're so excited to achieve because they're so confident that they know the material.  That's engaging.  They can engage because the teachers are effectively communicating.  It all works together."
---
Student engagement is born from excitement and intentional relationship building.  Whether that occurs in a STEM lab or a kickball field is not as important as the fact that the trust is being built between a student and their teacher.  Once that trust has been built, learning can be maximized.  Tressy sees the importance of that through excitement and engagement.  
"I'm a firm believer that teaching should be fun.  There's fun in learning history.  There's fun in the learning process whether it's learning about the Revolutionary War or learning Math.  So, I like to see that enthusiasm from my staff.  The stress can end up taking over the joy, and I want to prevent that from happening as much as I can." Tressy said.
In order for excitement and engagement to take place, there has to be a sense of belonging – a desire to be part of the whole and to be willing to steer in the same direction.  The culture of a school goes a long way in determining the willingness of the faculty to commit to that vision.  From the top down, Tressy wants the culture of East Side Elementary to feel like a family.
"I look at East Side Elementary as a jigsaw puzzle – we all have to fit together to make it work.  I want a culture that feels familial.  I want the kids to say hello to the custodians just like they would their classroom teacher.  I want everyone treated with respect," Tressy said.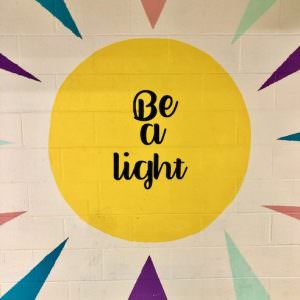 The familial culture that Tressy works to cultivate at East Side is also something that attracts her to Haywood County.  
"I was initially attracted to Haywood County because there was an open spot for an administrator's job, but after getting here I realized it was different.  Relationships and bonds with families were easy to create.  Everything feels very connected in Haywood County," she explained.  
Tressy and her team added to this familial culture in Haywood County the summer after she arrived at East Side.  She wanted to get to know the community and the students who would be coming to East Side Elementary.
"I took a bus out into the community and took water, juice, freezer pops, and books and we loaded the bus.  I wanted to learn about the community.  We did it the next year, and it grew.  Overall, we did it for three years and then the pandemic hit," Tressy said.  
Even throughout the pandemic and the challenges it produced, Tressy still knew that being in Haywood County was something that felt special.
---
"The camaraderie in this community is so strong.  It's hard not to notice it when you're here."
---
As Tressy continues to build her culture at East Side Elementary as well as feel at home in Haywood County, she knows that how she was able to get to this point was because of her experiences and people who influenced her along the way.
"The administrators I had in Ripley also taught me so much.  They were firm, but they knew their standards and were very structured," Tressy said.
She also had mentors during her time in graduate school as well.  Her experience at Union University helped shape her as administrator and leader.
"The experience I had at Union and the individual focus that professors had on students was very noteworthy.  Dottie Myatt was so influential for me as a graduate student," she explained.
There are many moments that led to Tressy picking up that turkey that afternoon in 2017, and many people along the way who influenced her leadership style at East Side Elementary.  As she continues to lead East Side, she does so with those people in mind. She also wants to transfer the positive impacts that she has felt from people who led her to her teachers.
"I want them to feel the sheer enjoyment of teaching while also achieving academic growth in their students," she said.
And that truly combines both of Tressy's passions in education: data and excitement.