While a lot of students were using their spring breaks to relax and catch their breath, several students from the Haywood High School Student Council Association (SCA) attended the Tennessee School Board Association (TBSA) Student Congress on Policies in Education (SCOPE) to learn the inner-workings about how district policy is created.  
Annually, TSBA hosts the SCOPE conference, which brings together 9th-12th grade students from across the state to discuss current topics in education. Participants will explore education issues through mock school board meetings, group discussions, and debates with their peers. These events are designed to give students an understanding of how school boards operate.
SCA sponsor, Lynsey Doles, chaperoned the trip and took members of the executive board of the SCA as representatives of Haywood High School.
"Each high school across the state gets four student representatives to attend.  We took the executive board for our Student Council Association as Haywood High School representatives.  We took LeJerwin Young, Steven Lewis,  Cinyah Dotson, and  Rikkila Taylor as our representatives," she explained.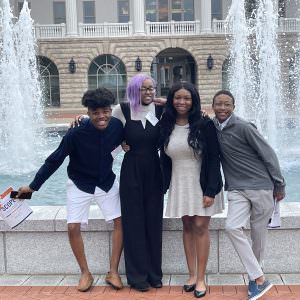 Lynsey took the students to Nashville the day before the conference to enjoy some time of bonding and relaxing before the work started.  Allowing students to experience what a big city has to offer was important to Lynsey.  
"The conference was only one day, but we went up the day before and had some time to hang out together.  We stayed at the Hilton, did an escape room, and went out to dinner – it was a great experience for our students," Lynsey said.
Once the conference started, however, the work began as students were exposed to how school districts and school boards operate when it comes to setting policy.  
"Students participated in a mock school board meeting, and students got to run for offices such as superintendent.  A big focus of the mock session was on school discipline and our students gained some valuable insight into why we have some of the structures in place for discipline in our school district," she said.  
Discipline has been a hot-button topic in education over the last several years, and student perspective and input into the process can be valuable when it comes to understanding why certain policy is set in a school district.  Naturally, most students wouldn't want more discipline structures and believe there are already too many punitive discipline policies in place, however having the process brought to light helped them gain some insight into why certain policies have been set.  
"The students didn't think we should have detention but also understood something had to happen to address behavior.  One of our students came up with the idea of community service outside of school hours.  Another student thought we should have therapists on campus and do mediation with a therapist rather than being punished.  And, we have some of that now with our added social workers and counselors," Lynsey said.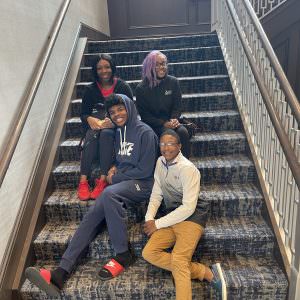 In the afternoon session of the conference, students participated in a debate that centered around four contemporary topics in education: 1.) Should schools have a dress code? 2.) Should students have stricter rules about parking? 3.) Should students be allowed to leave campus for lunch? 4.) Should there be year-round school?  Students had an hour to prepare for the debates and one minute to make their arguments.  For each of these debate topics, HHS students found themselves in opposition to all of the proposed, hypothetical policies.  
Overall, TSBA was a great experience for the students as they learned about all the work that is done by the school board in service to the district.  One student even learned that school board meetings are a lot more organized than he originally thought.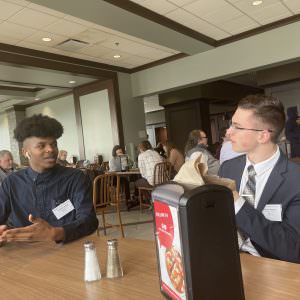 "During the mock school board meeting, one of our students realized that there was an agenda for every meeting.  He was under the impression that every school board meeting was just sort of thrown together loosely and topics were talked about without an agenda," said Lynsey, laughing.
Next year, the SCOPE conference will be completely led by students.  Hopefully, some of the students from Haywood County will be representing the district in leadership roles.