1315 Jefferson Street East
Brownsville, TN 38012
Phone: 731-772-1233

Sandra Humphreys 
Principal
sandra.humphreys@hcsk12.net
Sandra Humphreys has served as Principal of East Side Intermediate School since August, 2011.  As the school's leader, she continuously strives to communicate each person's worth and potential so clearly that they are inspired to see it in themselves.  Prior to her current position, she served as the Assistant Principal at Sunny Hill Elementary School where she also taught 5th grade for 10 years.  Ms. Humphreys earned her Bachelor of Arts in Liberal Studies from Lane College and a Master of Education from Trevecca Nazerene University in Educational Leadership.
Tressy Halbrook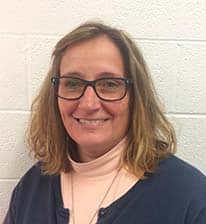 Assistant Principal
tressy.halbrook@hcsk12.net
Dr. Tressy Halbrook will be assistant principal at East Side Intermediate at the start of the spring semester. Dr. Halbrook holds a B.S. from East Stroudsberg University in Pennsylvania. She completed her M. Ed, Ed. S. and Ed. D. at Union University.  Most recently, Dr. Halbrook served Jackson-Madison County Schools as a third-grade teacher at Thelma Barker Elementary School.  She served students in Lauderdale County as a physical education teacher and a fourth-grade teacher from 2002 -2014.  Dr. Halbrook brings a passion for teaching, and she will bring motivation and a tireless commitment to continuous improvement for staff and students.
NICOLE JOHNSON
Instructional Facilitator
nicole.johnson@hcsk12.net
Nicole Johnson will serve as East Side's Instructional Facilitator.  She is a native of Brownsville and a product of Haywood County Schools.  She earned her Bachelors of Science degree in Elementary Education at Austin Peay State University and a Masters in Curriculum, Assessment, and Instruction from Trevecca Nazarene University.  Ms. Johnson received her Instructional Leadership Licensure in October 2015.
Ms. Johnson began her teaching career at East Side in 2010, teaching English Language Arts at the 4th and 5th grade levels. She served in this capacity until becoming the Instructional Facilitator this fall.
---
Staff
Sandra Humphreys, Principal
sandra.humphreys@hcsk12.net
Tressy Halbrook, Assistant Principal
tressy.halbrook@hcsk12.net
Nicole Johnson, Instructional Facilitator
nicole.johnson@hcsk12.net
Ashley Springfield, Secretary
ashley.springfield@hcsk12.net
Vanessa Vines, Financial Secretary
vanessa.vines@hcsk12.net
Dorothy Jackson, School Counselor
dorothy.jackson@hcsk12.net
Teachers
4th Grade ELA & Ss Teachers
Latresa Bond
latresa.bond@hcsk12.net
Cecilia Frost
cecilia.frost@hcsk12.net
Dana Gardner
dana.gardner@hcsk12.net
Melissa Griffith
melissa.griffith@hcsk12.net
Amy Morris
amy.morris@hcsk12.net
Samantha Wiley, 4th Grade Math
samantha.wiley@hcsk12.net
4th Grade Math and Science Teachers
Dominique Bond, 4th Sc./S.S
dominique.bond@hcsk12.net
Shelby Cress, 4th Grade Math
shelby.cress@hcsk12.net
Danielle Crider, 4th Grade Math
danielle.crider@hcsk12.net
Kellie Haywood, 4th Grade Math
kellie.haywood@hcsk12.net
Cindy Moore, 4th Grade Sc./S.S.
cindy.moore@hcsk12.net
5TH GRADE ELA & SS Teachers
Leigh Anne Allen
leigh.allen@hcsk12.net
Katrina Hill, 5th Grade Math
katrina.hill@hcsk12.net
Karen Latimer, 5th Grade ELA
karen.latimer@hcsk12.net
Wendy Piercey, 5th Grade Sc./S.S.
wendy.piercey@hcsk12.net
Ariell White, 5th Grade Reading
ariell.white@hcsk12.net
5TH GRADE Math & Science Teachers
Deborah Kelso,
deborah.kelso@hcsk12.net
Tanika Pickens,
tanika.pickens@hcsk12.net
Carol Pirtle,
carol.pirtle@hcsk12.net
Raven Powell,
raven.powell@hcsk12.net
auxiliary
Deanna Cook, Music
deanna.cook@hcsk12.net
Sharon Clark, STEM Lab
sharon.clark@hcsk12.net
Marty Stoots Todd, Art
@marty.stoots@hcsk12.net
Catherine Lester, Computer
catherine.lester@hcsk12.net
Minnie Reed, Library
minnie.reed@hcsk12.net
Tim Seymour, PE
tim.seymour@hcsk12.net
Special Services
Melissa Doles, 4th Grade, LRE
melissa.doles@hcsk12.net
Wanda Bond, 4th Grade, Inclusion
wanda.bond@hcsk12.net
Tiffani Hicks, 5th Grade, LRE
tiffani.hicks@hcsk12.net
Pamela Denise Pickens, 5th Grade, Inclusion
pamela.pickens@hcsk12.net
Natalie Pinner, Prodigy
natalie.pinner@hcsk12.net
Sally Rogers, Speech
sally.rogers@hcsk12.net
teacher assistants
Martha Brummett, TA
martha.brummett@hcsk12.net
Denetra Carter, PA
denetra.carter@hcsk12.net
Latoya Crook, STEM Lab – TA
latoya.crook@hcsk12.net
Kayla Daughtry, TA
kayla.daughtry@hcsk12.net
Erma Harper, 4th Grade LRE TA
erma.harper@hcsk12.net
Monica Johnson, TA
monica.johnson@hcsk12.net
Daphne Maclin, TA
daphne.maclin@hcsk12.net
Carolyn Sanders, 5th Grade LRE TA
carolyn.sanders@hcsk12.net
Hollie Watkins, TA – Special Education
hollie.watkins@hcsk12.net
Darlene Young, 5th Grade Inclusion TA
darlene.young@hcsk12.net
Margaret Young, Library TA
margaret.young@hcsk12.net
Nutritional Personnel
Cynthia Turner, Cafeteria Manager
cynthia.turner@hcsk12.net
Mamie Sue Watson, Assistant Manager
mamie.watson@hcsk12.net
Glenda Hess, Staff
Collette Perry, Staff
Lucy Trotter, Staff