REACH Academy graduates 13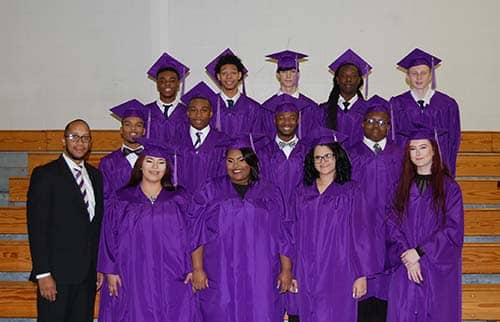 On Tuesday, December 12, 13 students graduated from the REACH Academy at a commencement ceremony. Graduates were Jackson Alford, Laterius Bynum, Xavier Callaway, Tacorius Douglas, Ontrell James, Taneisha Jordan, Karla Kennamer, Timothy Medley, Gabrielle Morphis, Quintarious Murphy, Zachery Perry, Chelsea Rochevot, and Kendarious Taylor.
Participating in the program were REACH Class of 2018 Valedictorian Karla Kennamer, and Ellie Haynes, Vice President of the HHS Class of 2018. Also participating were HCS Chief Operations Officer Art Garrett; Superintendent of Haywood County Schools, Joey Hassell; Stephen May, REACH Graduation Coach; and Drayton Hawkins, Director, HHS REACH Academy. Entertaining for the ceremony with "You Are My Hero" was Achana C. Jarrett, Director, Haywood County Arts Council. Speaker for the event was Andrea Bond Johnson, a native of Haywood County and CEO, Golden Circle Insurance Agency.