Students earn GED certificates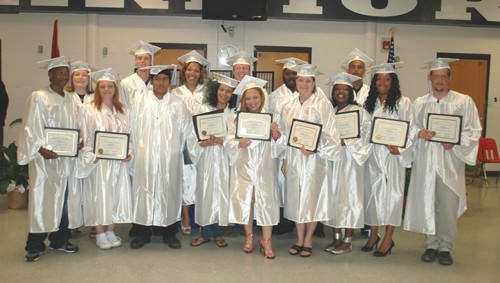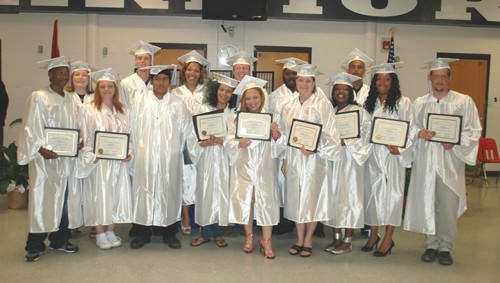 On Tuesday, June 21, 15 students received their GED certificates in a graduation ceremony at Haywood Junior High School. They, along with 16 others, earned these certificates after completing the Haywood County Schools Adult Basic Education program.
Graduates of the 2011 ABE class were Jesus O. Acevedo, Anthony Bills Jr., Daniel Brown, Glenda Dixon, Amanda Ellington, Charlotte Ferrara, Donald Flatt, Roynesha S. Fortune, Nicklolas Gibb, Shawn Giles, Shakima Hall, Jennifer Hawkins, Kaley Hunolt, Larry Jacobs Jr., Christine Jolley-Beck, Jeffery Knox, Johnny Moore, James Ooten, Stormy Ortiz, Terrance Pirtle, Jeffery Porter, Derrick Pugh, Morgan Riggsbee, Samantha Shepherd, Hannah Smith, Joshua Solang, Susan Sweat, Cheron Thompson, Keith Tyus, Vashara Woods and Michael Wardlow.
Receiving special recognition were Donald Flatt for earning the highest GED score, Jeffery Porter for earning the second highest GED score and Shakima Hall, who is the 2011 nominee Martha Brown Adult Learner of the Year Award.
Special guests were Stanton Mayor Allan D. Sterbinsky, Brownsville Mayor Jo Matherne, Haywood County School Board members Harold Garrett, Pearlie Hess and Robbie Jarrett-King, and Art Garrett, Associate Superintendent, School and Community Relations.
Mrs. Mary Hood is Executive Director of Special Services. Teachers and staff members of the ABE program are Audrey Blue, Ann Cannon, Kay Cunningham, Kay Gibbs, Opal Hay and Vicky Stoots.