Welcome to the 2016-17 school year. I am humbled and thankful for the opportunity to serve Haywood County Schools and to represent the greatest group of educators and colleagues. We are so very fortunate to live in a community where we can come together to lift each other up during times when our nation is facing so many troublesome circumstances. As a parent it is comforting to know that my child, along with all the other children in our district, will be entering schools full of love, respect, safety and compassion. Haywood County Schools is committed to providing the best educational experience for every child and to being a vessel of support for every family.
This year I am so excited to kick off several initiatives in HCS. First, we will be bringing a phenomenal leadership model to East Side Intermediate. The Leader in Me is a leadership model based on the work of Stephen Covey and his 7 Habits of Highly Effective People. The Franklin Covey Institute has developed a model specifically designed for students. Through this model our students and staff will be enveloped in a school transformation that encourages and promotes leadership, self- reflection and responsibility, community and ownership, and many other 21st century skills needed to be successful in school and in life. East Side Intermediate will serve as our model school for the district, and we will then expand this model in our other schools over the course of this year. This is a community-wide initiative that is being supported by Haywood County leaders and the City of Brownsville. We believe that by teaching and promoting these seven habits we have the potential to change the culture and climate of not only our schools, but our entire community. We will hold informational sessions to share The Leader in Me with all stakeholders, and we invite you to participate and to learn and grow with us as we embark on this exciting and life-changing leadership model.
I am also bubbling with excitement about Haywood Reads, our literacy initiative that we are embracing this year. As educators, we know the importance of reading and the positive impact reading has on every aspect of life. The research is clear – READING is powerful. It opens doors to increased vocabulary, communication, writing, memory and focus. It affects students' performances in math, science, social studies and all other courses across all grade levels. Reading shapes lives and we know the only way to become a better reader is to practice and engage in reading. Haywood County Schools is committed to providing these opportunities to all students across our district and once again, we want to enlist the help of our community. You will notice an increased presence of Haywood Reads on all of our campuses and in our community. We will be hosting parent and community workshops and fun reading events throughout the year. Please join us as we promote reading as one the most important and life-changing experiences a child can possibly have.
As always we continue to promote school attendance, and I want to stress the importance of attending school regularly for all students at all grade levels. There is so much that goes on within the course of a day and a student who misses just one day a month can fall behind. Stressing good attendance with our students is just one more way of preparing them for life after school. Employers want employees who come to work every day, and when students are chronically absent it instills poor habits in them that may carry over into their adult life. Again, we call on our community of parents and guardians to help us get our students to school every day.
Haywood County Schools is extending a warm welcome to our students and families as we begin the 2016-17 school year. I envision a year of positive change and growth for all of our students, staff and families. Welcome back!
Respectfully,
Teresa Russell
Superintendent
Haywood County Schools
Brownsville, Tennessee
Debbie Benard, Executive Administrative Assistant
debbie.benard@hcsk12.net
---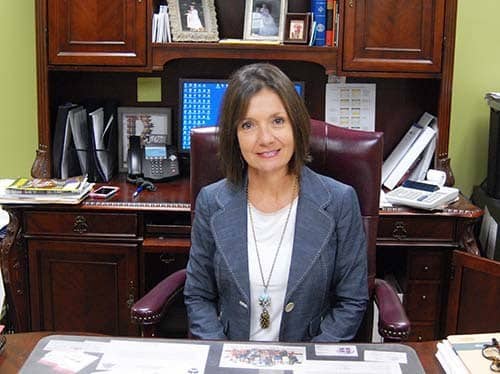 Teresa R. Russell is a long time resident of Brownsville, Haywood County. She is a 1984 graduate of Haywood High School. She earned an Associate of Science, Elementary Education degree from Jackson State Community College, then graduated Magna Cum Laude from Lambuth University with a Bachelor of Science Degree in Elementary Education and Teaching in 1994. In May 2001, she earned a Master of Science Degree in School Administration and Supervision from the University of Memphis.
Mrs. Russell has spent her entire career in the Haywood County School System. She taught at East Side, then Anderson before being appointed the assistant principal at East Side Elementary in 2001. From 2003 to 2009, she served as Supervisor of Instruction PreK-12 for the school system. In July 2009, Superintendent of Schools Marlon King named her Deputy Superintendent of Curriculum and Accountability.
She is a 2010 graduate of the Leadership Haywood County class, and serves on several community advisory boards. She and her family are active members of First United Methodist Church.
Dear Haywood County
A letter from HCS Superintendent Teresa Russell