Literacy is Haywood County Schools' highest priority
Welcome to 2017 in Haywood County Schools (HCS). With one semester behind us, we are moving full steam ahead.
We started this year with a strong focus on literacy in HCS, which continues. We want every student and family to have books and other reading materials in their homes and in our classrooms. We will continue to call upon this community to support our efforts and to make it a personal mission for everyone in Haywood County. Nothing can have a greater impact on our community than childhood literacy.
Secondly, we will continue preparing high school students for life after graduation by increasing students' opportunities for early post-secondary coursework, work-based learning experiences and industry certifications. Along with these efforts, we will continue to help students be better prepared for the ACT, a nationally recognized assessment used for entrance into college, military and technical schools. ACT is also a predictor of how well students will succeed in the workforce. We want every student to understand the importance and value of meeting the benchmark scores on the ACT.
This second semester marks the introduction of The Leader in Me at Anderson, Haywood Elementary and Haywood Middle School. The Leader in Me is a model that introduces students to Stephen Covey's 7 Habits of Highly Effective People through a leadership culture that is pervasive throughout the school, from the staff to the students. Beginning in January 2017, the school leaders and teachers will begin the process of embracing the habits and spending time with personal reflections on how the habits can improve their lives, both professionally and personally. Over the course of this semester, they will be involved in a series of training sessions, and as students return in the fall, they will enter into a school culture that has been transformed to bring out the leadership qualities in each individual student. East Side Intermediate is our model school and has shown us that every student and every teacher has leadership qualities just waiting to be nurtured and strengthened.
These are our major areas of focus for the remainder of this school year. We look forward to providing a safe, nurturing instructional environment for all students in 2017!
Respectfully,
Teresa Russell
Superintendent
Haywood County Schools
Brownsville, Tennessee
Debbie Benard, Executive Administrative Assistant
debbie.benard@hcsk12.net
---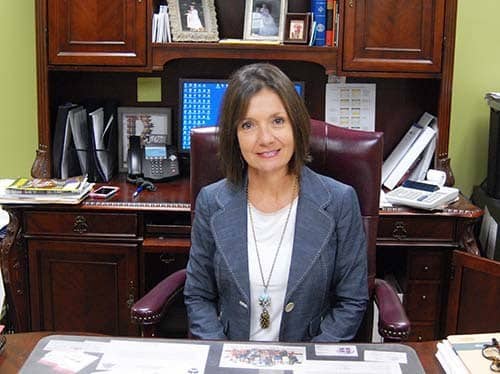 Teresa R. Russell is a long time resident of Brownsville, Haywood County. She is a 1984 graduate of Haywood High School. She earned an Associate of Science, Elementary Education degree from Jackson State Community College, then graduated Magna Cum Laude from Lambuth University with a Bachelor of Science Degree in Elementary Education and Teaching in 1994. In May 2001, she earned a Master of Science Degree in School Administration and Supervision from the University of Memphis.
Mrs. Russell has spent her entire career in the Haywood County School System. She taught at East Side, then Anderson before being appointed the assistant principal at East Side Elementary in 2001. From 2003 to 2009, she served as Supervisor of Instruction PreK-12 for the school system. In July 2009, Superintendent of Schools Marlon King named her Deputy Superintendent of Curriculum and Accountability.
She is a 2010 graduate of the Leadership Haywood County class, and serves on several community advisory boards. She and her family are active members of First United Methodist Church.
Dear Haywood County
A letter from HCS Superintendent Teresa Russell