2017 Haywood High School Softball Team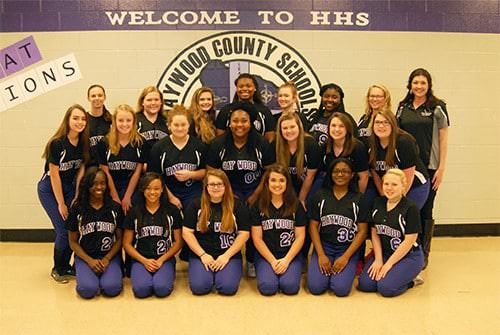 Members of the 2017 Haywood High School Lady Cats Softball team are Brianna Jones, Felescia Sanders, Claudia Price, Morgan Hendrix, Jakayla Halliburton, Haven Williams, Karsen Neal, Julia Schade, Ashley Neal, Iyana Taylor, Lillie Pittman, Colbie Killen, Jordan Cone, Leigha Bailey, Lauren Qualls, Kirsten Watson, Skye Green, Kiley McChesney, Gemiah Bell, Leslie Fox, and Head Coach Holly Chilcutt. Team manager is Madison Milton, and Assistant Coach is Rick Mason.
Haywood Lady Cats Schedule 2017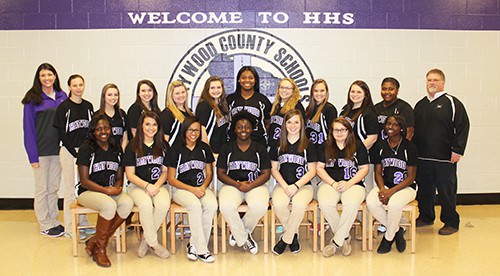 Members of the HHS 2016 Softball Team are Kayla Douglas, Morgan Hendrix, Felescia Sanders, Je'Leesia Williams, Anne Marie Sceals, Claudia Price, Bri Jones, Head Coach Holly Chilcutt, Leigha Bailey, Karsen Neal, Colbie Killen, Lillie Pittman, Kirsten Watson, Skye Green, Leslie Fox, Kerrington Doyle, Mallory Faulkner, Iyana Taylor and Assistant Coach Rick Mason.
2016 Haywood Lady Cats Softball Schedule
| | | | |
| --- | --- | --- | --- |
| Date | Opponent | Location | Time |
| March 15 | North Side | Home | 5:30 |
| March 17 | Millington | Home | 5:30 (JV/V) |
| March 18 - March 19 | Sarah Beth Whitehead Tournament | Jackson, TN | TBA |
| March 30 | North Side | Away | 5:30 |
| March 31 | Liberty | Home | 5:30 (V/JV) |
| April 1 | Halls | Home | 5:30 (JV/V) |
| April 6 | Humboldt | Away | 4:30 (JV/V) |
| April 5 | Covington | Away | 5:00 (JV/V) |
| April 7 | JCM | Home | 5:30 (V) |
| April 11 | JCM | Away | 5:30 (V) |
| April 12 | Crockett | Away | 5:30 (V/JV) |
| April 14 | Ripley | Home | 5:30 (V/JV) |
| April 15 | Halls | Away | 5:30 |
| April 19 | Millington | Away | 5:00 (JV/V) |
| April 21 | Covington | Home | 5:00 (JV/V) |
| April 26 | Liberty | Away | 5:30 (V/JV) |
| April 28 | Crockett | Home | 5:30 (V/JV) |
| May 3 | Ripley | Away | 5:30 (V/JV) |
| May 6 - May 12 | District Tournament | | |