Haywood High School
1175 East College Street
Brownsville, TN 38012
Phone: 731-772-1845
Latonya Jackson
Haywood High Principal
latonya.jackson@hcsk12.net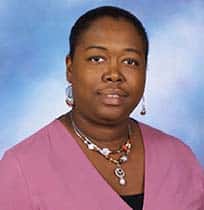 Mrs. Latonya Jackson will be principal at Haywood High School at the start of the spring 2018 semester.  She is a graduate of Dyersburg State Community College and the University of Memphis with a degree in elementary education. She holds a Master's Degree with a focus on School Counseling from the University of West Alabama, and she has graduated with a Master's Degree in educational leadership through Trevecca Nazarene University.
A native of Lauderdale County and a Ripley High School graduate, Mrs. Jackson has taught seventh-grade English and science in Tipton County. She also served as a school counselor for Brighton Middle School.  In spring 2010, Mrs. Jackson joined Ripley Middle School as an assistant principal, and she became the principal at Ripley Middle School in summer 2010.  An experienced school leader, Mrs. Jackson will bring a strong focus to instruction at HHS while maintaining a safe learning environment through fair and consistent procedures.  She will be the right leader to move HHS to an increased level of performance for staff and students.
steve hookfin
Haywood High Assistant Principal, Head Football Coach
steve.hookfin@hcsk12.net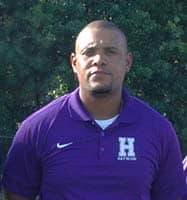 Mr. Steve Hookfin will be assistant principal at Haywood High School at the start of the spring 2018 semester.  Coach Hookfin has been the HHS football coach and wellness teacher since spring 2015.  Prior to HHS, he served students in Jackson-Madison County at Liberty and Jackson Central-Merry respectively.  Coach Hookfin also has coaching experience at the collegiate level at Bethel University. Hookfin received his bachelor's degree from Ohio University and his master of arts from Bethel University.
Coach Hookfin has a passion for coaching and mentoring our students. He also has a great work ethic that will definitely contribute to the future success of Haywood High School. Coach Hookfin will remain head coach of the Haywood Tomcats football team.
Paige Ferguson
Assistant Principal
paige.ferguson@hcsk12.net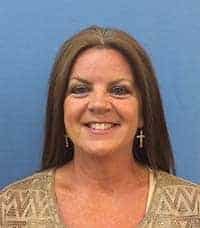 Mrs. Paige Ferguson is serving as Assistant Principal at Haywood High School. She has been in the education field for 28 years. Her experience spans High School, Middle School, and Elementary.  She has worked as assistant principal at Haywood High School for the past several years. Although fairly new to Haywood County Schools, she has lived in the area (just across the county line) for 30 years. Mrs. Ferguson received her degrees from Lambuth University and has hours above from Cumberland University.
She comes from a long line of educators … father, mother, sister, daughter, aunts, uncles, and several cousins … you could say it is the "family business."  She is married to Mark "Buddy" Ferguson, who is a retired Battalion Chief of the Jackson City Fire Department, and now works for the Madison County Sheriff's Department. Mrs. Ferguson has two daughters/son-in-laws and three precious grandchildren.
Pam Diebold
Director of Career & Technical Education 
pam.diebold@hcsk12.net
Mrs. Pam Diebold begins her sixth year as Director of the Career and Technical Education at Haywood High School. She came to the directorship after teaching 10 years in the department. Mrs. Diebold is originally from Kentucky. She earned a degree in Family and Consumer Sciences Education from Lambuth University. She received her Occupational Foods Endorsement in 2002 from the University of Tennessee at Martin, and completed her Master's in Educational Leadership from American InterContinental University in 2009. She began working for Haywood County Schools as a Culinary Arts teacher in 2000. She has served as an officer in the professional organization for teachers of Family and Consumer Sciences (TATFACS). Mrs. Diebold has been in a member of the executive committee for the Tennessee Directors of CTE for three years, serving as secretary. She was named CTE Novice Director of the West Region in 2014 and CTE Director of the West Region in 2016. During her leadership, the CTE program has earned state recognition. She and her husband, Barry, have lived in Haywood County for 19 years and have three sons.
JANET STALLINGS
Instructional Facilitator 
janet.stallings@hcsk12.net
Ms. Janet Stallings is serving as Instructional Facilitator at Haywood High School. She has been in the education field for 37 years. Her experience spans high school through early childhood education. Much of her previous experience was in Kentucky where she served as principal for Murray Independent Schools for several years. Most recently she has served as a consultant and recovery leader for turnaround schools in Tennessee and Kentucky.
Ms. Stallings received her Bachelor's Degree from Union University and Master's Degree from Arkansas State University. She also received Rank I degrees from Murray State University in Education and Western Kentucky University in Educational Leadership and Early Childhood Education. She has one daughter, who is also an educator, and three wonderful grandchildren who live in the West Tennessee area.
---
Staff
Latonya Jackson,  Principal
latonya.jackson@hcsk12.net
Steve Hookfin, Assistant Principal
steve.hookfin@hcsk12.net
Paige Ferguson, Assistant Principal
paige.ferguson@hcsk12.net
Janet Stallings, Instructional Facilitator
janet.stallings@hcsk12.net
Lane Gillespie, Data Clerk
lane.gillespie@hcsk12.net
Jordan Clagg, Secretary
jordan.clagg@hcsk12.net
Joyce Caldwell, Bookkeeper
joyce.caldwell@hcsk12.net
Vicki Deberry, School Counselor
vicki.deberry@hcsk12.net
Lara English, Guidance Counselor
lara.english@hcsk12.net
Doris Leavy, School Counselor
doris.leavy@hcsk12.net
Shanell Moore, School Counselor Assistant
shanell.moore@hcsk12.net
Teachers
Linda Baxter, Chemistry
linda.baxter@hcsk12.net
Patrice Boyd, English
patrice.boyd@hcsk12.net
Christopher Brackeen, Spanish, Tennis Coach
christopher.brackeen@hcsk12.net
Glynn Bridgewater, English
glynn.bridgewater@hcsk12.net
Candace Brown, English
candace.brown@hcsk12.net
Allyson Byrum, Audio/Visual
allyson.byrum@hcsk12.net
Emily Carpenter, Drama
emily.carpenter@hcsk12.net
Frank Chapman, Physical Science
frank.chapman@hcsk12.net
Holly Chilcutt, English, Softball Coach
holly.chilcutt@hcsk12.net
Callie Coates, Biology 
callie.coates@hcsk12.net
John Cunningham, Physical Science
john.cunningham@hcsk12.net
Julie Dahlhauser, Librarian
julie.dahlhauser@hcsk12.net
Maj. Delois Daily, JROTC
delois.dailey@hcsk12.net
James Daniels, Math
james.daniels@hcsk12.net
Kendall Dancy, History, Head BB Coach
kendall.dancy@hcsk12.net
Jackie Dillingham, Inclusion
jackie.dillingham@hcsk12.net
Chris Eubanks, Math
chris.eubanks@hcsk12.net
Jeannie Farmer, Inclusion
jeannie.farmer@hcsk12.net
Jennifer Friedman, Art
jennifer.friedman@hcsk12.net
Melinda Goedecke, Show Choir, General Music
melinda.goedecke@hcsk12.net
Elisabeth Guth, English
elisabeth.guth@hcsk12.net
Catherine Hamilton, P.E.
catherine.hamilton@hcsk12.net
Alexandria Hay, CDC
alexandria.hay@hcsk12.net
Sandy Hodges, U.S. History
sandy.hodges@hcsk12.net
Brian Ivey, Science
brian.ivey@hcsk12.net
Carolyn Jennings, English
carolyn.jennings@hcsk12.net
Ryan Joyner, SPED
ryan.joyner@hcsk12.net
Randy Charles Jetton, History
randy.jetton@hcsk12.net
Sarita Johnson, Math
sarita.johnson@hcsk12.net
Tiffani Jones, Science
tiffani.jones@hcsk12.net
Zandra Jones, Math
zandra.jones@hcsk12.net
Jarrod Kornegay, History
jarrod.kornegay@hcsk12.net
Leigh Lindsey, Inclusion
leigh.lindsey@hcsk12.net
Suzanna Martinez, English
suzanna.martinez@hcsk12.net
Rick Mason, History
rick.mason@hcsk12.net
Chris McCorkle, U.S. History
chris.mccorkle@hcsk12.net
Tyler Newman, History, Head Baseball Coach
tyler.newman@hcsk12.net
Sgt John Parker, JROTC
john.parker@hcsk12.net
Anne-Marie Pratt, Algebra I
annemarie.pratt@hcsk12.net
Luis Rosales, Spanish
luis.rosales@hcsk12.net
Rachel Savage, Geometry
rachel.savage@hcsk12.net
Shandi Sheets, English
shandi.sheets@hcsk12.net
Kierra Smith, Math
kierra.smith@hcsk12.net
Kelly South, English
kelly.south@hcsk12.net
Col. Myron Stamps, JROTC Director
myron.stamps@hcsk12.net
Hattie Starks, Inclusion
hattie.starks@hcsk12.net
Cherie Timberlake, History
cherie.timberlake@hcsk12.net
Dave Vaultonburg, Math
dave.vaultonburg@hcsk12.net
Dumanic Wade, Band
dumanic.wade@hcsk12.net
Hannah Wakefield, ESL
hannah.chapman@hcsk12.net
Barbara Wellington, Special Education
barbara.wellington@hcsk12.net
John Wilson, Wellness, P.E.
john.wilson@hcsk12.net
Teacher Assistants
Humberto Aguilar – humberto.aguilar@hcsk12.net
Terrence Beard – terrance.beard@hcsk12.net
Quanita Blair – quanita.blair@hcsk12.net
Jo Ann Bobbit – joann.bobbit@hcsk12.net
Mary Bufford – mary.bufford@hcsk12.net
Rodney Chatman – rodney.chatman@hcsk12.net
Andrea Gaters – SPED – andrea.gaters@hcsk12.net
Beverly Greer – beverly.greer@hcsk12.net
Tyrone Hines – tyrone.hines@hcsk12.net
Tina Jackson  – tina.jackson@hcsk12.net
Angelia Muex-Bond, PA – angelia.muexbond@hcsk12.net
Calandria Powell, PA – calandria.powell@hcsk12.net
Jennifer Vestal – jennifer.vestal@hcsk
Jennifer Vestal – jennifer.vestal@hcsk12.net
Priscilla Woodland – priscilla.woodland@hcsk12.net
Nutritional Personnel
Sharon Jarrett, Manager
sharon.jarrett@hcsk12.net
Joyce Sharp, Assistant Manager
joyce.sharp@hcsk12.net
Danny Maddox
Deborah Newbern
Alice Pattat
Rhysalle Tyus
Sandra Williamson
Haywood Career & Technical
Pam Diebold, Director
pam.diebold@hcsk12.net
Jean Lein, Secretary
jean.lein@hcsk12.net
Nicole Jarrett, Bookkeeper
nicole.jarrett@hcsk12.net
Teachers
Patrick Black, Criminal Justice
patrick.black@hcsk12.net
Julie Davis, Marketing
julie.davis@hcsk12.net
Business
@hcsk12.net
Sarah Haynes, FACS
sarah.haynes@hcsk12.net
John Joyner, Agriculture 
john.joyner@hcsk12.net
Laurinda Lamb, Business
laurinda.lamb@hcsk12.net
Kim Marble, Culinary Arts
kim.marble@hcsk12.net
Skipper Moss, Advanced Manufacturing
james.moss@hcsk12.net
Carrie Smith, Agriculture
carrie.smith@hcsk12.net
Gail Steele, Health Science
gail.steele@hcsk12.net
Brandlin Turner, Health Science
brandlin.turner@hcsk12.net