TN-944 AFJROTC  9-11 Memorial Service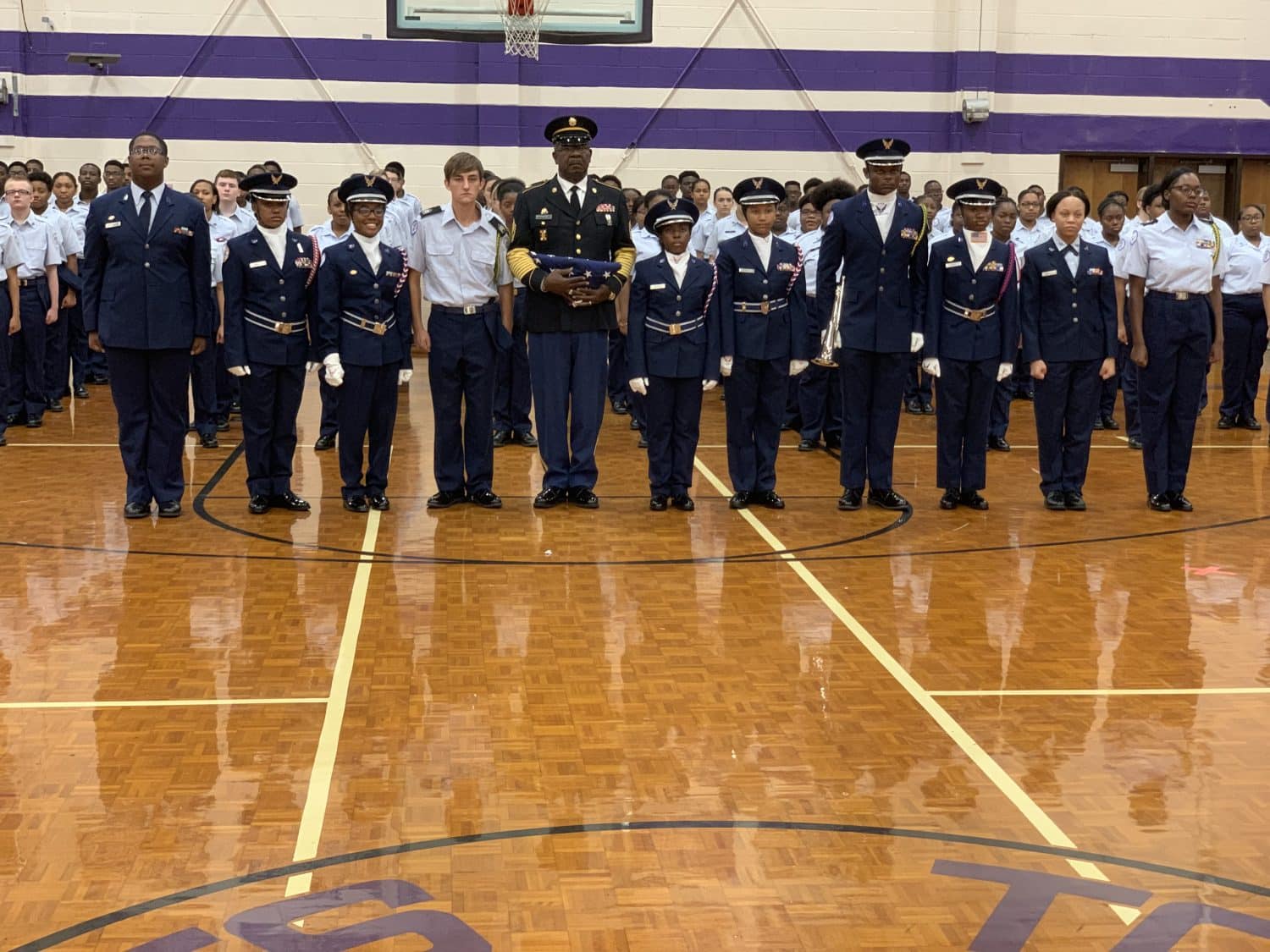 The Haywood High School division of the Air Force Junior Reserve Officer Training Corps (AFJROTC) held an outstanding and heartfelt  9-11 Memorial Ceremony in the Haywood High School gym on the morning of September 11 in honor of victims and members of the armed forces.  
As students filled the bleachers it was quickly apparent that something different and special going on.  Many of their classmates were unformed and lined in straight lines, equal distance apart, respectfully staring straight ahead.  
These students were part of the AFJROTC program.  The mission of Air Force Junior ROTC is to "Develop citizens of character dedicated to serving their nation and community." Air Force Junior ROTC is not an USAF accessions program and cadets are never under any obligation to join the military. Air Force Junior ROTC is a Title 10 US Code mandated citizenship training program that is designed to educate and train high school cadets in citizenship, promote community service, instill personal responsibility, character, and self-discipline. The program achieves this through classroom education in air and space fundamentals and hands on learning opportunities in a number of fun and challenging extra-curricular activities. 
The morning ceremony was conducted by Cadet Trey Cunningham and Cadet Asia Palmer.  Taps was beautifully played by Cadet Darrin Silas.  
The TN-944 Elite Honor Guard with Cadet Khia Pirtle presented a United states flag to honored guest, Haywood County's own First Sergent …….
The criteria for determining eligibility to participate in Air Force Junior ROTC are:
-Be enrolled in and attending a regular course of instruction in a grade 9 through 12 at the school hosting the unit.
-Be selected by the Air Force Junior ROTC instructor with the approval of the school principal or his/her representative.
-Maintain acceptable standards of academic achievement and an academic standing that warrants at least normal progression leading to graduation.
-Maintain acceptable standards of conduct.
-Comply with specified personal grooming standards. Common sense and good judgment apply to the attainment of these standards. Standards will not be relaxed so as to reflect disgrace on the United States Air Force.