Haywood Middle School Girls Basketball Team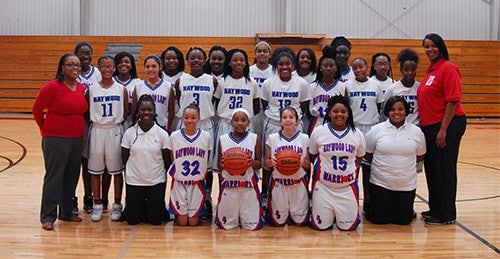 Members of the HMS Girls Basketball team are Manager Kabreya Benton, Mikya Montgomery, Akilah Jones, Makya Moss, Martasia McDaniel, Manager Ja'Riona Turner, Assistant Coach Candice Brown, Laniyah Hill, Camoni Turner, Megan Garrison, Aryanna Blakely, Mecasia Taylor, Anycia McGowhy, Jamya Boyland, JaDerrika Welch, Bridgett Swain, Briana Zuniga, Shakirah Drake, Makayla Ward, Kabria Currie, Shekinah Tisdale, Kalyce Mitchell, Marianna Fuller, and Head Coach Buffie Turner.
Haywood Middle School Boys Varsity Basketball Team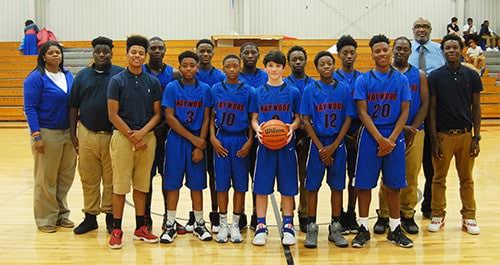 Members of the HMS Boys Varsity team are Donel Gilliam, Emmanuel Garrison, Jamarion Woods, Reed Chapman, Michael Harris, and Christopher Douglas, Atlantis Cooper, Atlex Evans, Kyeth Powell, Trevon Holloway, Shaqwon Currie, Sharmarion Jones, Omarion Ballard, and Sodonnie Bufford, Coach Patrice Boyd and Coach Winston Varnado.
Haywood Middle School Boys Junior Varsity Basketball Team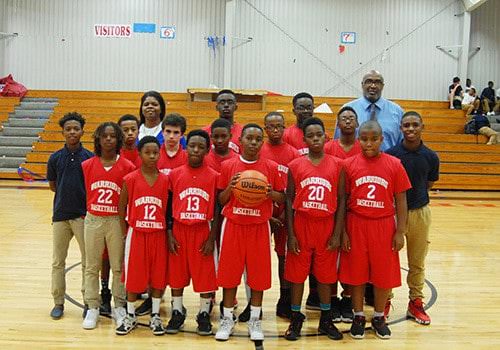 Members of the HMS Boys Junior Varsity team are Ja'Marion Russell, Jullian Jarrett, Kadarion White, Shylon Madyun, Monterion Woods, Mondarius Turner, Terrance Carpenter, Collin Rice, Bryce Carlton, Quontayvis Comage, Taquarius Douglas, Jaylen Lewis, Sedarius Palmer, Coach Patrice Boyd, Derrick Montague, Trey Tull, and Coach Winston Varnado.
Haywood Middle School Basketball Cheerleaders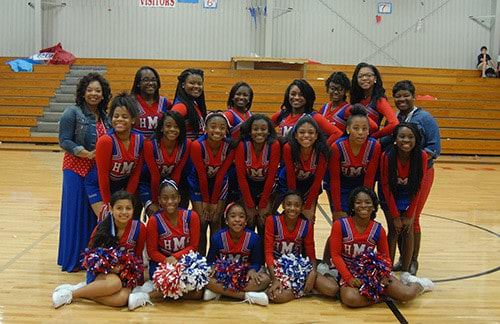 Members of the HMS Basketball Cheerleading squad are Sinai Leon, Anna Evans, Faith Russell, Madison Dancy, Emani Hopkins, Ta'Lexia Jones, Cierra Morton, Amariah Hines, Briana Walker, Brionna Folks, Joniya Starks, DyRiah Pickens, Sponsor Shalondria Shaw, Keresa Woods, Makyah Mann, Bra'kiah Hudson, Shamariah Houston, Nyana Whitelaw, Chelsea Dancy, and Co-Sponsor Desiree Russell.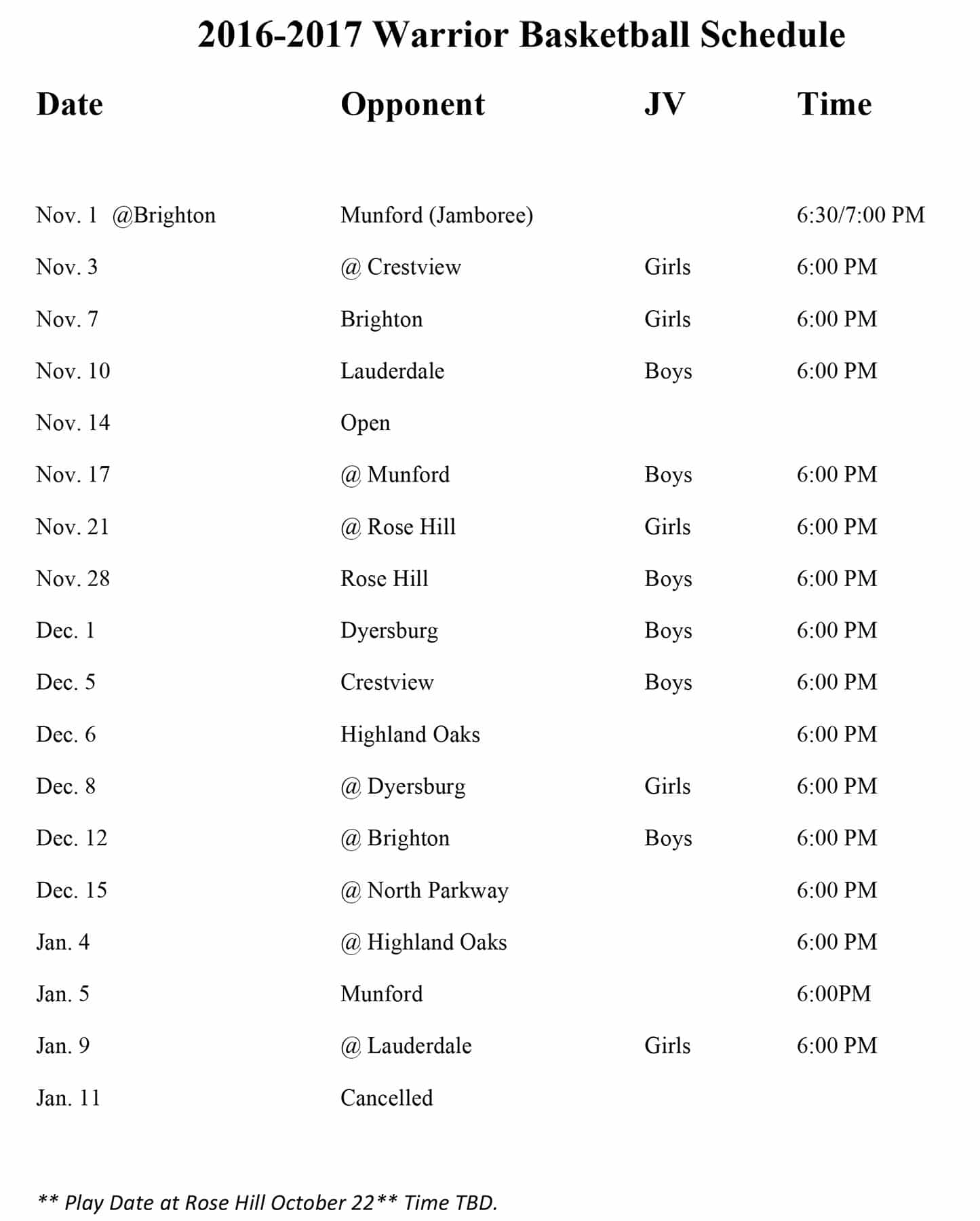 HMS Football Warriors 2016-2017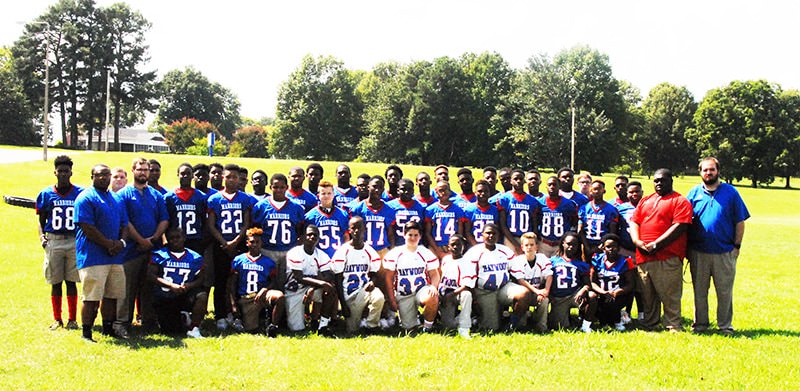 Members of the Haywood Middle School football team are (2) Sodonnie Buford, (3) Carl Robinson, (4) Atlex Evans, (7) Tavaress Somerville, (8) Hollis Lanier, (9) Kylan Newbern, (10) Keith Powell, (11) Jalen Lewis, (12) Marquis Mays, (14) T. Q. Douglass, (15) Shcorius Sweet, (17) Jakylon Taylor, (19) Tereon Taylor, (20) Quieten Warren, (21) O'Brien Henley, (22) Jabori Carter, (23) Karl Rutkowsi, (25) Chartavious Lewis, (30) Jordan Rogers, (31) Jalen Johnson, (44) Devin Jones, (45) Carson Elery, (51) Rhyan Peet, (52) Tylan Taylor, (53) Johnathon Forrest, (54) Atlantis Cooper, (55) Hayden Jeter, (57) Xavier Byars, (58) Keyvon Scott, (60) Johnnie Holmes, (62) Torrian Ginsley, (68) Brian Hill, (72) Cameron Douglas, (75) Omarion Ballard, (76) Anthony Brewer, (77) Kazion Springfield, and (88) Jalen Stewart. Head Coach is Vernon Mann, and Assistant Coaches are Sam Pyron, Xavier Cay and Leamond Arthur.
HMS 2016 Football Cheerleaders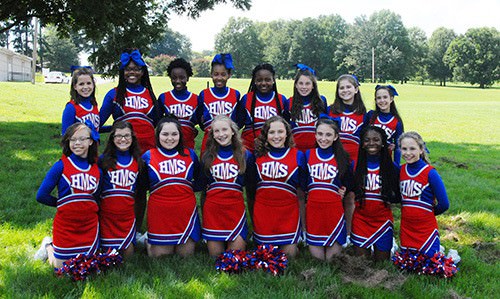 Members of the Haywood Middle School football cheerleading squad are Arianna Flagg, Emma Lea, Elizabeth Carpenter, Ann Wesley Banks, Riley Hooser, Molly McCage, Emani Hopkins, Elizabeth Kirby,  Abbey Berry, MarQuasia Woods, Asia Mayfield, Tamya Clark, Kelsea Delk, Molly Nichols, Sarah Margaret Hooper, and Ellie Smith. Sponsor for the squad is HMS teacher Cindy Currie.
HMS 2016 Volleyball Team
Members of the Haywood Middle School Volleyball team are (fron left, first row) Ja'Kyra Tate, Lakyia Boyd, Victoria Dancy, Deniya Wilson, Madison Dancy, and Kebreya Benton; (second row) Georgia McBride, Shelby Littlejohn, Hayley Roten and E'Mya Robinson-Trotter; and (third row) Travica Pugh, Mecasia Taylor, Sha'Dalis Price, Elisabeth Steele, and Coach Patrice Boyd.
 2016 Volleyball Schedule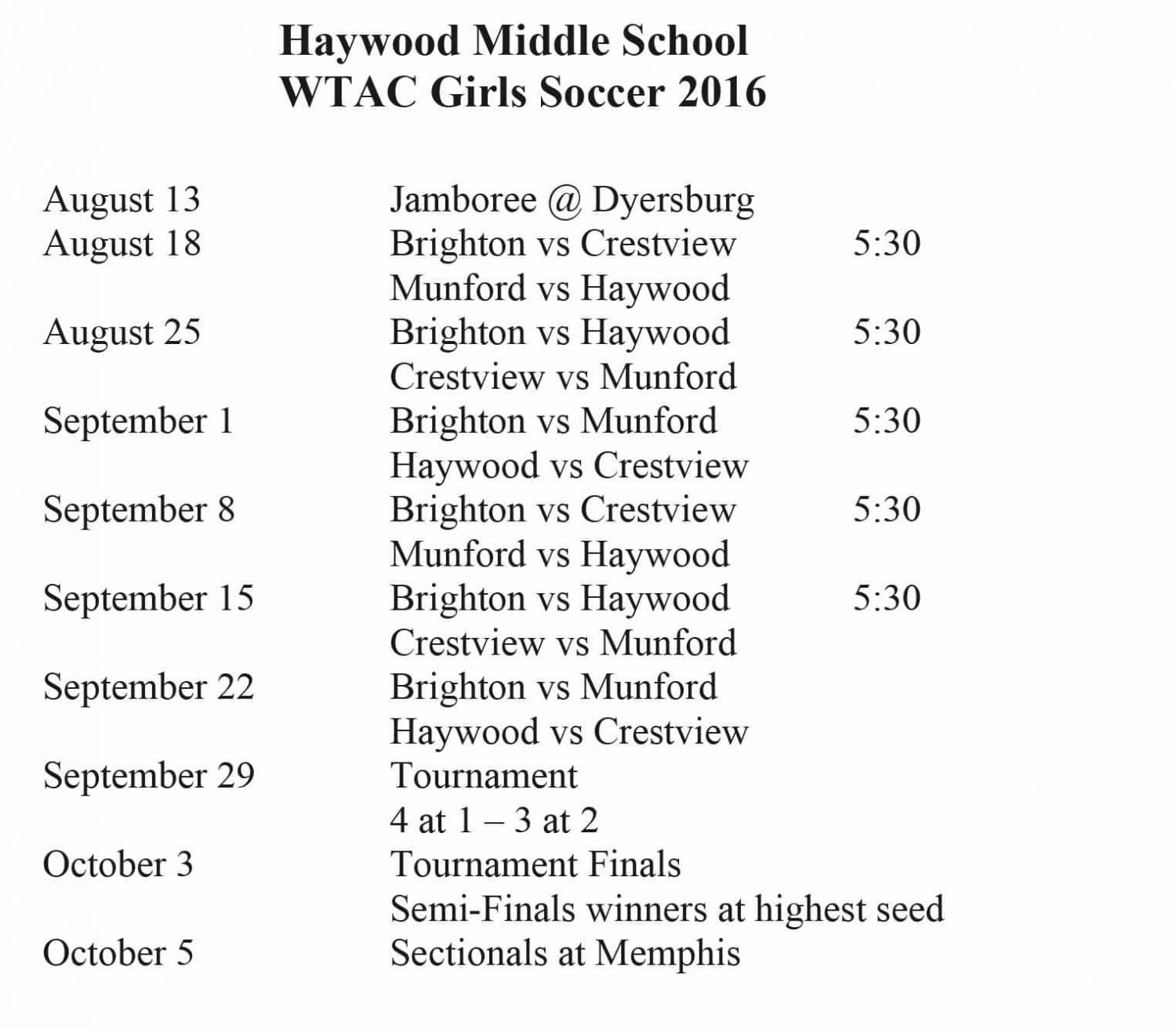 HMS Girls Soccer

Haywood Middle School Coaches
Baseball- Leamond Arthur
Soccer- Humberto Auguilar
Tennis- Jane Jameson
Softball/Volleyball- Patrice Boyd
Track- Xavier Clay
Football- Vernon Mann
Girls Basketball- Buffie Turner
Boys Basketball- Winston Varnardo