2017 Haywood County Spelling Bee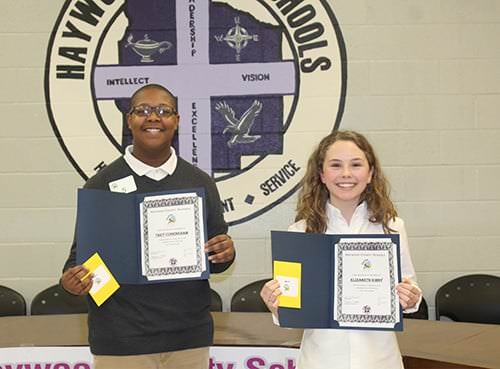 Fifteen students from Haywood Middle School qualified to compete in the Haywood County Schools Spelling Bee at the Central Office on February 2.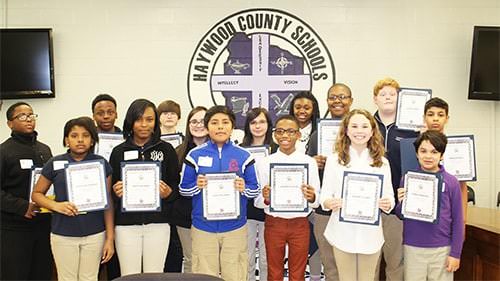 Qualifying for the event were: 6th Grade – Jaiden Bishop, Kylan Brown, Ledarrion Gause Holloway, Marliss Gray, and Ruben Sandoval; 7th Grade – Stevaunia Freeman, Desteuna Hines, Tybric Shaw, Raven Watson, and Sarah Wills; and 8th Grade – Trey Cunningham, Elizabeth Kirby, Andrew McBride, Uziel Policarpo, and Nyana Whitelaw. Winning first place in the event was Elizabeth Kirby, and second place, Trey Cunningham.
From the Haywood County Schools Central office, Marjorie Vaux, Executive Director of Assessment and Professional Learning, conducted the event with the assistance of Art Garrett – Chief Operations Officer, Gina Rawson – Executive Director of Federal Programs, and Jean Wills – Secondary Supervisor.