VA Partnership awards ES STEM Grant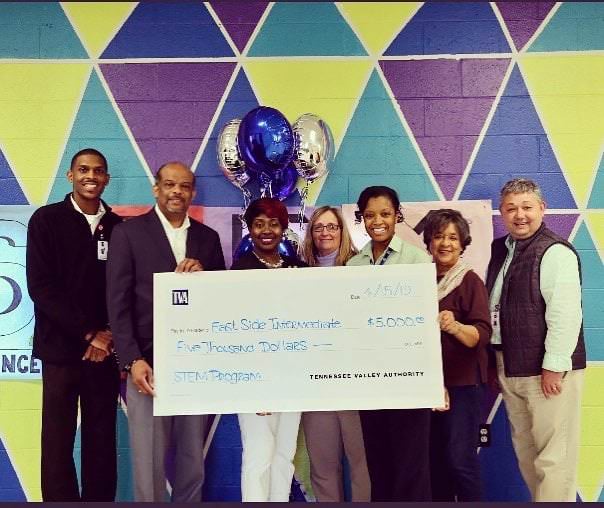 Recently a check was delivered by TVA to East Side Intermediate in the amount of $5,000! Our young innovators/engineers are getting a 3-D printer. Pictured from left are HCS Family Engagement Coordinator Jay Boyd, Brownsville Mayor Bill Rawls, East Side STEAM teacher Sharon Clark, Principal Dr. Tressy Halbrook, TVA representative Marcey Wright, Brownsville Alderman Carolyn Flagg, and HCS Superintendent Joey Hassell. T
The Tennessee Valley Authority, in partnership with Bicentennial Volunteers Incorporated (a TVA retiree organization), recently awarded East Side Intermediate School, $5,000.00 for a STEM (science, technology, engineering, and math) education project.
The grant award is a part of $580,000 in competitive STEM grants awarded to 161 schools across TVA's seven-state service territory.
"This is a game-changer for us," said Sharon Clark, East Side's STEAM Educator. "Placing 21st century technologies in the hands of young innovators along with effective training has the potential to STEMulate those young minds for success now and well into a much brighter future.
The project East Side Intermediate submitted will improve the STEAM based curriculum by adding 3D Printing and empower students by engaging them with hands-on learning experiences with 21st century technology.
The competitive grant program provided teachers an opportunity to apply for funding up to $5,000 and preference was given to grant applications that explored TVA's primary areas of focus: environment, energy, economic and career development and community problem solving.
"The goal of the program was to help further STEM education across the valley," said Rachel Crickmar, TVA Community Relations Program Manager. "We knew this program would be popular and competitive and now we're are looking forward to seeing the impact these projects have."
The Tennessee Valley Authority is a corporate agency of the United States that provides electricity for business customers and local power companies serving nearly 10 million people in parts of seven southeastern states.