2012 TENNESSEE ACADEMIC DECATHLON STATE COMPETITION RESULTS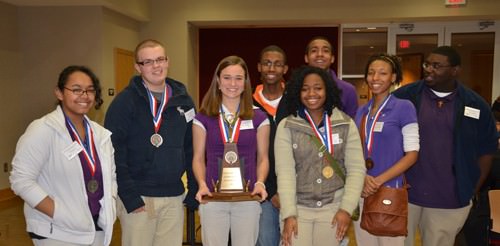 For the twenty-seventh consecutive year, Haywood High School competed at the state-level in the Tennessee Academic Decathlon. Hosted by Austin Peay State University in Clarksville, the Academic Decathlon is a preliminary qualifying event for the United States Academic Decathlon. Haywood High had two teams competing, and both teams placed in the top five, returning home with two trophies, 19 individual medals, one plaque, and two $300 scholarships. Four of the HHS team members were invited to participate in the prestigious Speech Showcase. The Purple Team placed fourth overall, and the White Team placed fifth.  Although HHS has had two teams advance to state competition in the past, this is the first year that both teams placed in the top five and won trophies.
Winning individual medals were the following:
Tressa Perez – Silver Medal in Math
Noryani Perez – Bronze Medal in Math
Demarcus Coney – Copper Medal in Math
Kaayla Cunningham – Copper Medal in Math
Octavius Lanier – Copper Medal in Science
Nijaa Murray – Gold Medal in Speech
Jamari Johnson – Copper Medals in Math and Economics
Jerred Mize – Bronze Medal in Interview; Silver Medal in Speech
Madison Eubanks – Copper Medals in Speech and Math
Kaitlyn Schwarz – Copper Medal in Science; Bronze Medals in Super Quiz and       Economics; Silver Medals in Math and Music; Gold Medals in Speech and Essay.
Kaitlyn Schwarz received a plaque for having the second highest individual score in the Varsity Division. Kaitlyn was the highest-scoring senior on the Purple Team, and Madison Eubanks was the highest-scoring senior on the White Team. Both received a $300 scholarship awarded by the Tennessee Academic Decathlon.
The Purple Team scored fifth in the Super Quiz event.
Madison Academic Magnet High School placed first overall and will represent Tennessee in the national competition in April. Chester County High School placed second, and will compete in nationals online in the medium-sized school category. Mt. Juliet High School will compete online in the large school division. Obion County Central High School's Blue Team placed third. Other teams competing were Obion County Central's Red Team, Liberty Technology Magnet High School, and Seymour High School.
The HHS teams and their coaches, Miss Glynn Bridgewater and Mr. John Thomas, want to thank all faculty, staff, and administrators who helped them prepare, with a special thanks to Mrs. Gay Thomas and Mrs. Gail Chapman who traveled to Clarksville to help.