Anderson students share their lessons with board members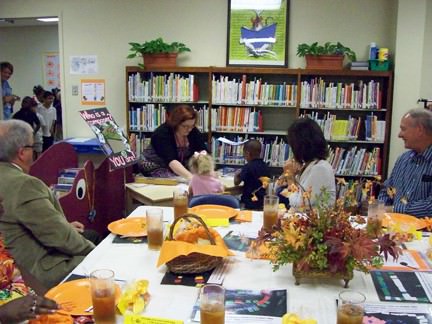 Anderson Early Childhood Center was host for the School Board Lunch/Visit in late September. Following their meal, students visited to share some of what they are learning. In music class, Kindergarteners are writing their own songs! They are composing lyrics using their sight words from class and making them rhyme. They color code the words to different keys on the piano and when they are finished, they sing the song using their own lyrics.
Kindergarteners in Mrs. Nicole Henderson's class have been learning an Alphabet rap in which they sing the name of the letter, then the sound that that letter makes, then something about the letter. Preschoolers in Mrs. Sami Jo Gore's class have been studying shapes and colors. They made houses and other designs with their different colored shapes. These students enjoyed telling about their creations to our visitors. These are just a few of the many things students are doing at Anderson. Visitors are welcome!
Pictured with the students are school board members Harold Garrett, Robbie Jarrett-King and Pearlie Hess and Deputy Superintendent Teresa Russell. Hosts for the event were Anderson Principals Jim Frazier and Cindy Smith.