Biology students start recycling project at HHS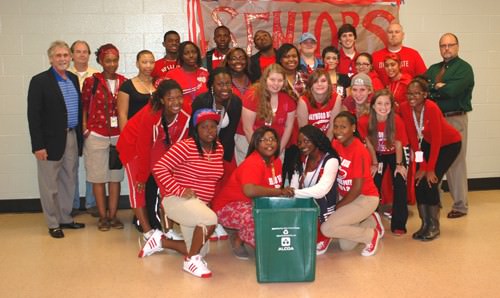 Even though HHS students were celebrating Color Day for Homecoming recently, it didn't stop members of the Biology II honors class, under the direction of Coach Tim Stratton, from introducing their school-wide recycling program. Joining them for the announcement were Haywood County Mayor Franklin Smith (left), Haywood County Solid Waste and Recycling Director Clinton Neal (second from left) and HHS Principal Dr. Jerry Pyron (right).
By Shauna Jackson
In Haywood High School, a gallant group of students have recognized the need for change. This group — the Biology II Honors class, aka the recyclers, aka those kids carrying the green cans in the hall — under the close supervision of their sponsor and instructor Coach Tim Stratton, are on their way to significantly and positively impact the community. "I am not in it for money," said Coach Stratton during one of his daily environmental class lectures. "I'm not getting paid for this and neither is the school. All I want is for us to help preserve our environment."
The recycling program has already begun its work toward environmental aid. The students involved have started a successful school-wide recycling program that deals with paper, plastic, and even used cell phones. The group is even contemplating creating a wetland either on campus or somewhere in the community. In accordance with that, there are also many other "secret" plans that they have cooked up to improve the everyday life of our fair town. Many of the Biology II Honors students are even willing to perform community service, i.e. picking up garbage, planting trees and flowers, building benches and fences, digging holes, helping to remove toxic waste, etc.
Keeping that in mind, the HHS Recycles program is literally brand new. Funding for the recycling students planned programs is low, and where there is little money there are few resources available. Coach Stratton has been planning a trip to Florida for the teens to watch different dissections and to learn how animals are impacted by water pollution. Even without a current bank account, the Biology II Honors class is still hoping that a series of fundraisers will be enough to supply them with the resources they will need for the trip.
The group is working in cooperation of Haywood County Mayor Franklin Smith and Haywood County Solid Waste Department Director Clinton Neal, who provided the green boxes and is collecting the recyclables.