C & T Banquet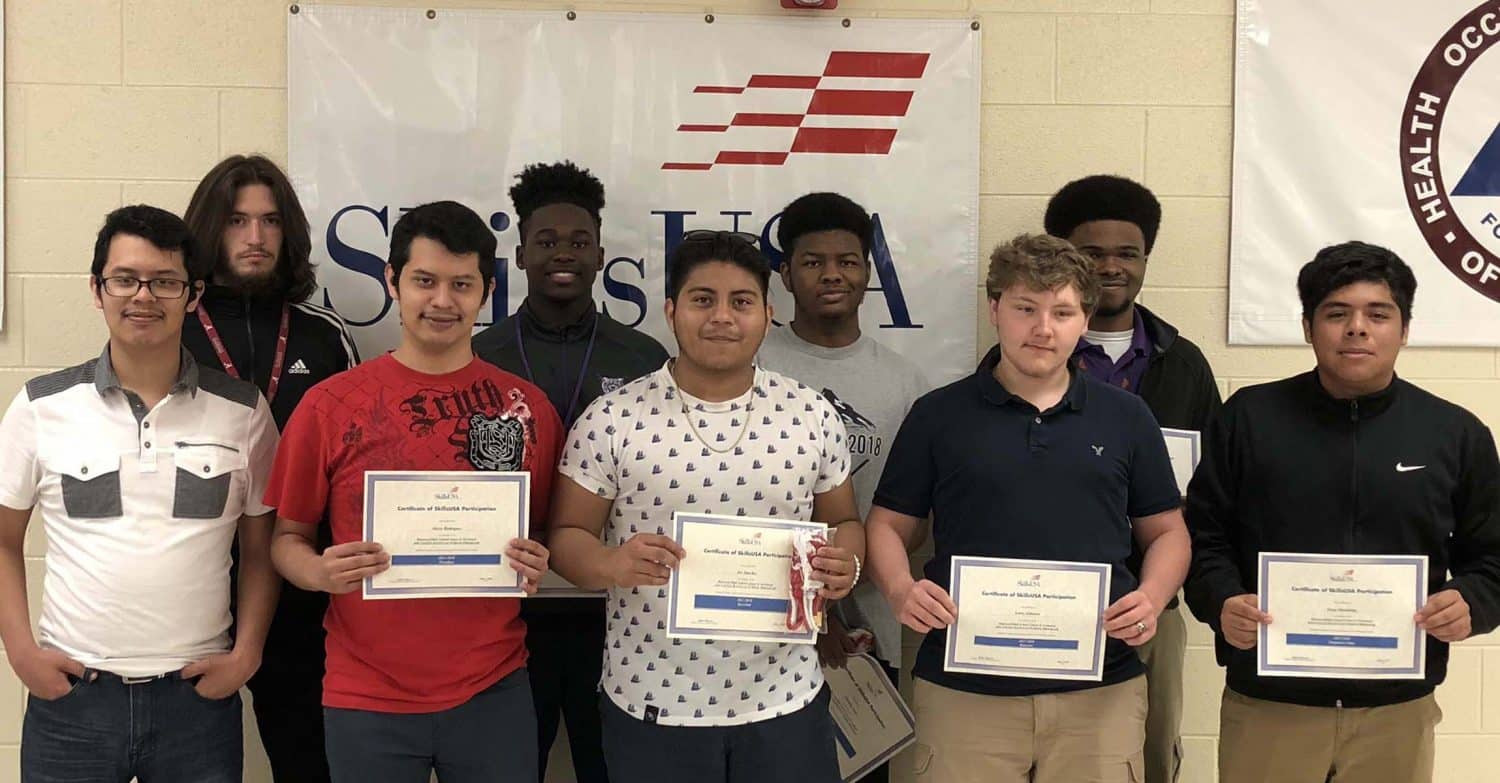 SKILLS USA
At the recent Career and Technical Awards Ceremony, Sponsor James Moss announced the officers of the 2017-2018 SkillsUSA Club: (from left) Benjamin Rodriguez, Kaleb Kutz, Alexis Rodriguez, Ja'Darius Hines, Joe Sanchez, Christian Jones, Larry Johnson, Robert Harris, and Jorge Zanabriga. All are members of the Advanced Manufacturing Program.
FCCLA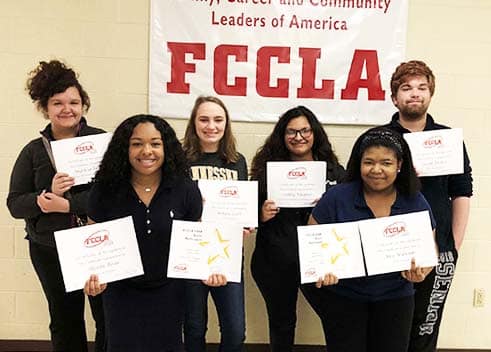 Members of FCCLA recognized at the Career and Tech Awards Ceremony are (back row from left to right) Angelina Ferrer, Mikala Leath, Ashley Vasquez, and Jacob Jordan.
Front row, left to right: Alexiis Bean, Alex Williams. Sarah Haynes is the sponsor.
DECA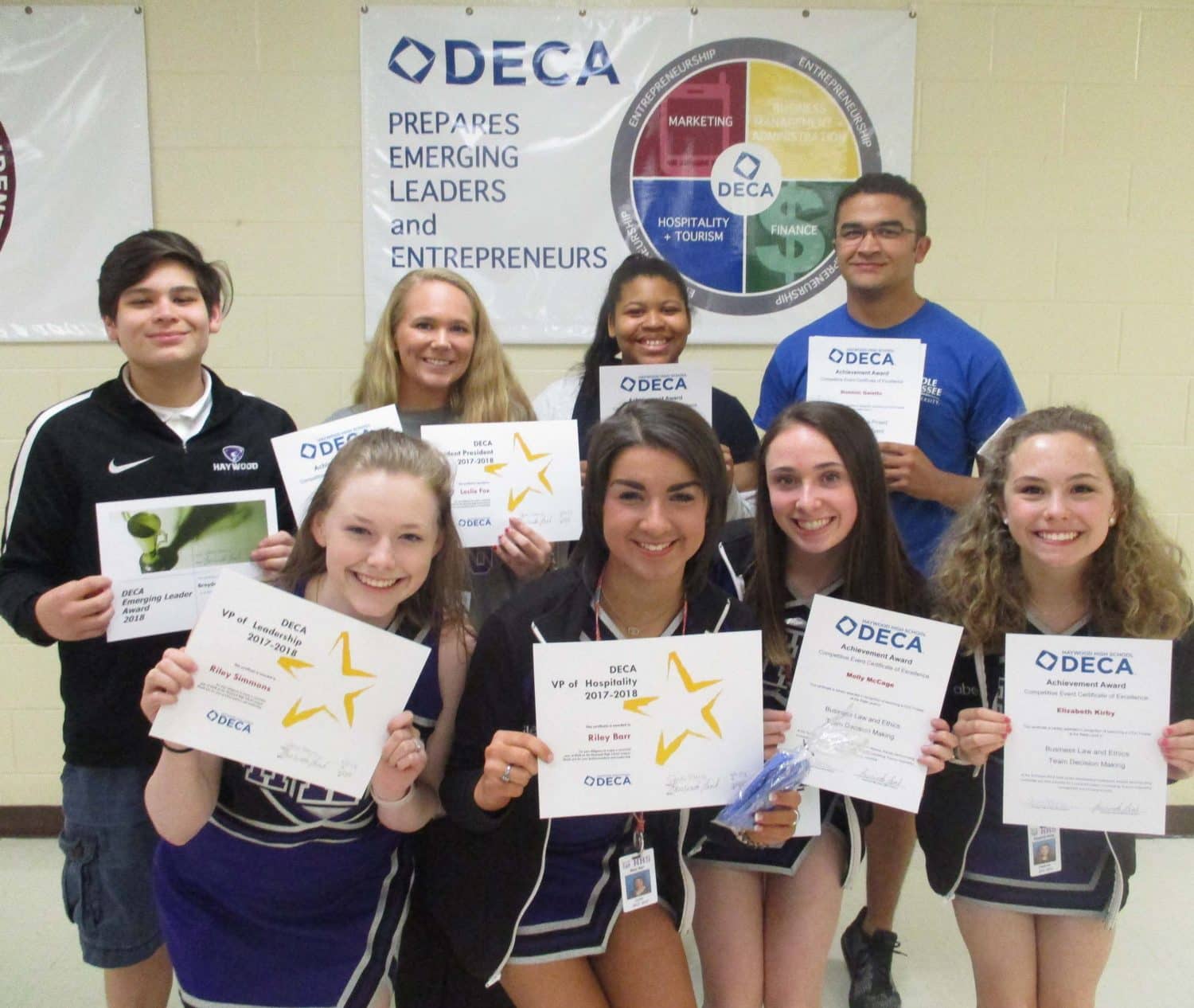 Those recognized from DECA (pictured) were 2017-2018 Officers: Leslie Fox – President, Riley Simmons – VP of Leadership, Dominic Gaietto – VP of Finance, Riley Barr – VP of Hospitality; and (not pictured) Bendy Yuan Zhao – VP of Marketing, and Brierra Starks – VP of Career Development. Competition State Finalists: Dominic Gaietto and Acayla Palmer – Public Relations Project, Molly McCage and Elizabeth Kirby – Business Law and Ethics Team Decision Making, and (not pictured) Sujey Gaspar. Competitors Advancing from State to International Competition: Leslie Fox – Entrepreneurship Team Decision Making and (not pictured) Bendy Yuan Zhao, and Newcomer of the Year: Elizabeth Kirby. Emerging Leader Awards:  Breyden Mora and Acayla Palmer.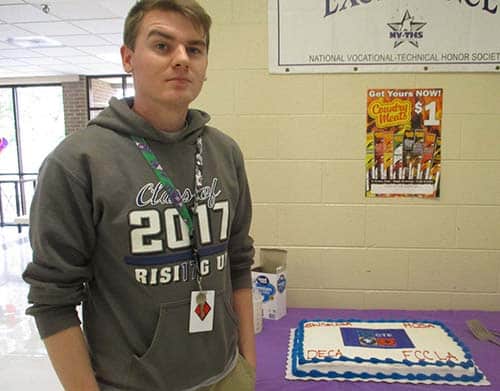 Erin Adkerson received 50 dollars for creating this year's CTE logo.
CULINARY ARTS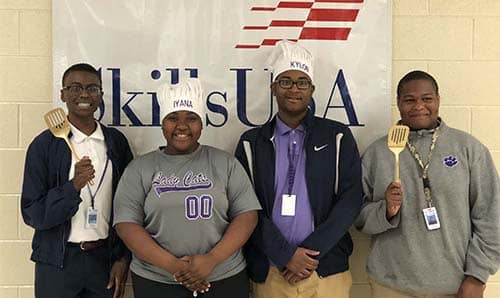 The Culinary Arts awards were the Golden Spatula – Onterrio Woods and Martin Welch, and Rising Chefs – Iyana Taylor and Kylon Washington. The teacher for this class is Kim Marble.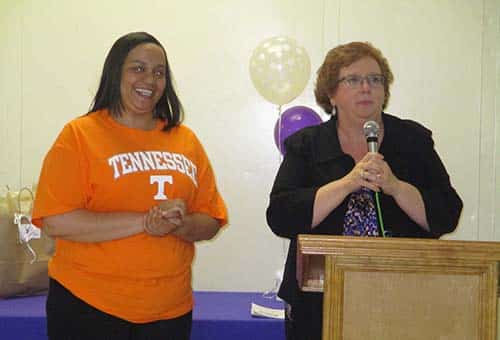 C & T Director Pam Diebold (right) congratulated Brandlin Turner for being selected as Teacher of the Year.