College Signing Day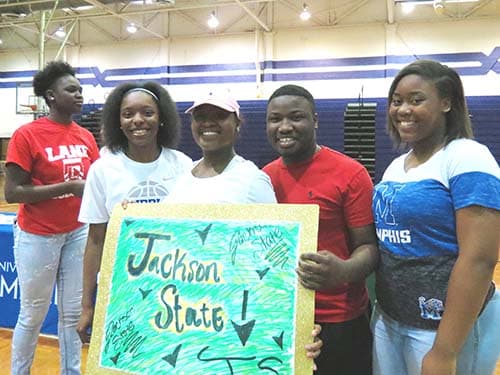 College Signing Day, an event that celebrates student achievement and a day for students to proudly announce where they are going to college and to celebrate with family and friends in their communities, was held at Haywood High School on May 3, 2018.  The program planned by Jackie Whitten, Haywood County GEAR UP TN Site Coordinator and Johnna Burton from REDI had about 227 seniors participating and 220 juniors were present to see the event. Seniors, wearing their college shirts, made and held up posters to show their postsecondary plans as the HHS football cheerleaders cheered and the HHS band played to help them celebrate.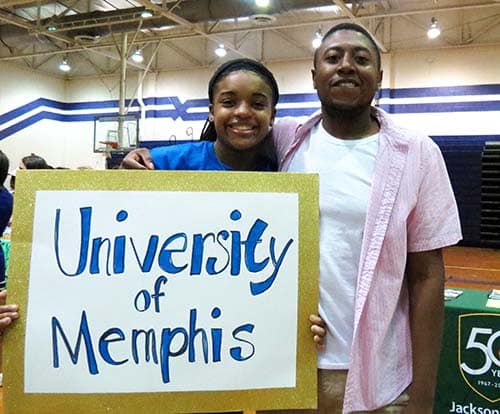 Special guests who congratulated and encouraged the students included the following:
Mayor Bill Rawls and Shalondria Shaw from the City of Brownsville, Ashlee Henderson from the American Job Center, Summer McClain from the Tennessee College of Applied Technology in Whiteville, Toni Stanford from Jackson State Community College, Adam Johnson from the University of Memphis, Cedric Bunch from Haywood County Schools 12st Century Extended Learning Center, Principal Latonya Jackson, REDI mentor Janna Burton, and GEAR UP Site Coordinator Jackie Whitten also congratulated and encouraged the students.
Afterwards, students were able to talk to college reps, submit their admission forms, Gwynn Gavin was available to those students who needed to sign up to take their test for the Career Readiness Certificates.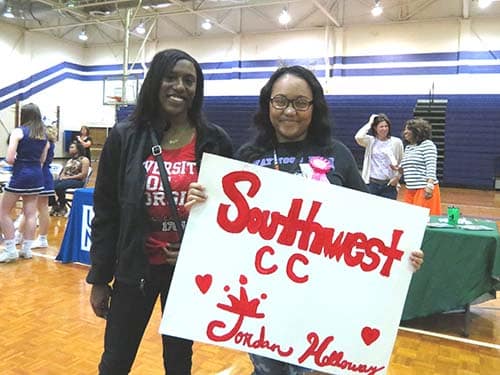 Jackie Whitten, Site Coordinator of GEAR UP, said, "College Signing Day is a day to build excitement, not only for the seniors, but for other students. The event is growing each year because our students are learning more about the postsecondary opportunities that are available to them. GEAR UP wants to make sure every student will have the opportunity to be publicly celebrated for going to college."