Four Tomcats sign with colleges
Two HHS Tomcats, Shemar Powell and Quintavious Caldwell, signed with Bethel University on February 6 to play football for the Wildcats. Pictured with them on National Signing Day were (from left, seated) Kyeth Powell, Shemar Powell, Bethel Coach Alan Hollowell, Pastor Tom Averyheart, Quintavious Caldwell, Joyce Caldwell and (from left, back row) HHS Tomcat Head Coach Slade Calhoun, Principal Dr. Jerry Pyron, Quincey Caldwell and Elizabeth Chaney.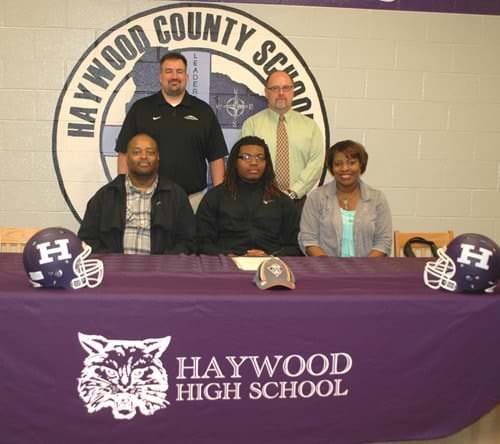 Lane College recruited Justice Brown to play football. He signed with the college on National Signing Day, February 6. At the signing congratulating him were HHS Vice Principal Michelle Tillman, Coach Slade Calhoun and Principal Dr. Jerry Pyron.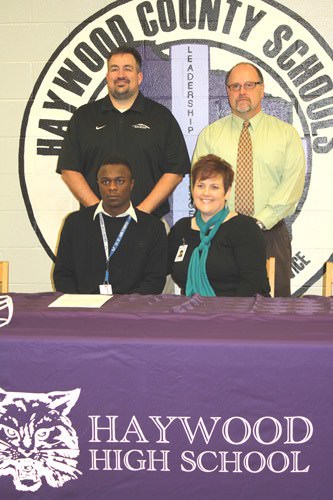 On National Signing Day, February 6, Haywood High School had more football players offered scholarships than any other high school in West Tennessee.
Four Tomcats made commitments to area colleges – Kadarren Bond, at 6'4" and 282 lbs., will join UT Martin's offensive line next fall. Wide receiver Quintavious "Squirm" Caldwell and offensive lineman Shemar Powell will be teammates at Bethel University. Running back Justice Brown has chosen to attend Lane College.
"This is a real testament to our program," Head Coach Slade Calhoun said. "These players are fine young men who will represent us well — four guys you don't mind putting your name on."
Although the 2012 Tomcats were 3-7, many of the games were lost by only a touchdown or less. The team displayed talent, discipline, and hard work.  "I can say that these guys worked hard, rarely missing weight training or practice sessions. Their attitudes are great," said Calhoun.
The coaches used the sports video software Hudl to get the word out about their players, Calhoun said, posting video and even player GPAs and ACT scores. They also took prospects to summer football camps at several area colleges, where coaches apparently liked what they saw.
"I am extremely proud of these players," said Tomcat offensive line coach Justin Kemper. "Each of them should fit well with their respective programs. I look forward to seeing them play, but the most important thing is that they have the opportunity to graduate from college and get a degree."
Quintavious Caldwell says he is excited about Bethel. He will have a buddy on the team, Shemar Powell, although they haven't yet decided whether they will room together. They will also join HHS alumni Jerry Bradford and Larry Turner, both of whom joined the Wildcats in 2011. Caldwell plans to major in criminal justice and promises to do his best to keep a 3.0 grade average. Powell plans to become a registered nurse.
Kadarren Bond attended several summer camps, but decided to go with UT Martin, a team that went 8-3 last year. "I felt like I did my best at the Martin football camp," he said. UTM coach Jason Simpson was quoted in the Jackson Sun as saying he values intelligence in offensive linemen, and he liked the way Bond carried himself and competed in the drills. Bond is interested in pursuing a graduate degree in physical therapy, which means he will be in school for many more years.
To a man, all four players said the same thing when asked what it took to get scholarship offers. Hard work. Hard work on the field, in the weight room, and in the classroom. They also know they will have to work hard to keep up their grades and compete in college athletics.