Gear Up sponsored a cooking class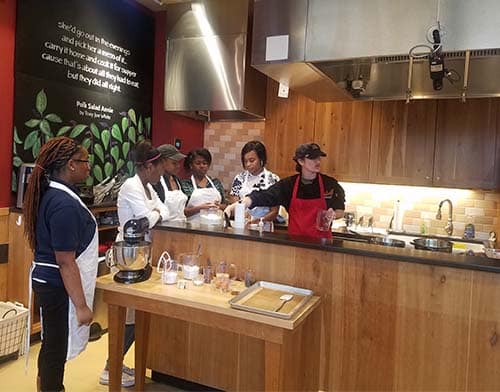 Haywood County GEAR UP TN sponsored a cooking class for 12 Haywood High School culinary students and culinary arts teacher, Kim Marble, at Salud Cooking School at Whole Foods in Memphis on November 6. Students worked with Chef Bri Rogers to create a three-course meal. They started off by greeting the chef with their names and favorite food. The students then moved on the see how dough was made and learned that gluten gives the elasticity to the dough to create the fresh paste. Once the students had their dough, they moved to making Chocolate and Almond Biscotti. This dish was twice baked and best served with coffee or ice cream for dunking.
After they finished the biscotti, the next step was time to marinate the chicken. The students used fresh rosemary and thyme as their main ingredients, as well as other fresh herbs. They also made fresh ranch dressing with fresh dill and chives. Students were most excited to use their own dough to make fettuccini noodles. They used a tabletop pasta maker and each student created beautiful noodles. By the end of class the students had created an amazing meal with garden salad, garlic bread, chicken Alfredo and chocolate almond biscotti.
The experience of cooking with Chef Bri was one the students will never forget. What they enjoyed most is like most teens – eating!