HES proud of new Reading Room
On Thursday, August 24, Haywood Elementary School celebrated its new Ben Carson Reading Room. The entire school gathered for an assembly in the school's gymnasium. Principal Anna Roberts talked to the students about the celebration and ribbon cutting and thanked all who were involved for their efforts to remodel the school's library. This celebration was possible through donations from the Ben Carson Reading Project and local industry Domtar. The reason for this project: "The Ben Carson Reading Project is designed to combat illiteracy and promote leisure reading as a way to unlock a child's full potential," according to the founder. The Haywood Elementary library is the 152nd room opened by the Ben Carson Reading Project and local sponsors. Dr. Carson credits reading as being the catalyst to his success.
Librarian Dawn Lovelace introduced special guests: Representatives from Domtar, Superintendent of Haywood County Schools Teresa Russell and others from the Central Office, Board Chairman Harold Garrett, and Haywood County Mayor Franklin Smith. Also pictured in the ribbon cutting are the HES teachers and others who were on the Reading Room Committee: Beverly Austin, Sylvia Brown, Lauren Ellington, Patricia Gaietto, Lacey Gaylord, Roy Hawkins, Lanna Hester, Vivian Miller, Kathryn Patterson, Samantha Sammons and Darlean Wellington.
Mr. Sam Aspiranti, Plant Manager for the Brownsville Domtar facility, spoke to everyone about Domtar's privilege to be a part of the team with the Ben Carson Reading Project in Brownsville at Haywood Elementary. The total grant for the project was $15,000.
Superintendent Russell also spoke to the group and among other words of encouragement and praise for the project, she said, "Books are the Key to Success."
Students also enjoyed a video of Dr. Ben Carson talking about the project, a presentation by a group of students who used the theme of the project "THINK BIG" to say a few words, and a musical number by students at the school.
The ribbon cutting ceremony was held in the newly remodeled library, and guests were served refreshments.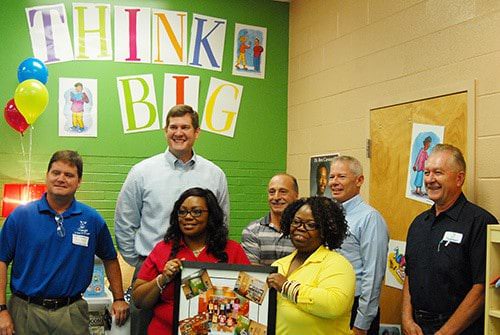 Representatives from Domtar are (from left, back row) Kevin Odom from Print Pack, Logan Carden from Motion Industries, Sam Aspiranti – Domtar Plant Manager, Tommy Black from Print Pack, and (front row) Natasha Bond and Anansa Croom from Domtar.