HHS Band and Choirs present Concert
On Monday, December 12, members of the HHS Band and Choirs presented a Christmas Concert for faculty, staff, family and friends in the HHS cafeteria
.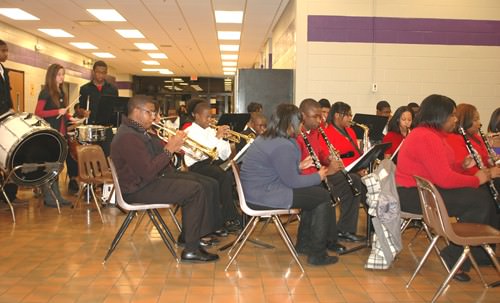 The Concert Band, under the direction of Dumanic Wade, played "Holiday Cheers," The Nutcracker," "Christmas Spectacular," and "African Bell Carol." Members of the Haywood High School Concert Band are Allison Hardaway, Kelsey Byars, Bianca Ligon, Xavier Rogers, Carmetrius Woodfork, Amber Williams, Alycia Johns, Jamira Jarrett, Adrevious Rayner, Dontai Anderson, Myisha Stone, Alan Grandberry, Kierra Grady, Latesha Walker, Cortez Williams, Cameron Rayner, De'Marious Douglas, Joe Juarez, La'Darious Dancy, Amelia Davis, Dwight Sanders, Jalen Wilson, Tevin Lewis, Zaterius Laird, Curtis Perry, Javarus King and Lidiamon Houston.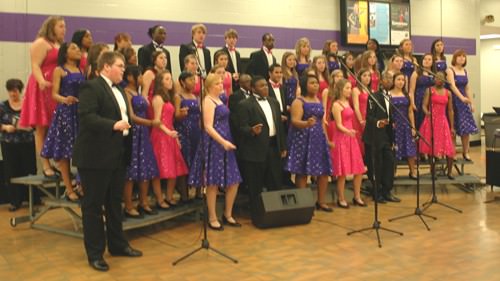 They Haywood High School Show Choir, under the direction of Michelle Tillman, performed "Blue Christmas," "Where Are You Christmas," "Santa Claus is Coming to Town," "All I Want for Christmas," "Grown Up Christmas List," and "Yule Be Rockin." Members of the Show Choir are Kaylee Avant, Jay Clinton, Kelsey Collins, Kaylin Crew, Elisa Cunningham, Jayme Evans, Reeves Garrett, Kalin Hall, Allison Hardaway, Enchantra Henderson, Cassidy Hendrix, Harley Hendrix, Maggie Herron, Aliceson Hobock, Katora Holmes, Ross Houghton, Allie Jacocks, Patsy Jameson, Bria Jelks, Rachel Johnson, Unjunae Johnson, Dalton Jones, Taylor Killen, Emily-Gooch King, Katie Lewis, Amanda Lopez, Rashad Mann, Morgan Marlar, Ashante Mask, Molly McAdams, Antonio Miller, Demarcus Nixon, Mary Drake Owen, Rebecca Pearson, Noryani Perez, Josh Perry, Johnathan Policarpo, Taylor Primrose, Emily Pugh, Dre Rayner, Hannah Roberts, Kaitlyn Schwarz, Emily Siler, Kayla Thompson, Seth Tillman, Sarah Tillman, Cedric Tyus and Emily Wright.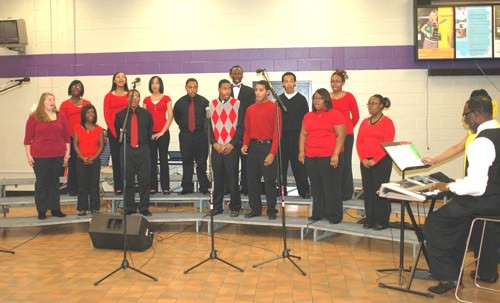 Members of the HHS Renaissance Choir, under the direction of Rickey Reed, are Jahni Boyd, Elizabeth Campbell, Ashley Reed, Tiffany Wellington, JeColiah Williams, Justice Brown, Jamira Hunter, Donitra Kent, Gena Price, John Person, Xavier Robertson, Cedric Tyus, Javonte Flagg, Joshua Wilson and Lamarcus Williams. They performed "Hallelujah Chorus," "Carol of the Bells," "O Praise the Mighty Lord," and "Merry Christmas Once Again."
Under the direction of Rickey Reed, the Gospel Choir performed "Joy," "Now Behold the Lamb," "How Excellent," and "Joy to the World." Members of the Haywood High School Gospel Choir are Brittany Bradford, Chardenay Demoss, Tykesia Henderson, Elise Hudson, Kiera Jones, Whitney Mitchell, Kiarra Moore, Marilyn Morton, Aisha Shaw, Tiffany Wellington, JeColiah Williams, Autumn Bond, Waltasia Evans, Kwantia Jones, Charise Hunter, Jamira Hunter, Trinity Jackson, Alycia Jones, Donitra Kent, Cheyenne Mann, Aaliyah Rayner, Jada Shaw, Rebecca Shaw, Chynna Taylor, Dominique West-Wilson, Melvin Gunn, Anthony Thaxton, Cedric Tyus and Cortez Williams.