HHS C & T student organizations install officers
The Haywood High School Career and Technical student organizations held officer installation ceremonies on October 15 in the C & T building. Jada Brooks, FCCLA President, welcomed friends, families and teachers to the ceremonies, and DECA President Kylan Brown gave the closing remarks. The Culinary Arts students, under the direction of Mrs. Vickie Noles, prepared cookies and punch for the guests. Mrs. Pam Diebold is the Director of the C & T Department and Dr. Jerry Pyron is principal.
FCCLA Officers
In Mrs. Denita Jarratt's classes, officers for her FCCLA Chapter are Adora Donald, Public Relations Officer; Jada Brooks, President; Ali Haynes, FCCLA Week Chairperson; Charity McGhee, Secretary; Amber Harris, Second Vice President; Jada Shaw, Treasurer; Halie Steward, Fundraising Chairperson; and Kamya Burrell, Community Service Chairperson. Not pictured are Angel Goodrich, Homecoming Chairperson; Symphony Timberlake, Vice President of Star Events; and Juanita Snipes, First Vice President.
Officers for Mrs. Vickie Noles' Culinary Arts FCCLA Chapter are Mya White, Vice President; Courtney Green, Secretary; Michelle Leal, Reporter and Homecoming Chairperson; and Kamen Pickens, President. Not pictured is Aisha Shaw, Treasurer.
Mrs. Sarah Haynes' FCCLA Chapter Officers are Deja Taylor, Treasurer; Cierra Stewart, Fundraising Chairperson; Kia Davis, Secretary, Justice Brown, President; Ebony Cozart, Community Service Chairperson; and Ashley Morgan, Vice President.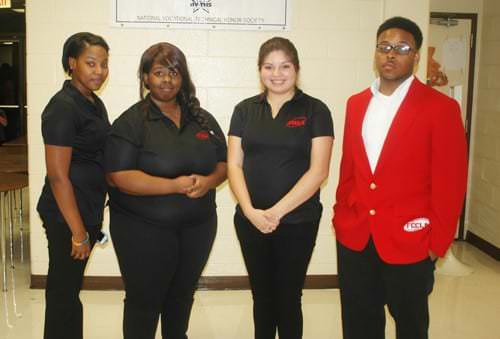 Officers for the Health Occupations Students of America (HOSA) Chapter at HHS are Kaitlyn McBride, Treasurer; Cassidy Hendrix, Reporter; Halie Steward, Historian; Emily Wright, President; Enchantra Henderson, Vice President; Emily Gooch King, Historian; and Kelsey Collins, Secretary. Advisors for this group are Julie Taylor and Kristin Carlton.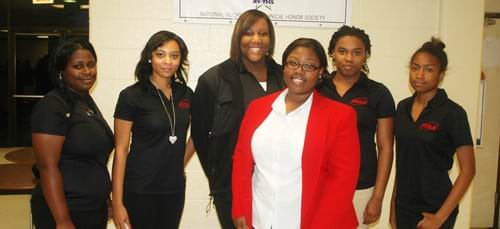 SkillsUSA officers are Dontarius Pirtle, Sargent at Arms; Shavius Hines, Secretary; Charles Edwards, Treasurer; Hunter Roten, Parliamentarian; Blake Moore, Second Vice President; and Billy Price, Vice President. Not pictured are Rick Galindo, Reporter; and LaDarius Taylor, President. Advisors for SkillsUSA are James Moss, Rita Hathcock and Officer Patrick Black.
Serving as officers for the DECA Organization are Marshaun Reed, Social Media Correspondent; Crystal Shepard, Director of Community Service; Quinton Douglas, Director of Competition; Kayla Crawford, Social Media Correspondent; Kylan Brown, CEO; Ricarnicea Johnson, Director of Communication; Kelsey Byars, Director of Membership; and Halie Steward, Director of Fundraising. Advisors for this group are Julie Davis and Phillip Warwick.
Officers for the HHS FFA organization are Jason Elrod, Officer; Alyssa Campbell, Vice President; Samantha Goodman, Sentinel; Anthony Siler, Third Vice President; and Amanda Rogers, Treasurer. Not pictured are Trey Allen, President; Gabrielle Glaser, Second Vice President; Jordan Goodman, Secretary; Amanda Tindle, Reporter; Kayla Pattat, Parliamentarian; and Dylan Howard, Historian.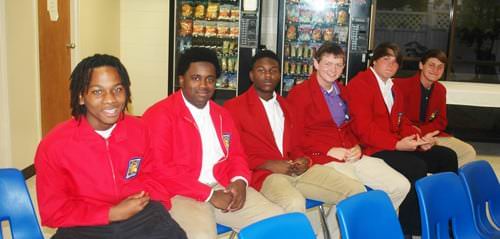 FFA Greenhand officers are Grayson Robinson, Sentinel; Ethan Baynes, President; Trevor Ferguson, Vice President; and Harley Whittiemore, Secretary. Not pictured are Dakota Phillips, Richard Martin and Taylor Waddell. FFA advisors are John Joyner and Garry Butler.