HHS Career and Tech Organizations install officers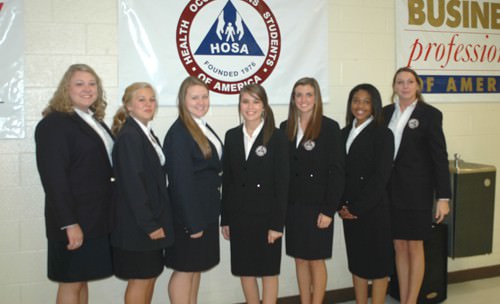 HOSA announces officers
Among the HHS Career and Technical organizations that installed officers at a ceremony on October 1 at the school was Health Occupations Students of America (HOSA). HOSA is the student organization for the Health Science Technology classes taught by Julie Taylor and Kristin Carlton. They teach Introduction to Health Science, A&P, Nursing and Medical Therapeutics. The students also perform community service, including working in Crestview Nursing Home, assisting with health screenings at the elementary schools, collecting canned food for the Mustard Seed and Carl Perkins and adopting kids from the Carl Perkins Center at Christmas to help with their "want lists." Installed as officers were Maggie Herron, Historian; Sarah Lewis, Treasurer; Katie Lewis, Reporter; Emily Wright, President; Cassidy Hendrix, Second Vice President; Enchantra Henderson, Secretary; and Allix Lonon, First Vice President.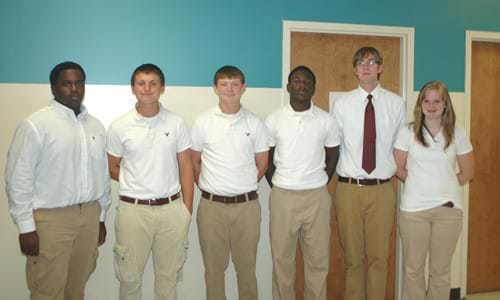 Skills Officers installed at C & T Ceremony
Installed as Skills USA officers on October 1 at the HHS Career and Technical Division Officer Installation Ceremony were Shavius Hines, Secretary; Billy Price, Vice President; Hunter Roten, Parliamentarian; Charles Edwards, Treasurer; Connor Coulston, Second Vice President; and Natalie Jackson, President. Not pictured is Rick Galindo, Reporter.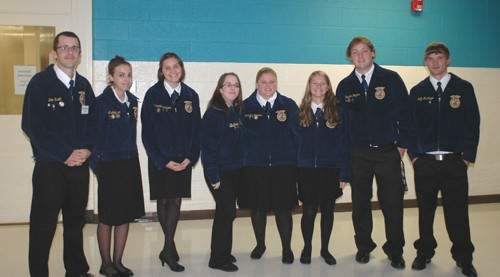 FFA Officers selected for 2012-13
Elected as officers for the Future Farmers of America are Joe Scott, Parliamentarian; Ashley Scott, Secretary; Ashley Mathias, Third Vice President; Alina Woods, Historian; Samantha Goodman, Sentinel; Alyssa Campbell, Vice President; Hayden Baynes, Second Vice President; and Jeff McIntyre, President. Advisors for the FFA at HHS are John Joyner and Garry Butler.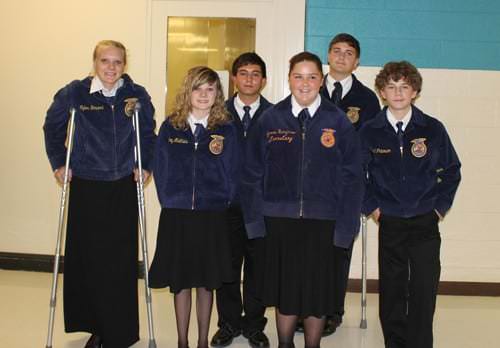 FFA Greenhand officers selected
Elected to serve as officers for the FFA Freshman Greenhand Organization at Haywood High are (from left) Kendall Goodrich, Treasurer; Amber Vales, Secretary; Joseph Stephens, Second Vice President; Megan Saxon, Reporter; Trevor Lott, President; and Haynes Kirby, Student Advisor. Not pictured are Megan Kelley, Second Reporter; Zach McFarland, Vice President; and Robin Martin, Sentinel. Advisors for HHS FFA program are Garry Butler and John Joyner.
FBLA announces 2012-13 officers
Members of the HHS FBLA organization selected to serve as officers are Asia White, Secretary; Kelsey Byars, Region 2 Reporter; Montravious Maclin, Treasurer; Kaayla Cunningham, President; Kylan Brown, Vice President; Aaliyah Bailey, Parliamentarian; and Matthew Hooper, Reporter. Advisors for the group are Julie Davis and Orentheus Taylor.
What is FCCLA …
Family, Career and Community Leaders of America (FCCLA) is a dynamic and effective national student organization that helps young men and women become leaders and address important personal, family, work, and societal issues through Family and Consumer Sciences education. Many may remember it when it was called Future Homemakers of America.
FCCLA: The Ultimate Leadership Experience is unique among youth organizations because its programs are planned and run by members. It is the only career and technical in-school student organization with the family as its central focus.
At Haywood High School, there are three FCCLA chapters. The advisors are Mrs. Sarah Haynes, Mrs. Denita Jarratt and Mrs. Vickie Noles.  Recently the three chapters installed their officers for the 2012/ 2013 school year.
Officers for Mrs. Haynes' classes are President, Justice Brown; and Ashley Morgan, Vice President.
Serving as officers for Mrs. Jarratt's FCCLA group are Juanita Snipes, Second Vice President; Deshun Perkins, Secretary; Symphony Timberlake, President; Jada Shaw, Vice President – Star Events; Destaynae Jameson, Public Relations Officer; and Joseph Stephens, Treasurer.
Mrs. Noles's officers are Aisha Shaw, Secretary; Shana Williams, Treasurer; Alycia Reed, President; Asia White, Vice President; and Ka'men Pickens, Second Vice President.