On Thursday, January 19, Haywood High School Athletic Director Tim Seymour welcomed families and friends to a banquet held for all the athletes who played fall sports. Team members of golf, girls soccer, cross country, volleyball, and football and the cheerleading squad were honored for their hard work and success.
Cross Country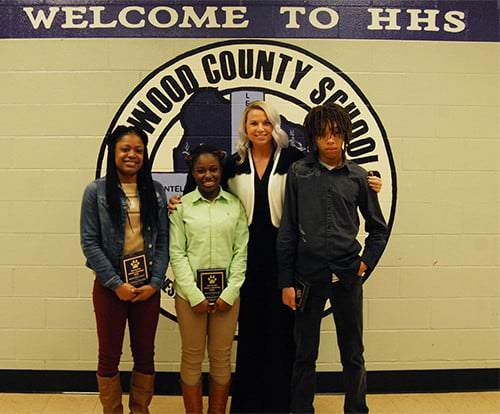 Members of the Cross Country team, under the direction of Coach Whitney Baird, were recognized at the banquet. Takiyah Benton and Rashadda Dancy received the Co-Female Runners of the Year, and Jarrell Parsons was the Male Runner of the Year.
Golf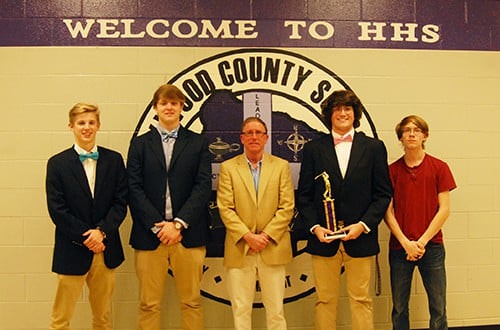 Tyler Woolley, Landon Wilson, Jacob Smith, Brennan Holloway, Timothy Frederick and Elliott Garrett are members of the HHS Golf Team. Frank Chapman is the coach. He gave two awards this year: Jacob Smith was named the Most Improved Golfer and Timothy Frederick, Most Valuable Player.
 Girls Soccer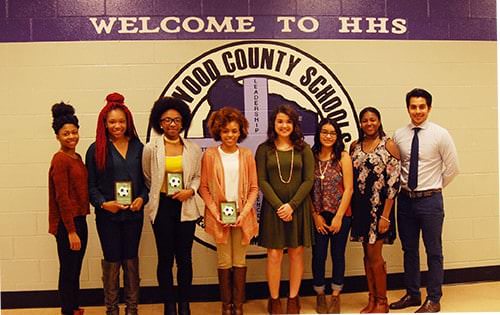 Coaches Luis Rosales and Tim Grapes honored the Girls Soccer team at the banquet. Ahmadia Hines was named to the All-District first team and was recognized as the team's Best Offensive Player. Areionia Sangster was the Best Defensive Player, and Sujey Gaspar was recognized as Most Improved. Victoria Perry received the Coaches Award. She has played for four years, was Captain for two years and is the leader of the team, Coach Rosales said. Other team members are Stephenie Alvarez, ZayVania Byrum, Andrea Cantu, Cythia Cardona, Adara Donald, Mia Gaietto, Morgan Hendrix, Macoreia Jelks, Delmy Ortega, Diana Pelayo, Marian Sagahom, and Ashlei Williams.
Volleyball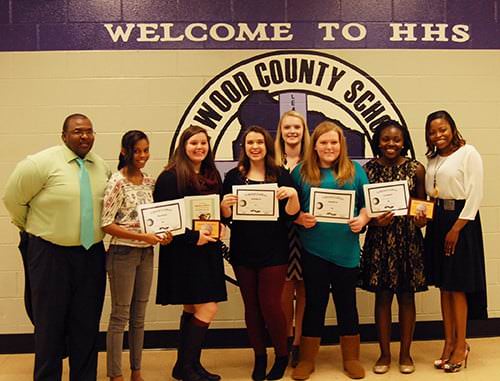 The HHS 18-member volleyball team was honored at the Sports Banquet, too. Head Coach Cuwannia Kent and her Assistant Coach Dave Rogers recognized their top players. The Most Improved Award went to Kendra Benton. Alaysia Applewhite received the Hustle Award. Madison Milton was given the Ace Award, and Kayla Douglas won the Spike Award. Other team members are Shaquira Brown, Laquitta Callaway, Valentcia Dancy, Leslie Fox, Angel Goodrich, Alexis Hines Colbie Killen Jorden Lewis, Destiney Maness, Chanaria Neal, Lillie Pittman, Lauren Qualls, Brierra Starks, Kirsten Watson and India Williams.
Varsity Football Cheerleaders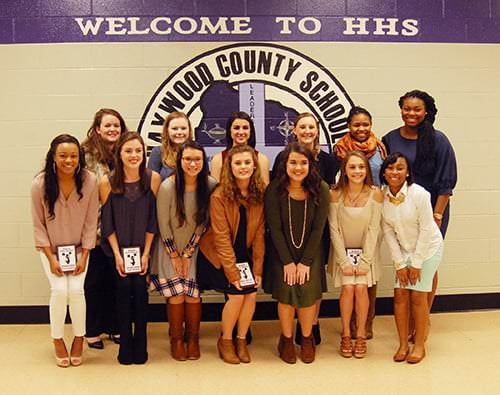 Under the direction of Coach Elizabeth Lovelace, the HHS Varsity Cheerleaders had a great year supporting the very successful Tomcats. Members of the squad are Kalyn Emerson, Morgan Hendrix, Taylor Ann King, Mary-Wyatt Pettigrew, Hannah Riley, Felescia Sanders, Ellie Haynes Bailey Munsey, Victoria Shetler, Temple Taylor, Riley Barr, Jamya Douglas, Sky Green, Madison Kellum, Breonica Reed, Rebecca Davis, and Riley Simmons. Given a certificate for Outstanding Leadership were Taylor Ann King and Felescia Sanders. Named Most Spirited was Kalyn Emerson, Bailey Munsey was chosen as Most Improved, and Rebecca Davis was recognized as Most Dedicated. Squad members chose the cheerleader to receive the Best All-Around Award, and it went to Mary-Wyatt Pettigrew.
Freshman Football

Head Coach for the Freshman Tomcat Football team is Rick Mason. His assistant is Michael Snyder. This 30-member team had a great season this year and Tomcat Varsity Head Coach Steve Hookfin said he was looking forward to these players contributing to the varsity team next year. Members of the team are Jacob Sanchez, Andre Robertson Andrew Reed, Tirivon Wilks, Iverson Hines, Johnnie Lewis, Darion Williamson, Malik Turner, Marquis Pugh, Andrew Stanley, Kaylan Boyd, Jadirus Tyus, Ethan Conaster, Keyon Taylor, Benard McDowell, Ced'Kevyon Richardson, Phoenix Gallardo, Trevion Starks, Tyrell Douglas, Steven Lott, Zack Jeter, Travarious Baker, Kendall Bond, Jaylen Middlebrooks, Drevion Tyus, Daryonn Love, Jay Garrett, Tridaquan Forrest, Martin Taylor-Welch and Cadareun Pirtle.
Varsity Football
Ending their season with 10 wins, 2 losses and the District trophy, the Haywood High School Tomcats, under the direction of Head Coach Steve Hookfin, celebrated their successes at the annual Sports Banquet for fall sports. Coach Hookfin gave all players a medallion for being the District Champs. He also announced the award winners.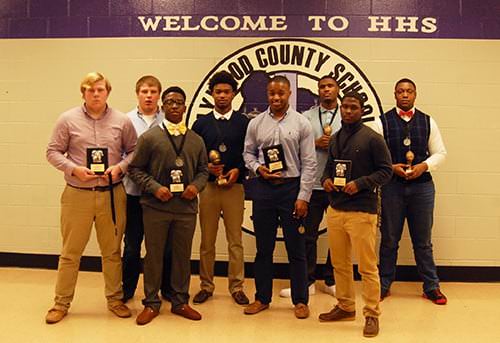 HHS Tomcats selected for the All-District 1st team were Brandon Taylor, Decourtney Reed, Trevor Cunningham, Brent Moore, and Russ Cates. Montavious Pugh was named All-District Wide Receiver of the Year, Isaiah Hess was the Offensive Lineman of the Year, and Quay Jones, the Defensive Lineman of the Year. Deyondrius Hines was voted as the Region 7-4A Player of the Year. Also, Quay Jones was selected as the 4A Defensive Player of the Year by Donavan Stewart of the Nashville Examiner, and was named to the 1st team, All-West Tennessee. Deyondrius Hines was named to the 2nd team, All-West Tennessee; and Decourtney Reed was Honorable Mention, All-West Tennessee.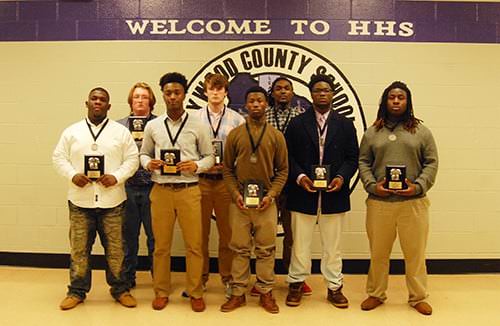 Named to the All-District 2nd team were Tillman McCrae, Derrion Bell, Tristan Taylor, Desi Moore, Xavier Walker, Kedarious Woodfork, Travion Bailey and Larry Brooks.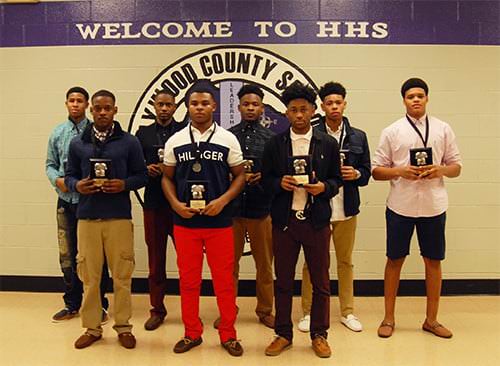 Selected as members of the District Honorable Mention team are Jalin Hudson, Jakobe Swift, Jerwin Young, Cortarrion Baker, Detarion Baker, Taylor Shields, Tay Jones, and Jai Evans.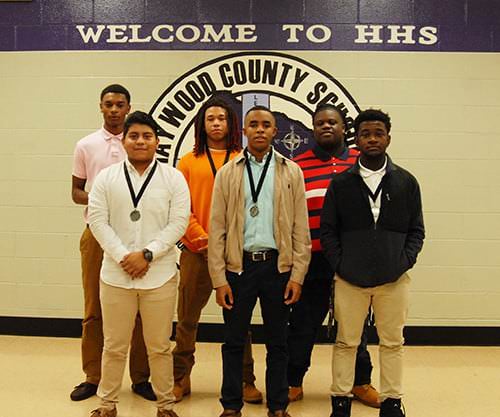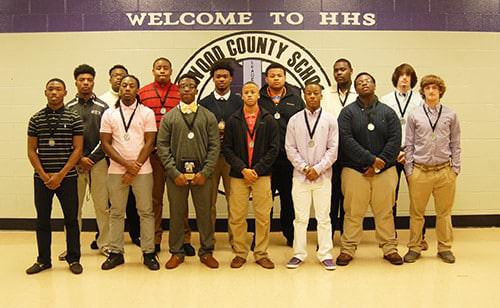 Other members of the team are Rashaun Tyus, Andrew Stanley, Alex Taylor, Jalin Turner, Keeston Gause, Kalvin Carson, D. J. Hawkins, Demarius Pearson, Nathan Sanderlin, Kylan Clark, Calen Johnson, Devonte Biggs, Joseph Sanchez, Javaris Summerville, Trotavious Green, Patrick Currie, Detyus Adams, Bryan Taylor, Anthony Mitchell, D. J. Taylor, Trondarious Rutherford, Zach Esquivious, Dylan Wilson, Kaleb Kut, Xavier King, Sam Banks, Emmanuel Beaird, Jamarius Brown, Daddrick Maclin, Jackson Pettigrew, ReShawn Bradford, Sherron Hines, Dequorte Seaberry, and Lemonte Middlebrooks. Assistant Coaches are Jarrod Kornegay, Michael Snyder, Anthony Sawyer, Chris Eubanks, D. J. Delk, and Rick Mason.