HMS Beta Club inducts 24 members
On Tuesday, January 30, members of the Haywood Middle School Junior Beta Club inducted 24 new members. Principal Morris Long opened the ceremony introducing Jack English who gave the criteria for membership. Following Jack were the officers who performed the induction service. President is Vanessa Littlejohn; Vice President, Camoni Turner; Secretary, Faith Russell; Treasurer, Sinai Leon; and Reporter, Jonathon Forrest. Senior member Jaleohn Clark, representative of the new members, J. T. Byrum, and Gerardo Ramirez also participated in the ceremony.
Assistant Principal Grover Harwell introduced the speaker, Adam Jollo, who is president of the HHS Beta Club; and Assistant Principal Tanesha Walker, with the help of Beta Club members Cameron Douglas and Alexia Reagan, presented the new members and gave them their stoles. Mary Jane Williams and Jane Jameson are sponsors for the club.
New members are Sonya Aguilar, Cam Barr, Laura Berry, Mahek Bhakta, J. T. Byrum, Martha Carpenter, Hadley Clagg, Cinyah Dotson, Macie Ferrell, Nima Hasan, Sadaja Jeter, Liberty Johnson, Mariah Johnson, Azaria Meadows, Christine Michael, Kalyce Mitchell, Cristhofer Ocegueda-Barrera, A'Rielle Odneal, Baneza Sandoval, Dustin Snyder, George Stewart, Melanie Quintana Suarez, Rikkila Taylor, and Walter Smith.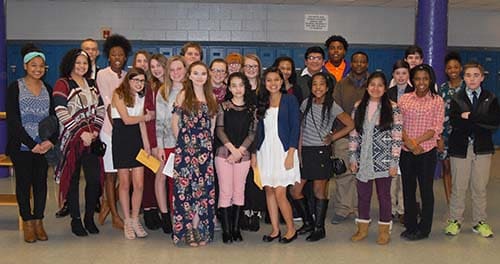 Eighth-grade Beta Club members are Ava Adams, Laura Aguilar, Jaleohn Clark, Tabitha Cook, Rachel Cunningham, Madison Dancy, Kelsea Delk, Camron Douglas, Jack English, Johnathn Forrest, Tamya Hurt, Tasia Jones, Marcus Kinnon, Kaleal Lawrence, Claudia Leek, Sinai Leon, Vanessa Littlejohn, Myilana Martinez, Makayla Newman, Gerardo Ramirez, Alexia Reagan, Osvaldo Rodriguez, Tybric Shaw, Christopher Swalm-Rodriguez, Faith Russell, Joniya Starks, George Stokely, Jakylon Taylor, Mattilyn Taylor, McCasia Taylor, Wesley Taylor, Camoni Turner, Ja'Riona Turner, Monterrion Woods, and Sebastian Woods. Seventh-grade members are Alexandria Baird, Leighanna Baker, James Banks, Hailey Cunningham, Karleigh Howard, Molly Nichols, Travica Pugh, Reed Sullivan, and Brianna Tatum.
The National Junior Beta Club has been active at Haywood Middle School since 1961.