HMS Beta Club inducts 64 new members
In a ceremony on February 11 in the Haywood Middle School cafeteria, 64 new members were inducted into the Junior Beta Club. This is the first Beta Club induction at Haywood Middle School that now includes the sixth, seventh and eighth grades. There were 36 sixth graders inducted, 21 seventh graders and seven eighth graders. There are 33 other eighth-grade members.
HMS Principal Yvette Blue welcomed members, students and guests to the ceremony. Senior HMS Beta members conducted the ceremony and welcomed HHS Beta Club officers Katora Holmes and Molly McAdams as guest speakers. Assistant Principal Charles Byrum also assisted with the ceremony. HMS Beta Club officers are Mikayla Flagg, Elliot Garrett, Victoria Perry, Noelita Hall and Will Chapman. Sponsors for the group are Jane Jameson and Mary Jane Williams.
Senior HMS Beta Club Members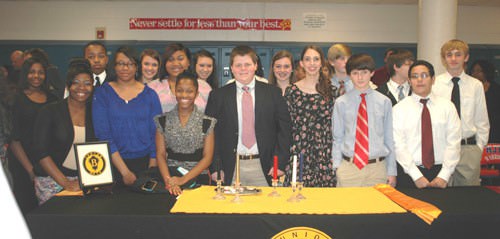 Cynthia Cardona, Will Chapman, Xavier Currie, Rashadda Dancy, Adara Donald, Trevor Ferguson, Mikayla Flagg, Elliot Garrett, Angel Goodrich, Noelita Hall, Aniyah Harwell, Morgan Hendrix, Isaiah Hess, Brennan Holloway, Taylor Ann King, Stephen Leath, Emily Martin, Pablo Martin, Tachia Middlebrooks, Madison Milton, Telecia Nelson, Cory Newble, Maggie Owen, Victoria Perry, Mary Wyatt Pettigrew, Allison Pilant, Hannah Riley, Pablo Sagahon, Felescia Sanders, Jacob Smith, Brandon Taylor, Taylor Waddell, and Laurel White.
New HMS Beta Club Members
Brittain Adams, Sam Banks, Mary Ashton Barden, Cornisha Barnes, Riley Barr, Alexiis Bean, Candace Berry, Briana Bond, Keyshauna Bond, Jamal Bunch, Carlisle Clagg, Victoria Colbeck, Jordan Cone, Lashadia Conner, Amelya Cooper, Kendra Currie, Tyler Dickens, Jamya Douglas, Mattie Ford, Leslie Fox, Timothy Frederick, Patrick Gaines, Bria Grant, Haley Hendrix, Alexis Hines, Karoline Hobock, Calen Johnson, Kylah Johnson, Adam Jollo, McKenzie Kelly, Colbie Killen, J. T. Lea, Selena Leal, Kaitlyn Leath, Mikala Leath, Bond Lonon, Destiny McFarland, Tyler Morton, Karsen Neal, James Nelms, Everett Pettigrew, Jackson Pettigrew, Isaiah Polk, Markel Polk, Macy Reed, Ellie Riddle, Grayson Robinson, Jessie Ross, Emily Russell, Sadie Sharpe, Christine Siegler, Hunter Siler, Hunter Smothers, Brierra Starks, Ellington Steele, Jaylon Taylor, Tristan Taylor, Caitlyn Thompson, Janiya Thompson, Sam Thornton, Lane Ward, Kirsten Watson, Alex Williams, and Ashlei Williams.