HMS Beta Club inducts new members
HMS Beta Club President Elizabeth Kirby opened the Induction Ceremony.
On Tuesday, January 31, Haywood Middle School held its Junior Beta Club induction, welcoming 25 new members. This brings the school's Beta Club membership to a total of 85 members.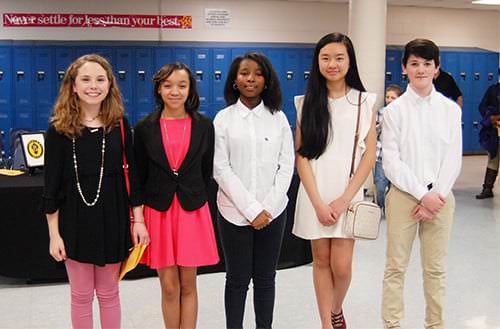 Participating in the ceremony were the Beta Club officers, Elizabeth Kirby-President, Mikya Montgomery-Vice President, Jasmine Wellington-Secretary, Chaoyue Yuan-Treasurer, and Reed Chapman-Reporter; Garrison Parker; Dyriah Pickens; Ann Wesley Banks; James Banks; Principal Morris Long; and Assistant Principal Tanesha Walker. Guest speaker was Elliot Garrett, president of the HHS Beta Club and a former member of the HMS Beta Club. Sponsors for the club are HMS Instructional Facilitators Jane Jameson and Mary Jane Williams.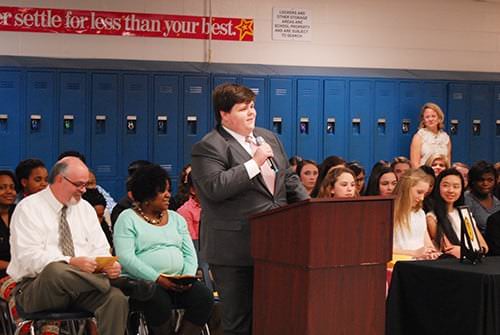 Elliot Garrett was the speaker for the HMS Beta Club Induction on January 31.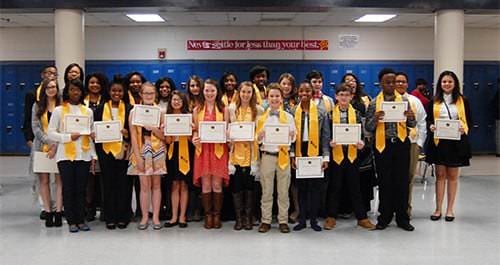 New members are Ava Adams, Alexandra Baird, Leighanna Baker, James Banks, Tabitha Cook, Hailey Cunningham, Chelsea Dancy, Madison Dancy, Brionna Folks, MacKenzie Hawkins, Amariah Hines, Karleigh Howard, Tamya Hurt, Jasmine Jones, Makayla Newman, Molly Nichols, Omarion Odneal, Jeremy Ostrom, Travica Pugh, Christopher Ritchie, Christopher Swalm-Rodriquez, Tybric Shaw, Reed Sullivan, Brianna Tatum, and Mecasia Taylor.

Seventh-grade members are Laura Aguilar, Jaleohn Clark, Rachel Cunningham, Kelsea Delk, Camron Douglas, Jack English, Johnathan Forrest, Tasia Jones, Marcus Kinnon, Kaleal Lawrence, Claudia Leek, Sinai Leon, Vanessa Littlejohn, Myilana Martinez, Gerardo Ramirez, Alexia Reagan, Osvaldo Rodriguez, Faith Russell, Joniya Starks, George Stokely, Jakylon Taylor, Mattilyn Taylor, Wesley Taylor, Camoni Turner, Ja'Riona Turner, Raven Watson, Sarah Willis, Monterrion Woods and Sebastian Woods.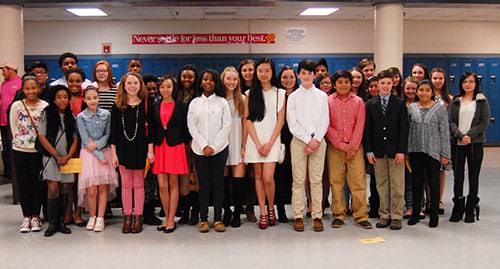 Eighth-grade members are Ruth Aguilar, Ann Wesley Banks, Carleigh Cannon, Elizabeth Carpenter, Anasyria Carson, Reed Chapman, Emma Clagg, Anna Evans, Angeline Ferrer, Elizabeth Kirby, Shelby Littlejohn, Walt Lonon, Andrew McBride, Madeline McCage, Molly McCage, Angel Medina, Mikya Montgomery, Garrison Parker, Virginia Perez-Santos, Dyriah Pickens, Uziel Policarpo, Kyeth Powell, Thomas Pugh, Carl Rutkowski, Velma Santos, Julia Snowden, Melanie Tyus, Jasmine Wellington, Nyana Whitelaw, Rianna Woods, and Chaoyue Yuan.