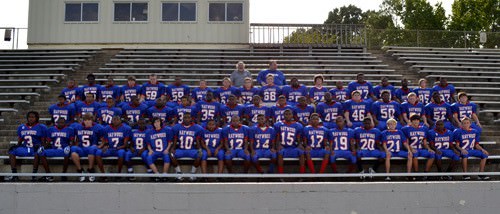 Haywood Middle School Football
Last year's football team finished just one game away from the TMSAA Championships. Haywood Middle School Warrior fans are expecting another playoff appearance this year. The Warriors are returning several players who had key roles in last season's success. The 2012 team is coached by Mr. Ernie Jackson and Mr. Greg Bontrager. Eighth-grade members of the team include: Russ Cates, Arterio Trotter, Dexter Walker, Travion Bailey, Jai Evans, Jacob Smith, Tamar Hudson, Kedarius Woodfork, Laquvios Jones, Jordan Leonard, Desi Moore, Chase Couiston, Antavious Jones, Jalin Turner, Corey Newble, Montavious Pugh, Dakota Phillips, Trey Turner, Tekarian Maclin, Brandon Taylor, and Kameron Polk. Seventh-grade players are: Khylan Clark, DeQuantae Seaberry, Brent Moore, C. J. Morris, Trevor Cunningham,  Dashun Douglass, Brandon Evans, Darius Watkins, Hollis Davis, Montavius Maclin, Landon Wilson, Jalin Hudson, Freddie Owens, Clay Floyd, Jessie Ross, Javius Carvin, Jonathan Brooks, Adam Currie, Jake Cummins, Xavier Walker, and Kenneth Miller.  The new sixth graders who made the team include: Derrion Bell, Damarius Pearoon, Jakobe Swift, Damian Phillips, Julian Willis, Duntaraus Taylor, Sam Banks, Jackson Pettigrew, Kylon Washington, Decourtney Reed, J. T. Lea, Taylor Shields, and Deyondrius Hines.

Haywood Middle School Football
2012-2013
August 9          Crockett County Jamboree               Away               6:00
August 14        Lauderdale Middle Jamboree           Away               6:00
August 16        Rose Hill                                          Home               6:30
August 21        North Parkway                                 Away                6:30
August 28        Dyersburg                                         Home               6:30
September 4     Jackson Prep                                    Away                6:30
September 11   Lauderdale Middle                           Away               6:30
September 18   Munford                                           Away               6:30
September 25   Crestview                                         Home               6:30
October 2         Brighton                                           Home               6:30
Octobr 9           Round I of Playoffs
Head Coach:  Ernie Jackson – Assistant Coach:  Greg Bontrager 
HMS has a JV game scheduled for every game but the September 4 game with Jackson Prep.  The JV games start at 5:30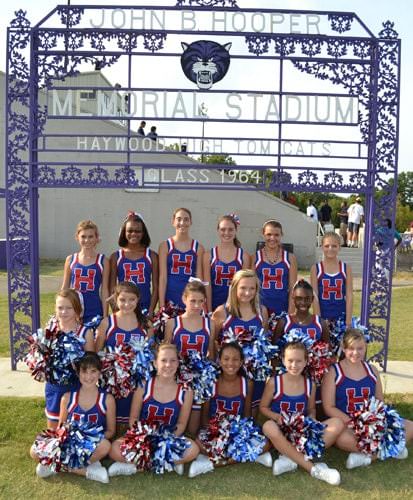 HMS Football Cheerleaders
The Haywood Middle School football Cheerleaders are coached by Ms. Kimberly Youngman. They enjoy firing the stadium crowd up as well as leading the pep rallies. They have been working very hard in their long practices to get ready.  Mary Wyatt Pettigrew will serve as captain while the co-captains will be Taylor Ann King and Felescia Sanders. Other cheerleaders include: Kayla Crawford, Morgan Hendrix, Kalyn Emerson, Ellie Haynes, Stewart Gillespie, Victoria Shetler, Janay Jeter, Macy Reed, Madison Kellum, Riley Barr, Victoria Colbeck, Emily Russell, and Lillie Pittman.