HMS students prepare for high school
On Tuesday, May 22, 191 eighth graders received certificates that promoted them to the ninth grade. The ceremony was held in the Haywood High School gymnasium. Participating were school administrators, Principal J. Morris Long, and Assistant Principals Graver Harwell and Tanesha Walker. Also participating were Vanessa Littlejohn, Beta Club President, and Nima Hasan. Superintendent Joey Hassell acknowledged the board members and guests at the ceremony, and HHS Principal Latonya Jackson gave the promotion address, welcoming the students to Haywood High next year.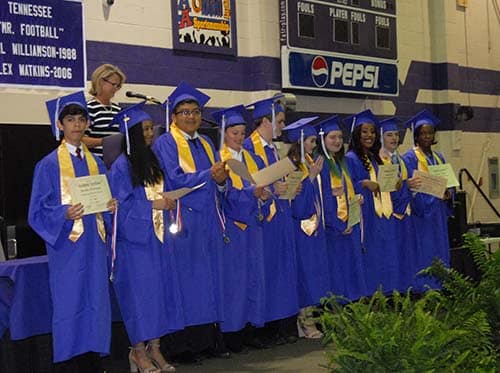 Among the first of the announcements at the Promotion Ceremony was the Top Ten students.
Osvaldo Rodriguez, son of  Benjamin and Ana Rodriguez (98.1 average)
Rachel Cunningham, daughter of Winfield and Bernita Cunningham (98 average)
Jack English, son of  Lee and Laura English (tied for 3rd place) (97.4615 average)
Gerardo Ramirez, son of Gerardo Ramirez and Elsa Martinez (tied for 3rd place) (97.4615 average)
George Stokely, son of Bobby and Becky Stokely (97.3 average)
Vanessa Littlejohn, daughter of  Shane and Jessica Littlejohn (97.25 average)
Claudia Leek, daughter of Robin and Tina Leek (97.0 average)
Joniya Starks, daughter of  Jonathan and Charli Starks (96.84)
Christopher Swalm – Rodriguez, son of  Larry Rodriguez and Emily Swalm – Sommers (tied for 9th place) (96.5385 average)
Mecasia Taylor, daughter of Leonardo Taylor and Mystic Springfield (tied for 9th place) (96.5385 average)
Closing the ceremony was Nima Hasan and the turning of the tassels.
Haywood Middle School Class of 2022
*Ava Adams, Jaquan Adams, *Laura Aguilar, Abiel Arellanes, Sanaa' Bailey, Trayvon Barnes, Jaleah Beard, Kabreya Benton, Destiny Blue, Breonna Bond, Shakya Bond, Zachariah Boyland, Anthony Brewer, Cortavion Bufford, Reginald Butler, Xavier Byars, Jafet Caletre, James Call, Kiera Carney, Gabriel Carranza, Sarai Castro, Ce'Airea Chapman, Zachary Cheshire, Brianna Chester, *Jaleohn Clark, Tamya Clark, Jeremiah Clemmons, Shu'Nya Comage, *Tabitha Cook, Parker Crutchfield, Aaliyah Cunningham, *Rachel Cunningham, Jacquelyne Currie, *Madison Dancy, Justin Dedmon, *Kelsea Delk, *Camron Douglas, Takeriyon Douglas, Taquarius Douglass, *Jack English, Jacob Eubanks, Makayla Evans, Ashanti Flagg, Lila Flagg, Shamaiya Flagg, Destinee' Ford, *Johnathon Forrest, Stevaunia Freeman, Kay Gavin, Chelsea Goodman, Randall Goodman, Rachel Goodrich, Anthony Grandberry, Trista Gray, Destaynee Hammond, Keriyonna Harris, Jo'Tavis Harwell, *Nima Hasan, Mackenzie Hawkins, Christopher Hayes, David Hendrix, Laniyah Hill, Desteuna Hines, Quinton Hinsley, Shamariah Houston, Takylee Howard, Wesley Howard, Amya Humphrey, *Tamya Hurt, Michaela Iglesias, Jacob Inman, Jayden Jackson, Ronterrion Jackson, Hayden Jeter, Jessica Johnson, *Mariah Johnson, Dalton Jones, Jakylan Jones, Jameer Jones, Justin Jones, *Tasia Jones, Jamia Joy, Emily Kelley, *Marcus Kinnon, Christopher Kirby, *Kaleal Lawrence, Kenyata Lax, Emma Lea, *Claudia Leek, *Sinai' Leon, Faith Lewis, Jaylen Lewis, Jaeshaun Liggins, *Vanessa Littlejohn, Alexis Mann, Malik Manns, Lyric Martin, *Myilana Martinez, Iryanna Mason, Asia Mayfield, Weston McCage, Lapresha Mills, Olivia Milton, Derrick Montague, Madison Moore, Alan Morales, Cierra Morton, Jennifer Moses, Makya Moss, Katie Murphy, Kelly Murphy, *Makayla Newman, Jo'Niyah Novak, Isiah Odeneal, Jessie Owens, Sedarius Palmer, Jaden Perry, Nataisa Phillips, Luke Pittman, Zachary Pittman, Joshua Polk, Tiniya Powell, Sha'Dalias Price, Alvion Pugh, *Melanie Quintana Suarez, *Gerardo Ramirez, *Summer Ray, *Alexia Reagan, Victoria Reed, Collin Rice, Breanna Rivero, Mia Robertson, *Osvaldo Rodriguez, *Faith Russell, Reid Russell, *Baneza Sandoval, Akahli Sangster, Jacob Sensabaugh, Jayden Seymour, Jeremeah Shaw, Markel Shaw, *Tybric Shaw,
Alia Sherron, Antyonia Simon, Tony Simon, *Walter Smith, Delta Snipes, *Dustin Snyder, Kylia Spencer, Antavious Springfield, *Joniya Starks, *George Stokely, *Christopher Swalm-Rodriguez, Key'Juan Taliaferro, *Ja'Kylon Taylor, Marquis Taylor, *Mattilyn Taylor, *Mecasia Taylor, Navoda Taylor, *Wesley Taylor, Termerrill Thomas, Akyran Trull, *Camoni Turner, *Ja'Riona Turner, Mondarious Turner, Vivian Tyus, Sidney Vandiver, Steven Waddell, Jamal Walker, Carson Ward, Makayla Ward,
Alan Warren , Keith Warren, *Raven Watson, Crystal Wayne, Jaylon Weddle, Jaderrika Welch-Fields, Kadarion White, Christopher Williams, Emily Williams, Gabrielle Williams, Jackson Williams, Madison Williams, Marcus Williams, Rayanna Williams, Jaylin Williamson, *Monterion Woods, *Sebastian Woods, Lejerwin Young, and Briana Zuniga
*National Junior Beta Club Member-Gold Stoles