One last walk of the halls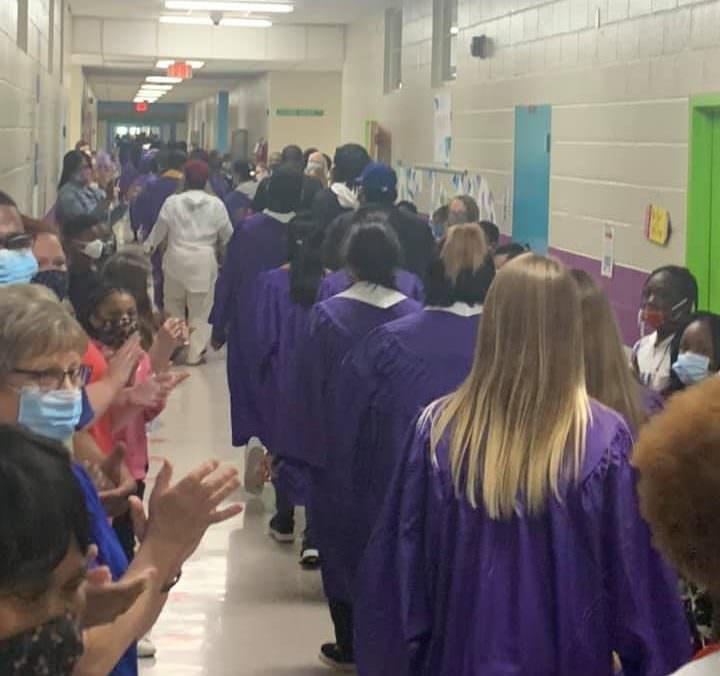 Haywood High School seniors are still a few days away from taking their final, and most important, walk across the stage, but to many, the halls they walked last Thursday are equally as momentous.
Donned in purple gowns, 216 soon-to-be graduates paraded the halls of their former elementary and middle schools. Eager, on-looking elementary students excitedly cheered and admired their much-welcomed guests.
This is the third consecutive year that HHS seniors have dressed in full graduation garb and walked the halls of their old schools, a trend growing rapidly across the country. Senior walk, as the tradition has been dubbed, was started in Haywood by high school counselor Vicki DeBerry. She shares her motivation behind bringing the pomp-and-circumstance practice to Brownsville, saying the reasoning is four-fold, "I wanted to give seniors the opportunity to say a final goodbye and reflect on their younger school days. It also gives teachers a chance to bid farewell and see how much their former students have grown. But most importantly, it gives the young children a glimpse at what the future looks like. Whether they know it or not, those seniors are role models to those kids. And lastly, it's a fun celebration that the entire district gets to be part of."
An entourage of buses escorted the seniors to Anderson, Haywood Elementary, East Side, Sunny Hill and the Middle School. Afterward, seniors enjoyed a BBQ lunch provided by GEAR UP TN.