Preparing Students for Postsecondary Success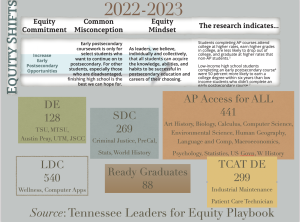 The word equity is a word that is often misunderstood depending on the context in which it is being used.  At its core, equity simply means being fair and impartial – removing obstacles and boundaries to balance opportunities. Equity does not mean giving something away that is unearned; it simply means providing opportunities that have the potential to benefit each person.
In the world of education, the word equity has been used frequently in recent years. Educational equity means that each child receives what they need to develop to their full academic and social potential. Those potential success pathways  could be an academic pathway, a Career/Technical pathway, or acquiring skills in high school that prepare students to enter the workforce after graduation.
Over the last several years, Haywood High School has put an emphasis on educational equity as well as providing multiple avenues to postsecondary success that are available to all students regardless of the pathway a student chooses to pursue.
The benefits of enrolling in a program or class that offers postsecondary credit while in high school are numerous.  Students who complete AP coursework in high school attend college at higher rates, earn higher grades in college, are less likely to drop out of college, and graduate at higher rates. 
Low-income students who complete early postsecondary coursework were 50 percent more likely to earn a college degree within six years than low income students who did not complete an early postsecondary course.
Simply put, exposure to postsecondary courses benefits all students and should be available to all students. Haywood High School has made this possible by offering dual enrollment courses, local dual credit classes, statewide dual credit classes, and access to Advanced Placement classes for ALL students.
As seen in the graphic above, many students at HHS are enrolled in some form of postsecondary coursework.  In order to better understand what each classification of postsecondary work is, we have defined them here:
Dual Enrollment (DE): Students are enrolled in a postsecondary course either on campus, or the institution, or online. These courses could be taught by postsecondary faculty or accredited adjunct faculty at the high school.
Local Dual Credit (LDC): High school course aligned to a local postsecondary institution taught by high school or certified college instructors. There is an exam at the end of the course. Students who pass the exam earn credits that are recognized by the postsecondary institution.
Statewide Dual Credit (SDC): High school course aligned to a postsecondary institution but taught by an accredited high school teacher. There is an online challenge exam at the end of the course which is used to assess mastery of the learning objectives. Students who meet or exceed the cut score receive college credit that can be applied to ANY Tennessee public postsecondary institution. 
Advanced Placement:

offers students the opportunity to take college-level courses and exams in high school and earn college credit, advanced placement, or both at many colleges and universities in the U.S. and around the world.

TCAT Dual Enrollment: Students are enrolled in a postsecondary CTE class in partnership with the Tennessee Colleges of Applied Technology. Students can earn industry certifications and postsecondary credits while learning from an accredited TCAT instructor.
This year HHS had a record number of seniors earn "Ready Graduate" status. These seniors were recognized at halftime of the first round playoff game two weeks ago. A "Ready Graduate" student is a student who earned postsecondary credits in high school while maintaining high academic success. Click the link above to read more about our Ready Graduates. 
As Haywood County finds itself on the precipice of an abundance of opportunity, HHS is making sure our students in Brownsville, Stanton, and everywhere else in the county are prepared to be successful when they leave our district.