On Thursday, November 16, HMS Project LIT Haywood Community Book Club celebrated its first book club selection Wonder by R.J. Palacio. In the book, the main character, August "Auggie" Pullman, has been home-schooled due to some complicated health issues related to a dramatic cranio-facial abnormality and the rigorous surgery schedule that comes with it. But by the time August turns 10, his parents are beginning to think about the big picture. They have realized that Auggie not only needs to learn more than his mom can teach him, but he also needs to learn to navigate a world that isn't always kind to those who are different. Choosing kindness is the major theme in the book.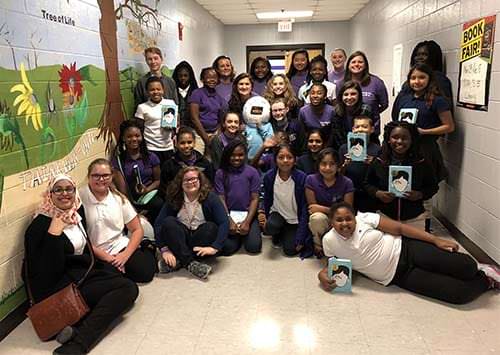 For a little over a month, the book club members read and discussed this wonderful piece of literature with HCS students, teachers, administrators, and community members such as Mr. Tom Russell and Mrs. Aneadra Pearson. Afterwards, the book club site leaders and members began brainstorming the guest list to their "Wonder-ful" Celebration. They wanted to connect with community groups who were known for showing "Acts of Kindness" which was the main theme in Wonder. The HHS Lean on Me Club, Acts of Kindness Haywood, and Brownsville's Human Relations Council were among the first guests to come to mind. They all met at Haywood Middle School in the cafeteria early Thursday evening where the cafeteria was decorated in a Wonder theme with a huge cake to commemorate the occasion. Also, Cadence Pearson, a second grader who also read Wonder and dressed as August "Auggie" Pullman for her school's Book Character Day attended. Fellowship, food, book love, and kindness were the goals for the hour. They even viewed the movie trailer for Wonder set to be released the following day.
Book Club members continued the WONDER-ful Celebration the next day on a field trip to compare the book to the movie.  Project LIT wants to thank HCS and HMS for their kindness and support thus far, and is looking forward to their next book club selection beginning in January, "The Playbook 52 Rules to Aim, Shoot, and Score in This Game Called Life" by Kwame Alexander.  Project LIT's motto:  A community that reads together leads together.  Site Leaders are Patrice Boyd and Shalondria Shaw.
Article written by Shalondria Shaw