Rudolph the Red Nosed Reindeer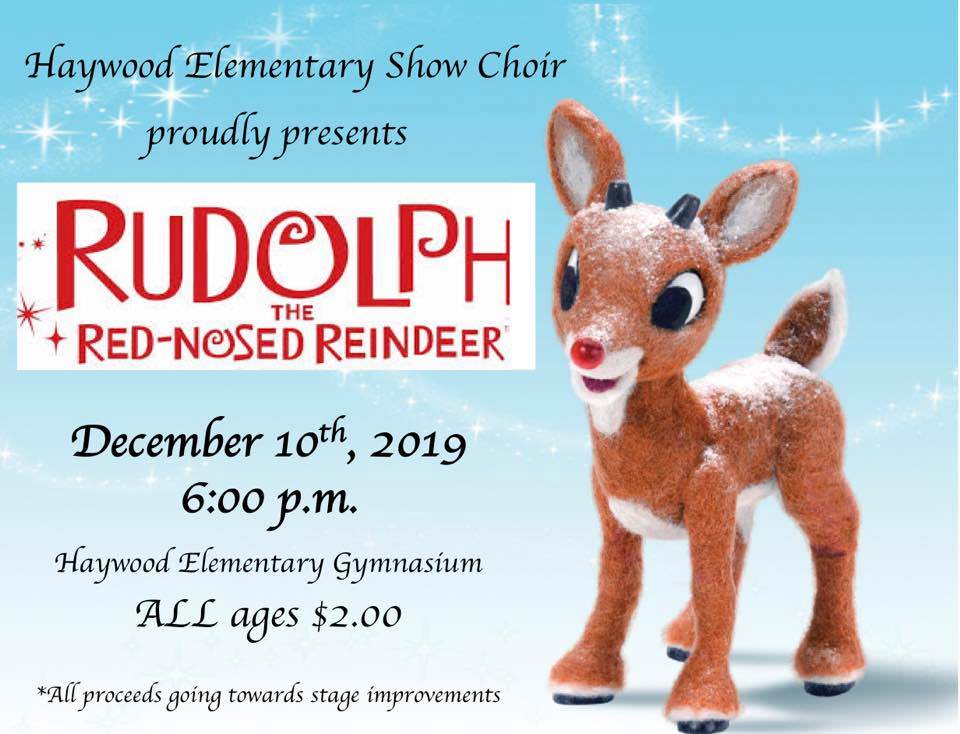 Haywood Elementary Show Choir presented Rudolph the Red Nosed Reindeer on December 10th in the school gym. 
Families found their seats as a snowman, the Abominable Snowman, Santa and Mrs Clause, elves, reindeer, a Yukon, animals and toys took to the stage.  The adorable cast sang and acted their way right into the hearts of the audience as elves built toys, reindeer played games and the misfits, fit. 
The HES Afterschool Show Choir is Co-directed by Holly Northcott, Courtney Freels and Patricia Gaietto.  The amazing cast:  John-Jack Sommers, Addison Milby, Ty'Lynn Currie, Harper Williams, Rylee Coulston, Chris Talley, Steve Ramirez, Kennedy Banks, Brynlee Dew, Dedrianna Phillips, Paige Springfield, Allyson Walker, Bennett Lane, Markashia Johnson, Jakybria Freeman, Destiny Williams, Mahoghany Hembry, Hayden Stoots, Bella Freels, Garland Pennell, Kylie Harrah, Amiya Bills, Chloe Smith, Madison Stokely, Breanna Morris, Shabriah Blair, Temari Boyd, Kellen Brown, Addyson Bunch, Ja'Tylan Haley, JaQuan Jones, Sophia Lopez, Nydia Walker, Camiah Wheeler, Melanie Griffith, Bailey Anne Poole, Kate Mann, Madelyn Goss, Addison Killen, Zakiah Owens, Jimora Taylor, Addison Zamaguey, Tyrah Worles, Sebastian Gammons, McKenzi Woods, Ja'Kayla Jones, Emma Pirtle, Kemauri White, Jasmine Anderson, Caylee Smith, Khloe Roberson, Jase Joyner, Maddison Hawkins, Khalil Tolbert, Harrison Stoots and Kearsten Bond were everything you could have hoped they would be.