Spring athletes receive awards
Members of the Haywood High School spring sports teams were recognized for their athletic success during the 2016 season at the school's annual Spring Sports Banquet held in the school cafeteria on May 16. Host for the event was HHS Assistant Principal and Athletic Director Tim Seymour. The HHS Air Force Junior ROTC Color Guard presented the colors, and Principal Dr. Jerry Pyron and Assistant Principal Paige Ferguson also participated in the event.
The Show Choir entertained the athletes, their coaches and families before guest speaker Cody Hills spoke to the crowd. He is the author of "38: The Chucky Mullin Effect." He spoke about his friend and fellow Ole Miss football player who was injured playing football and spent the rest of his life paralyzed in a wheel chair. His message was about the wonderful effect Chucky Mullin had on people because of his faith and his positive attitude. Next the coaches presented awards to members of their teams. At the end of the Banquet, Mr. Seymour presented Mrs. Martha Lyle Ford with a token of great appreciation for all of her volunteer work for the students and athletes of Haywood High School.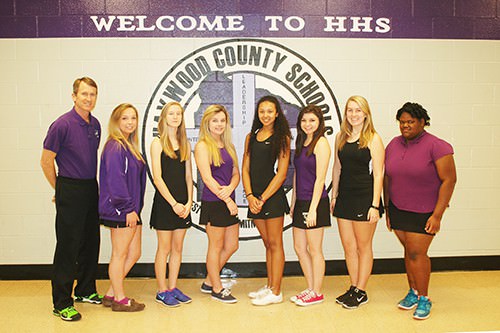 HHS Tennis Teams
Coach Stark Davis announced that the girls tennis team ended its regular season with a 5-2 record and had a player who was a semi-finalist. Sadie Sharpe was runner-up in District play and named to the All-District team and was named the team MVP. Coach Davis recognized Kezira Horton as the team captain, Victoria Colbeck as Most Improved, and Audrey Davis as Phantom Player. Members of the Haywood High School girls' tennis team are Stewart Gillespie, Elizabeth Campbell, Gracie Glaser, Victoria Colbeck, Ellie Haynes, Sadie Sharpe and Candace Shaw.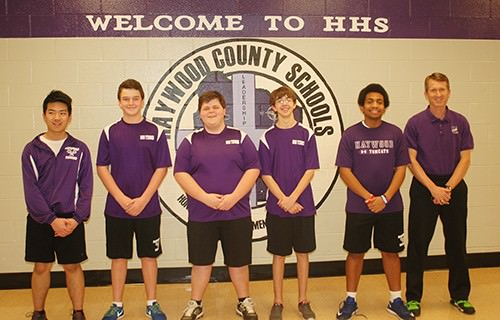 The boys tennis team finished the season with a 4-3 record. In District play, Elliot Garrett was a semi-finalist. He was named to the All-District team and the team's MVP. Trevor Dancy was recognized as Most Improved. Members of the boys tennis team are Bendy Yuan-Zhao, Alex Sceals, Elliot Garrett, Everette Pettigrew, and Trevor Dancy.
HHS Boys Soccer Team
Head soccer Coach Luis Rosales praised his team for a good season. The team finished third in the District and made it to quarter finals in the District tournament. He reported that Kaleb Witherspoon and Luis Bautista were named to the All-District Team. Luis Bautista was also named Best Defensive Player, and Kaleb Witherspoon was team MVP. Trevor Gerguson was recognized as Most Improved. Members of the HHS Soccer team are Trevion Banks, Martin Chavez, Abimael Vasqez, Manager Mattie Ford, Luis Bautista, Alexis Policarpo and Joel Perez, Benjamin Rodriguez, Alexis Rodriguez, Enrique Ponce, Trenton Jolley, Demetrius Jarrett, Pablo Marin, Daniel Cruz, Joseph Sanchez and Head Coach Luis Rosales, Sky Navarro, Kaleb Witherspoon, Tyler Hall, Trevor Ferguson, Brendon Perez Perkins, Isiah Franklin, Cheyenne Commage, Alexis Lopez and Noah Young. Assistant Coach is Tim Grapes.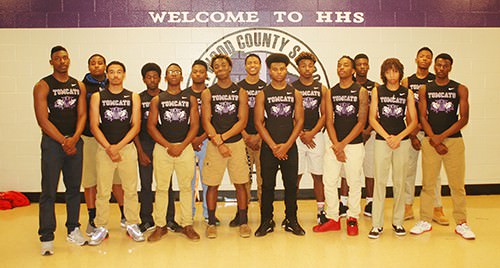 HHS Boys Track Team
The boys track team coach is Dave Rogers. He recognized some of his team members at the banquet for their success on the team. Jalin Hudson and Tristan Taylor were named Most Dedicated. The Best Thrower recognition went to Brandon Taylor. Derayiz Claybon was selected as the Best Hurdler and Most Improved. The Best Middle Distance Runner is Kortavious Jones. DeShawn Toliver is the Best Sprinter, and team MVPs are DeShawn Toliver and Markevious Williamson. Markevious was also named the Best Jumper. The Best Relay Team, 4×200, is Kortavious Jones, Jordan Lenord, Kris Johnson, DeShawn Toliver. Members of the HHS boys track team are Deshawn Tolivier, Jordan Lenard, Decourtney Reed, Tristan Taylor, Jalin Hudson, Jadarius Taylor, Jerrell Parsons, and Derayiz Claybon, Sheronne Hines, Lizzerick Cortrell, Deshun Tyus, Jyles Beard, Brandon Taylor, Deuncey Weddle, Devonte Pinkett, Kortavious Jones, Jalin Turner, Jerrod Hammond, Taycquan Hammond, Markevious Williamson, Jamarcus Tyus and Tay Jones. Patrick Currie is manager.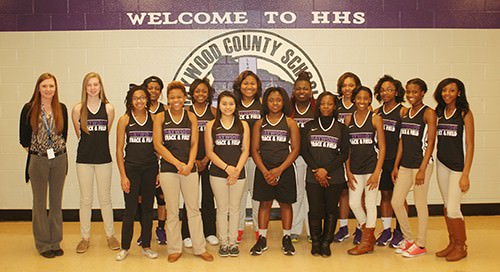 HHS Girls Track Team
Girls track Coach Cassie Hassell announced the awards for her team. Rashadda Dancy was named team MVP, Most Dedicated and Best Sprinter. Alaysia Applewhite was named Most Improved and Best Hurdler, Alexis Hines received the award as Best Jumper. Wandaryku Young was the Best Shot Put and Mikayla Flagg was the Best Discus Thrower. Receiving the Best Distance award was Takiyah Benton. Members of the HHS girls track team are Baileigh Waldrop, Alexiis Bean, Deshia Renteria, Andrea Cantu, Wandaryku Young, Kemiya Evans, Jorden Lewis, Alaysia Applewhite, Jocelyn Brooks, Rashadda Dancy, Alexis Hines, Mikayla Flagg, Brierra Starks, Victoria Perry, and Ahamadia Hines.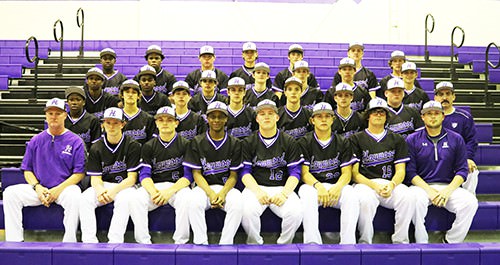 HHS Baseball Team
Head baseball Coach Tyler Newman presented his players with awards for the season. Named to 1st Team All-District were Colton Lilly, Landon Wilson, and Tillman McRae. Members named to the 2nd Team All-District were Kylan Shaw, Jacob Smith, and Andrew Scott. Coach Newman recognized Josh Coburn, Colton Lilly and Mickey Utley as members of the Senior All-Academic Team. Josh Coburn was named District Pitcher of the Year and Team Pitcher of the Year. Team MVP was Tillman McRae. Named Defensive Player of the Year was Trey Turner. Offensive Players of the Year were Colton Lilly and Landon Wilson, and one Tomcat was named to the All-District Tournament Team – Brent Moore.Members of the HHS 2016 Baseball team are Josh Coburn, Colton Lilly, J. T. Snipes, Mickey Utley, Will Chapman, De'Kylan Currie, Brennan Holloway, Kahlon Houston, LaQuavis Jones, Dakota Phillips, Andrew Scott, Jacob Smith, Trey Turner, Tate Walters, Brandon Evans, Tillman McRae, Brent Moore, Kylan Shaw, Will Voss, Landon Wilson, Sam Banks, Zach Esquivias, Bryce Faulkner, Jadarius Hines, Calen Johnson, J. T. Lea, Bond Lonon, Keyshaun Shephard, and William Young. Coaching assistants are Oscar Esquivias and Scott Guymon.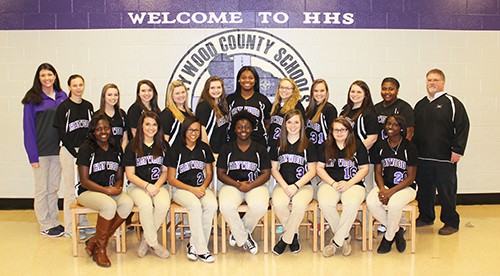 HHS Softball Team
Coach Holly Chilcutt honored some of her softball players for their hard work on the field. Anne Marie Sceals and Je'Leesia Williams were named to the All-Academic Team. Recognized for the Highest Percentage for Outfield Play was Kayla Douglas. Bri Jones was recognized for the Highest Percentage for Infield Play. Morgan Hendrix had the Highest Batting Average and the Most RBIs. Morgan Hendrix Bri Jones, and Kirsten Watson were chosen as All-District Players. Skye Green and Kirsten Watson received All-Tournament recognition. Anne Marie Sceals received the Senior Leadership Award, and Kirsten Watson was chosen by her teammates as the team MVP. Members of the HHS Softball Team are Kayla Douglas, Morgan Hendrix, Felescia Sanders, Je'Leesia Williams, Anne Marie Sceals, Claudia Price, and Bri Jones, Head Coach Holly Chilcutt, Leigha Bailey, Karsen Neal, Colbie Killen, Lillie Pittman, Kirsten Watson, Skye Green, Leslie Fox, Kerrington Doyle, Mallory Faulkner, Iyana Taylor and Assistant Coach Rick Mason.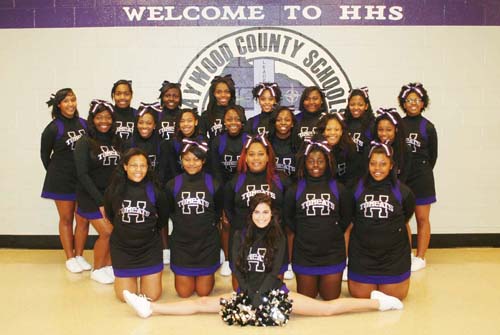 2015-2016 HHS Tomcat Basketball Cheerleaders
Basketball Cheerleader Coach Brandlin Turner recognized each member of her squad for their hard work for the year. She named Cornisha Barnes, Most Coachable; Alexiis Bean, Toughest Cheerleader; Eugenia Boles, Best Cheer Caller; Brianna Bond, Best Attitude; KaMya Burrell, Most Inspirational; Charde' Cherry, Most Dependable; Kayla Douglas, Most Goofy; Kemyia Evans, Best Effort; Dashia Grandberry, Most Outspoken; Noelita Hall, Best Flyer; Shimya Harper, Best Base ; Aniyah Harwell, Outstanding Perseverance; Alexis Hines, Most Determined; Kylah Johnson, Most Spirited; Charity McGhee, Most Enthusiasm; Dee'Jah Pickens, Best Technique; Victoria Shetler, Most Flexible; Tyeasha Starks, Outstanding Tumbling; Iyana Taylor, Best Voice; Asia White, Most Dedicated; Je'Leesia Williams, Best Sportsmanship; Felescia Sanders, Best Battler; and Destiny McFarland, Most Talkative.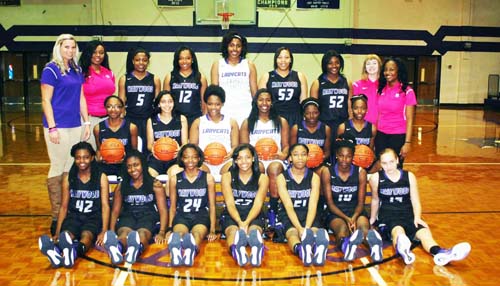 2015-16 Lady Tomcats Basketball team
Head Coach Whitney Baird recognized some of her team members for their success on the court. Among those awarded were: Most Charges, Wandaryku Young; Most Defensive Rebounds, Madison Smith; Most Improved, Rashadda Dancy; Lady Tomcat Award, Alecia Johnson; Most Offensive Rebounds, Laquita Callaway; Defensive Player of the Year, Laquita Callaway; Offensive Player of the Year, Jamariah Shutes (Best Field Goal Percentage – 55%, Best 3-Point Percentage – 37%, Best Free Throw Percentage – 67%, Most Assists – 102, Most Steals – 87, and Most Points – 655.) Members of the Lady Tomcats Basketball team are Alexis Walker, Wandarkyu Young, Shadaesya Glover, Jamirah Shutes, Lashadia Conner, Laquita Callaway, and Katilin Leath, Ahmadia Hines, Terra Douglas, Alecia Johnson, Timia Tharpe, Takiyah Benton, Kedra Benton, Rashadda Dancy, Victoria Perry, Madison Smith, Kelsey Shutes, Diamond Powell, Ava Bourg, and Faith Peeler. Assistant Coach is Jessica Hooker.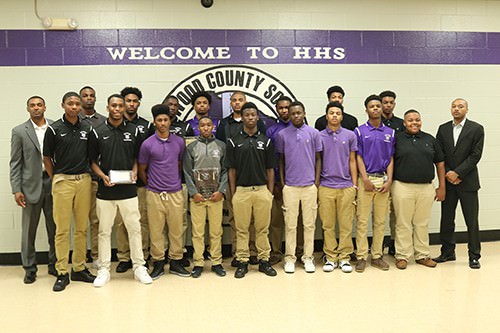 2015-16 HHS Boys Basketball Team
HHS Boys Basketball Head Coach Kendall Dancy reported that the team had a good season this year. With a record of 20-13 in regular season and 10 wins and 2 losses in District play, they were the District 15AA Regular Season Champs, the District Tournament Runner-up, and made it to the Region 8A Semifinals. He honored his players with awards during the Spring Sports Banquet. On the Freshman team, Demarius Boyd was the Most Dedicated, and Michael Turner was Most Improved. The Best Defensive Player was Taylor Shields, and Demarius Boyd received the Leadership Award. On the Varsity team the Leading Scorer was Tristan Jarrett. The Leading Field Goal Percentage Award and a Tomcat Senior Award went to Kortavius Jones. Dedric Boyd received the Leading Free Throw Percentage Award. Lakendrick Callaway was the Leading Rebounder, named Most Improved and received a Tomcat Senior Award. Leading Assists and Best All-Around awards went to Tristan Jarrett. Dillan Dancy was Most Dedicated, and Jalin Turner was named Best Defensive Player. The Tomcat Leadership Award went to Shurayveun Hines. Also receiving a Tomcat Senior Award were Kentavious Wilson, Jatavius McGuire, Kyland Shutes, and Javonte Walker.