HES students meet Jessica Young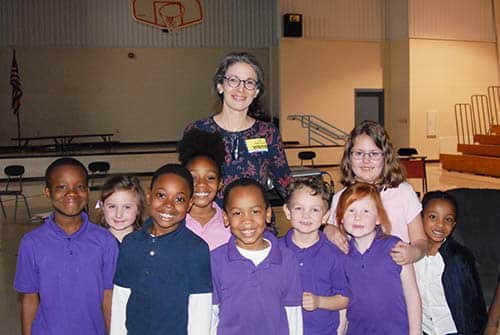 Haywood Elementary students were so excited recently to have as their guest, author Jessica Young. She talked to each of the classes throughout the day and told them how to become an author and illustrator. Elementary Academic Supervisor Michelle Tillman received a Tennessee Arts Commission grant to bring Jessica Young to Haywood Elementary.
Jessica Young grew up in Ontario, Canada. The same things make her happy now as when she was a kid: dancing, painting, music, digging in the dirt, picnics, reading, and writing. She lives with her family in Tennessee. When she was little, she wanted to be a tap-dancing flight attendant/veterinarian, but she's changed her mind!
Jessica is the author of the award-winning "MyBlue is Happy" (2013, Candlewick Press), the "Haggis and Tank Unleashed" early chapter book series (2016, Scholastic Branches), the "Finley Flowers" chapter book series (2015, Capstone Young Readers), Spy Guy-The Not So Secret Agent" (2015, Harcourt Children's Books), and "Play this Book" and "Pet this Book" (Bloomsbury, 2018).