Beta Club Induction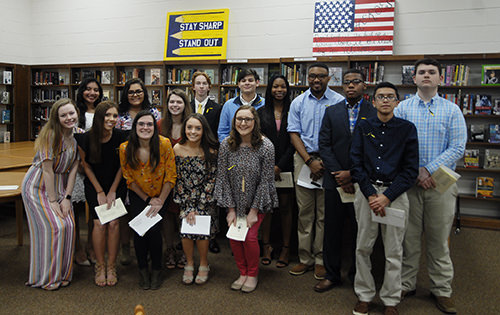 Nineteen new members were inducted into the HHS Beta Club on Monday, March 12, in the Haywood High School library. Family and friends gathered with the new members as they participated in the ceremony.
Beta Club officers President Massai Twitty, Vice President Alexiis Bean, Secretary Jamya Douglas, and Treasurer Karsen Neal, along with several other senior members, conducted the ceremony. Isaiah Polk gave an inspirational message, and senior members conducted the Beta Club Tapping Ceremony. Alexiis Bean gave the explanation of criteria for membership, and Massai, Allexiis, Jamya and Karsen gave the explanation of Beta Club standards. The new inductees recited the Beta Club pledge, and HHS Principal Latonya Jackson gave closing remarks.
New members are Alyssa Allen, Rebecca Davis, Alexandria Goodman, Iverson Hines, Hannah Hodge, Hannah Littlejohn, Destiny Medina, Preston Moore, Breyden Mora, Benjamin Naylor, Alexis Ocegueda, Charles Phillips, Myles Pickens, Hunter Rains, Shaylen Reed, Riley Simmons, Avery Turnage, Katie Walls and Amanda Watson.
Sponsors for the club are Mrs. Holly Chilcutt and Miss Suzanna Martinez.