Students teaching students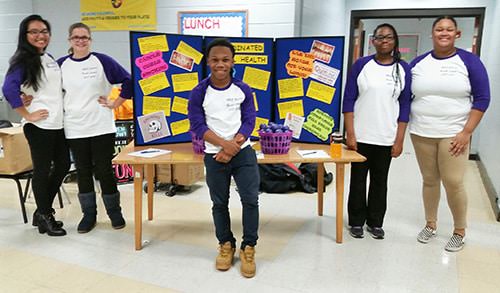 Haywood High School's Student Health Council (HOSA students) educated students at Haywood Middle and Haywood High during their lunch shifts about the dangers of smoking, and gave students purple footballs or basketballs with the Tennessee "Quitline" number on them.
Among other things they learned that most smokers try their first cigarette before they are 18 years old. In the12-17 age group, the average age of first use is 15.1 years. In the 18-25 age group, the average age of first use is 18.9. This is the reason we urge kids to never start. Participating students had to answer a smoking trivia question, one of 12 on the display board, to get the ball.
The Student Health Council has many activities planned during the school year. This year's Student Health Council members are:  Ra'Shawn Bradford, Shekinah Byrum, Brandon Cantu, Sadie Casteele, Markayla Davis, Kathelyn Hudson, Jatitus Jones, Destiny Medina, Keondra Polk, Andre Robertson, Kelsie Taylor, Keyon Taylor, Alexiis Bean. The Health Department and Haywood County Schools Coordinated Health sponsors the Student Health Council.