Tanya Tyus – Haywood Middle Teacher of the Year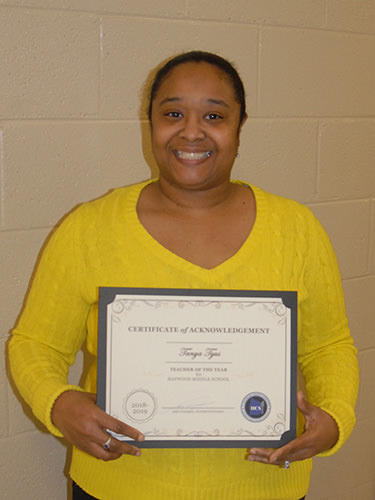 Tanya Tyus
Haywood Middle School Teacher of the Year
Mrs. Tanya Tyus is a Brownsville native and Haywood County graduate. She is in her fourth year of teaching seventh grade ELA at Haywood Middle School. She is married to Cedric Tyus and has five children. Her educational background includes a Bachelor of Science degree in Business and a Master's degree in Business Administration from Bethel University, McKenzie, Tennessee. She also has a Master's in Education with an emphasis in Curriculum and Instruction from Freed-Hardeman University, Henderson, Tennessee, and is currently seeking her ED.S. in Administration and Leadership from Lipscomb University.
She has served as a member of the Curriculum and Materials Alignment Team, ACT Standards Alignment Team, HMS Leadership Team, New Teacher Mentoring Team (HMS) (2016-2017, 2017-2018, 2018-2019), Assistant Girl's Basketball Coach (HMS 2017-2018), in addition to being a Teacher Leader (2017-2018, 2018-2019). She is also a member of the Superintendent Study Council (2017-2018, 2018-2019) as well as a PBIS member for HMS (2018-2019). Outside of serving HMS students, she serves as a TN Promise Mentor (2018-2019).
Lastly, she has been nominated as Teacher of the Week twice in her four years, and most recently was nominated as the Teacher of Year for HMS 2018-2019 school year as well as the District Teacher of the Year for Grades 5-8 this school year.