HHS honors Spring Sports athletes
HHS honors Spring Sports athletes
On Tuesday, May 23, Haywood High School honored its athletes from Spring Sports at a awards banquet. Students who participated in tennis, boys soccer, girls track and field, boys track and field, baseball, softball, basketball, and basketball cheerleading, received certificates and trophies for special achievements.
2017 HHS Tennis Teams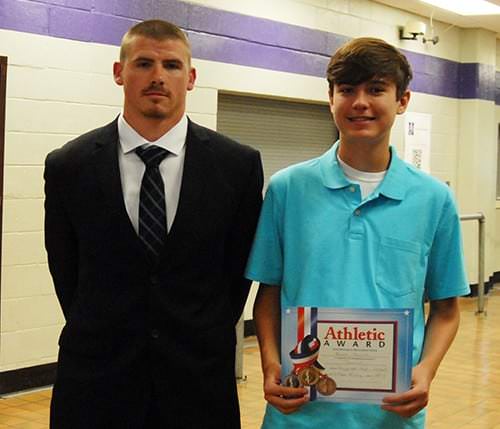 HHS Seniors Sadie Sharpe and Elliot Garrett advanced to the Tennis team District Singles Semi-finals and were named to the All-District Singles Teams at the District Tennis Tournament. Sadie advanced to the District Finals and to Regional competition. Other members of the team are (pictured) Coach Chris Brackeen and Trevor Dancy, (not pictured) Brent Howell, Bendy Yuan-Zhao, Everette Pettigrew, Elliot Garrett, Alex Sceals, Lena Smith, Elizabeth Campbell, Sadie Sharpe, and Gabby Morphis.
2017 Boys Soccer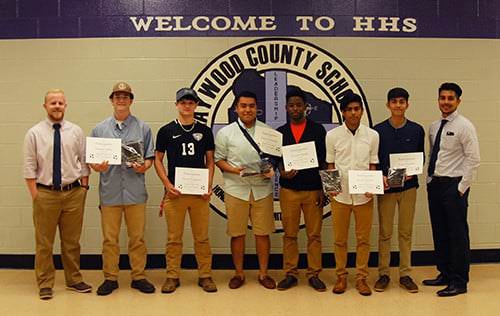 Members of the 2017 Haywood High School Boys Soccer team are Cesar Sanchez, Luis Pedron, Enrique Ponce, Jacob Sanchez, Alexis Policarpo, Trenton Jolly, Abimael Vazquez, Jose Morales, Cheyenne Commage, Joel Banks, Tiriyon Wilks, Jorge Zanabriga, Trevor Fergusion, Xavi Rosales, Isaac Melo, Coach Tim Grapes, and Head Coach Luis Rosales. Awards went to Jacob Sanchez and Trenton Jolly, Best Defensive Players; Cesar Sanchez, Most Improved; Alexis Policarpo, All-District, Best Offensive Player, and MVP.
2017 Boys Track and Field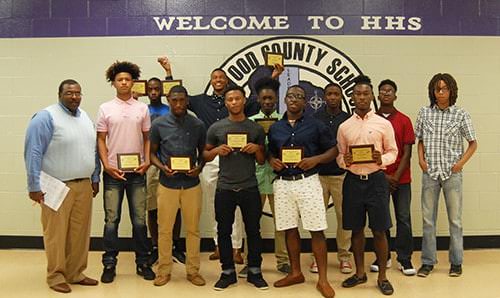 Members of the Haywood High School Boys Track team are (from left, front row) Malik Woods, Allen Weathers, Larry Brooks, Marco Clemons, DeCourtney Reed, Trevor Cunningham, Bryce Currie, and Keyon Taylor; (second row) Jerrall Parsons, Quandarius Henley, Anthony Mitchell, Rashun Tyus, Kadarius Woodfolk, Deyondrius Hines, Darrion Bell, Isiah Hess, and Brandon Taylor; (third row) Ashdon McGoughy, Jyles Beard, and Tristan Taylor. Not pictured is Jordan Lenard. Dave Rogers is the coach. Awards went to Best Sprinter – Deyondrius Hines; Best Mid-Distance, Allen Weathers; Best Distance, Quandarius Henley; Best Jumper, Jyles Beard; Best Thrower, Kadarius Wookfolk; Best Hurdler, Ashdon McGoughy; Most Improved, Decourtney Reed; Most Dedicated, Keyon Taylor; Best Relay Team (4 x 800) Quandarius Henley, Allen Weathers, Marco Clemons, Emanual House; and MVP, Jyles Beard.
 2017 Girls Track and Field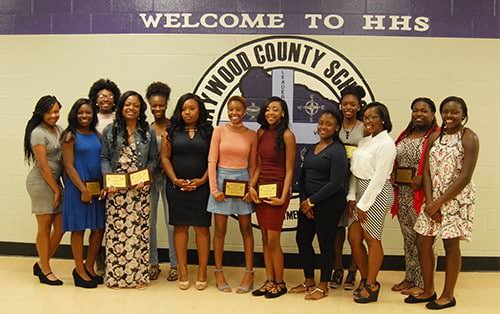 Members of the Haywood High School Girls Track team are (front row) Ahmadia Hines, Alaysia Applewhite, Alexis Bean, Kemyia Evans, Jordan Lewis, Shakira Brown, and Joclyn Brooks; (back row) Brierra Starks, Makayla Flagg, Bieliegh Waldrop, Rashadda Dancy, Alexis Hines, Kayla Douglas, and Asia McGoughy. Not pictured are Kedra Benton, Laquita Calloway, Tyiahya Benton, and Wandarka Young. Receiving awards were Best Sprinter, Rashadda Dancy; Best Mid-Distance, Takiyah Benton, Best Distance, Baileigh Waldrop; Best Jumper, Rashadda Dancy; Best Thrower, Brierra Starks; Best Hurdler, Alaysia Applewhite; Most Improved, Joscelyn Brooks; Most Dedicated, Shakira Brown; Best Relay Team (4 x 200) Kedra Benton, Jordan Lewis, Ahmadia Hines, Alaysia Applewhite; and MVP, Alaysia Applewhite. Coaching the teams is Dave Rogers.
2017 Baseball Team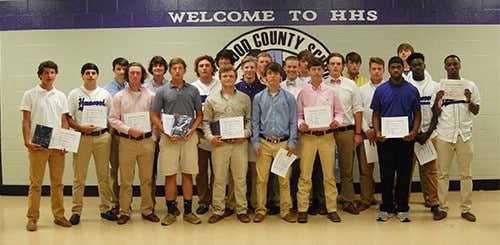 Members of the HHS Baseball team are Will Chapman (10), Brennan Holloway (11), Kahlon Houston (4), LaQuavis Jones (52), Dakota Phillips (18), Andrew Scott (5), Jacob Smith (19), Trey Turner (2), Tate Walters (22), Brandon Evans (20), Tillman McRae (99), Brent Moore (00), Kylan Shaw (27), Will Voss (9), Landon Wilson (55), Sam Banks (39), Devin Epperson (21), Zach Esquivias (23), Bryce Faulkner (28), JaDarius Hines (14), Calen Johnson (6), J. T. Lea (25), Bond Lonon (34), DeCourtney Reed (31), Braxton Turner (12), Keyshawn Shephard (15), William Young (7), Brent Haywood (16), Ben Naylor (13), Charles Phillips (3), Andrew Reed (42), Andre Robertson (31), Hunter Simpson (8), Andrew Stanley (1), Hutch Voss (32), Danny Trotter, manager. Head Coach is Tyler Newman, Assistant Coaches are Scott Guymon, and Oscar Esquivias. Receiving special recognition were: Player of the Year, Tillman McRaw; Offensive Player of the Year, Andrew Scott; Defensive Player of the Year, Trey Turner; Pitcher of the Year, Brent Moore, Landon Wilson and Jacob Smith; Tomcat Award – Dakota Phillips; Rookie of the Year, Brent Haywood. Also receiving District Recognition were: 2nd Team All District – Regular Season, Jacob Smith and Trey Turner; All Academic team, Andrew Scott, Jacob Smith, Brennan Holloway; and Will Chapman; All District Tournament Team, Brent Moore, Landon Wilson, Tillman McRae; District Awards – 1st Team All-District – Regular Season, Landon Wilson, Andrew Scott, and Brent Moore; and District Player of the Year, Tillman McRae. Coach Newman gave special thanks to Lora Turner, Mary Beth Scott, Tommy Wilson, Taylor Ann King, Kalyn Emerson and Parents.
2017 Softball Team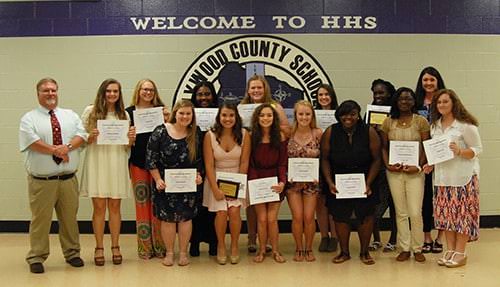 Members of the HHS Lady Tomcat Softball team are: Seniors – Morgan Hendrix, Claudia Price, and Felescia Sanders; Juniors – Jakayla Haliburton, and Brianna Jones; Sophomores – Leigha Bailey, Jordan Cone, Leslie Fox, Skye Green, Colbie Killen, Lillie Pittman, Julia Schade, Iyana Taylor, and Kirsten Watson; Freshmen – Gemiah Bell, Kiley McChesney, Ashley Neal, Lauren Qualls, and Haven Williams. Head Coach is Holly Chilcutt, and Assistant Coach is Rick Mason. Coach Chilcutt made the following award presentations at the banquet: Best Defensive Player, Brianna Jones; Best Offensive Player, Felescia (Squirrel) Sanders; and Most Valuable Player, Morgan Hendrix.
2016-17 Tomcat Basketball Cheerleaders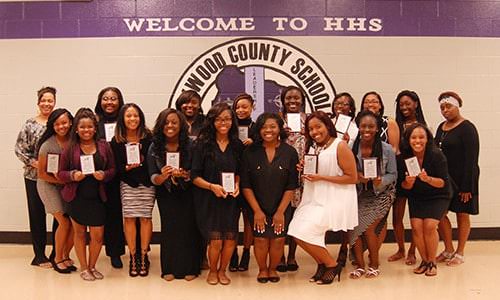 Members of the Tomcat Basketball Cheerleading squad are Felescia Sanders, Gemiah Bell, Aniyah Harwell, Chassity Hill, Kylah Johnson, Alexiis Bean, Kamya Burrell, Naiyai' Hardin, Brianna Jones, Dashia Grandberry, Iyana Taylor, Alexis Hines, Tyeasha Starks, Kayla Douglas, Kemyia Evans, Cornisha Barnes, Dee'Jah Pickens, and Manager Destiny McFarland, and Nakiya Seymour. Sponsor for the squad is Brandlin Turner. Team members receiving awards were: Cornisha Barnes, Most Spirit; Alexiis Bean, Most Animated; Gemiah Bell, Best Effort; Naiyai'Hardin, Best Battler; KaMya Burrell, Most Motivator; Chassity Hill, Most Dedicated; Kayla Douglas, Outstanding Tumbling; Kemyia Evans, Most Determined; Dashia Grandberry, Best Make-up; Brianna Jones Most Coachable; Felescia Sanders, Best Toe Touch; Aniyah Harwell, Best Sportsmanship; Alexis Hines, Best Base; Kylah Johnson, Most Enthusiasm; Nakiya Seymour, Best Attitude; Dee'Jah Pickens, Best Cheer Caller; Tyeasha Starks, Best Flyer; Iyana Taylor, Most Dependable; Destiny McFarland, Toughest Manager; and Mr. Randy Jetton, Best Bus Driver Ever. Special thanks from Mrs. Turner to Juanita Williams, Shauntya Hess, Deborah Hess, Mr. Oscar, Ms. Cafyra, D. J. Cotton, Ms. Mallory, other coaches and all the parents.
2017 Basketball Tomcats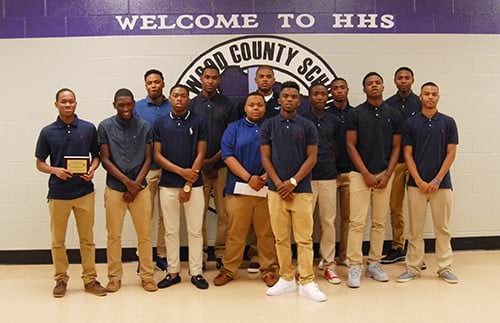 Under the direction of Head Coach Kendall Dancy, the HHS Basketball Tomcats had an overall 27-8 record this year, with and 8-2 record in District. They were District 15AA District Champions, Region 8AA Champions, Sub-State Champions, and State Semifinals. The following players received awards at the banquet: Leading Scorer, Tristan Jarrett; Leading Field Gold Percentage, Keithon Powell; Leading Free Throw Percentage, Dedric Boyd; Leading Rebounder, Tristan Jarrett; Leading Assists, Tristan Jarrett; Most Dedicated, Chris Jones; Most Improved, Markeston Douglas; Best Defensive Player, Shurayveun Hines; Tomcat Leadership Award – Shurayveun Hines; Best All-Around, Tristan Jarrett; Tomcat Senior Award 2016-2017, Montavious Pugh, Tristan Jarrett, Dedric Boyd, Jalin Turner, and Shurayveun Hines. Other members of the Tomcat Basketball Varsity team are Dillan Dancy, Emmanuel House, Isaiah Hill, Phelp Pearson, Cortavious Buford, Xavier Walker, and Demarius Boyd. Coaches are Head Coach Kendall Dancy. Assistant Coaches are Rodney Chatman and Grover Harwell. Manager is Tyler Morton.
Tomcat Junior Varsity Team
Members of the Tomcat Junior Varsity Basketball Team are Jataz Gray, Kyron Stocking, Malik Comage, and Michael Turner.
Tomcat Freshman Basketball Team
Members of the Tomcat Freshman Basketball Team are Andrew Stanley, Anterion Springfield, Damian Powell, Keterrian Currie, Marquis Pugh, Kylan Boyd, and Trevor Brewer. Andrew Stanley was chosen as Most Improved.
2016-17 Basketball Lady Tomcats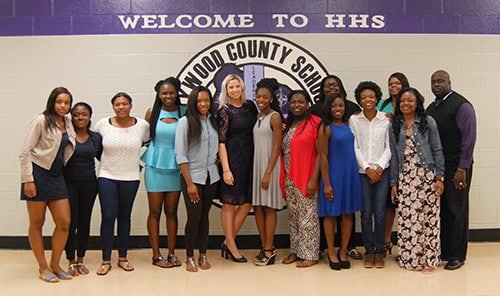 Members of the Lady Tomcats Basketball team are Kelsey Shutes, Rasadda Dancy, Takiyah Benton, Victoria Perry, Wandarkyu Young, Jamirah Shutes, Kaitlin Leath, Kedra Benton, LaQuita Callaway, Shadaesya Glover, Antenyiah Washington, Jamiya Turner, Keontavia Alford, and Trianna Tyus. Coaches are Head Coach Whitney Baird and Assistants Anthony Sawyer and Patrice Boyd.
Lady Tomcat Awards –
2-point Field Goal percentage – Jamirah Shutes 49 percent
3-point Field Goal percentage – Wandaryku Young 35 percent
Free Throws percentage – Wandaryku Young 67 percent
Most Rebounds – Victoria Perry 247  (7.3 rebounds per game)
Most Assists – Wandaryku Young 102  (3.2 assists per game)
Most Steals – Jamirah Shutes 95  (3 steals per game)
Best Post Defensive Player – Laquita Callaway
Best Guard Defensive Player – Takiyah Benton
Most Improved – Rashadda Dancy
Spark Award – Shadaeysa Glover
Tomcat Award – Kelsey Shutes
JV Awards –
Best Offensive player – Shadaesya Glover
Best Defensive player – Anteniyah Washington
Most Improved – Jamiya Turner
Lady Tomcat Award – Kaitlin Leath
HHS Triathlete Awards