There are multiple levels of safety within a school – feeling safe emotionally, feeling safe to make a mistake in class and then learn from that mistake, and, most importantly, feeling physically safe in a learning environment.  
Often, the awareness of "feeling safe" isn't something that is at the forefront of most people's minds; it's the awareness of potential danger that can cause stress and be a hindrance to learning. The best barometer of students feeling safe in their school is when the students aren't thinking about the issue of safety at all; they are simply allowed to be kids and learn to the best of their abilities.  
In Haywood County Schools, a School Resource Officer (SRO) is placed on every campus to ensure the physical safety of all students.  SRO's are trained police officers who have graduated from The Tennessee Law Enforcement Academy and have previous experience as a law enforcement officer.  
The job of an SRO requires a specialized skill set that sets them apart from police officers who are on patrol within a community.  SRO's must have the ability to build relationships with students, engage with teachers, and, above all, help protect everyone in the school building.
For all the high-fives and hugs given out regularly to the SRO's on elementary campuses in Haywood County Schools, Lieutenant Brad Davis knows that those actions of affection are not freely given by middle school students; those actions are earned.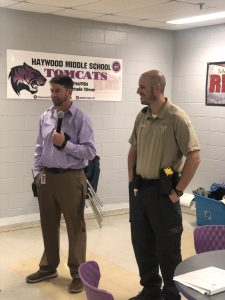 Lt. Davis was once a student walking the halls of Haywood Middle School.  That was nearly thirty years ago.  This school year, he's walking the halls of HMS once again but this time as an adult whose primary responsibility is keeping the students and staff safe at HMS.
Before transitioning into this role as SRO, Lt. Davis served in various capacities in law enforcement over the last seventeen years.  
"I've been in law enforcement for 17 years.  The transition to being an SRO from being a street officer is that I'm serving in a different capacity.  I'm focused on interior and exterior security as an SRO, but as a patrol officer I was constantly moving," he said.
The adjustment to being an SRO who is confined to a building as compared to being a street officer whose office was his patrol car has been immense, but the reward of being around students and young people has been rewarding.
"I really focus on being a visible presence in the school and building relationships with the students.  Doing those things helps ease tensions or concerns about safety," he said.  "I spend a lot of time checking doors and monitoring cameras to make sure the campus is secure.  If people come to the school who have no legitimate business at the school, we talk to them and figure out why they're there."
There is a common refrain from SRO's in Haywood County who have had experience outside of the school setting before transitioning to their current roles: building relationships with students and staff is absolutely integral in maximizing school safety. For some adults and law enforcement, the idea of building relationships and trust with middle school students could feel daunting, but Lt. Davis has had practice.
"I'm a family man; I've got two kids – one at the high school and one that's at Sunny Hill.  I came into the schools already knowing some of the kids. That gave me a head-start in getting to know the kids.  Middle school can be challenging, but Takis and snacks go a long way," he said, laughing.
With building relationships a priority, Lt. Davis knows the biggest influence he can have is simply being a steady, visible presence in the school as well as being an adult that all students can trust.
"Kids tend to watch adults as much as the adults watch the kids. It's all about building trust with the students.  Some of the kids will come up and provide a lot of useful information once you gain that trust," he explained.
Other adults in the building also contribute to the safety of a school, and Lt. Davis is especially grateful for the observant teachers at HMS.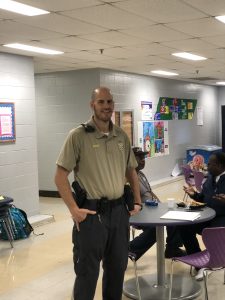 "I do daily security checks.  A lot of focus is on the exterior of the building.  Most of the time, a threat to a building will be an external threat, so I constantly check doors and entry points to make sure they're secure, but the teachers here do a great job at making sure doors are locked, and teachers are very visible in the building which helps a lot."
Because the main priority for Lt. Davis and all of the SRO's in HCS is to make sure students and staff are safe, he believes the easiest way to do that can be boiled down to a simple yet effective phrase: see something, say something.
"The most important thing I could tell students, staff, or parents is 'see something, say something.' If we don't know about it, we can't fix it.  That's where the trust and relationship building comes into play; if a student trusts you, they'll tell you if something is wrong."