Welcome Back!

Welcome to the 2015-2016 school year!  I am so excited to be back in school and serving the students and families of Haywood County Schools. While I must admit that starting a new school year creates a bit (well maybe a lot) of anxiety in me, it also creates an overwhelming sense of excitement.  Over the summer the HCS team and I have been planning and preparing for this new school year.  As always, we are grateful that we get to serve this community.

I am proud to announce that the administrative team for each of our schools will be returning this school year.  When you have the best team on board it is a blessing when you get to keep them in place and move forward.  We also have the majority of our teachers returning this year and again that is a blessing.  We have an amazing group of leaders and teachers who truly love the profession and they love the students they serve each day.

One of the big changes this year will be the transition from TCAP to TNReady, which is our new English Language Arts and Math assessment.  This new assessment will have a very different feel from the paper-pencil TCAP.  TNReady will be administered on-line and will have a variety of question types that will truly allow students to show their level of understanding.  You will be hearing much more about this new assessment from your school leaders and teachers, but in case you want to learn more on your own there is a great Parent Guide to Being TNReady on our HCS webpage.  This guide will answer many questions you may have and it will also provide additional resources so that you can help you have your children TNReady.

As always, if you have questions or concerns please feel free to contact me.  We want to work in partnership with you to make the best decisions for your children.  A child's education cannot be taken for granted.  It is the most worthy endeavor we can embark upon, and we are here to make sure it is a great journey for everyone.

Respectfully,
Teresa Russell
Superintendent
Haywood County Schools
Brownsville, Tennessee

Debbie Benard, Executive Administrative Assistant
benardd@k12tn.net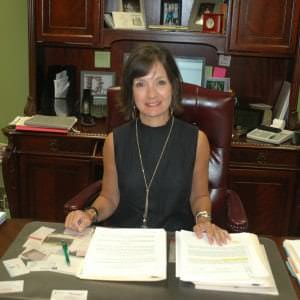 Superintendent of Schools Teresa Russell
Teresa R. Russell is a long time resident of Brownsville, Haywood County. She is a 1984 graduate of Haywood High School. She earned an Associate of Science, Elementary Education degree from Jackson State Community College, then graduated Magna Cum Laude from Lambuth University with a Bachelor of Science Degree in Elementary Education and Teaching in 1994. In May 2001, she earned a Master of Science Degree in School Administration and Supervision from the University of Memphis.
Mrs. Russell has spent her entire career in the Haywood County School System. She taught at East Side, then Anderson before being appointed the assistant principal at East Side Elementary in 2001. From 2003 to 2009, she served as Supervisor of Instruction PreK-12 for the school system. In July 2009, Superintendent of Schools Marlon King named her Deputy Superintendent of Curriculum and Accountability.
She is a 2010 graduate of the Leadership Haywood County class, serves as a First South Bank Advisory Board member, as a Boys & Girls Club and YMCA Advisory Board member and is a member of First United Methodist Church.