Junior ROTC
Haywood High School – Unit TN-944
Haywood High School is fortunate to be able to offer Air Force Junior ROTC to students with an interest in learning more about citizenship, aerospace science, leadership, discipline, and wellness. The unit takes several field trips during the year to learn more about aerospace science and United States History. Those staying in the program for three to four years also earn required credits in Government and Physical Education. Those who may decide to join the military after graduation also receive additional rank opportunities, as well as scholarship opportunities for college.
The instructors are retired Air Force veterans. These instructors work closely with students with the goal that the Junior ROTC cadet leaders take on much of the leadership work required to keep the unit running smoothly. There is a cadet military drill team that competes in military drill competitions against other schools. There is also a fitness team that competes in various fitness events in the region.  Other activities for cadets include an annual military ball, rocketry camps in the summer, and numerous service activities where the AFJROTC cadets actively serve their school and community.

Click the links below to open files as PDF documents:
News and Photos
HHS JROTC inducts cadets into the Kitty Hawk Air Society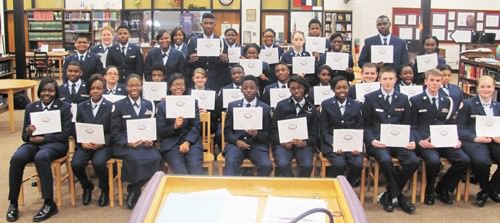 "The TN-944 AFJROTC recently inducted 53 cadets into the prestigious Kitty Hawk Air Society program. Requirements for induction are maintaining a 3.0 grade point average and having no disciplinary action taken during the semester. The responsibility for each cadet is to uphold the time-honored tradition of helping other cadets achieve their goals academically and continue to demonstrate leadership by example and exemplifying our core values: Integrity, Service, and Excellence.
Cadets inducted into the Kitty Hawk Air Society are Emily Adkerson, Erin Adkerson, Jackson Alford, Shakayla Alford, A'nya Allen, Treveon Bamks, Jordan Bell, Brianna Bond, Daniel Bradford, Kaitlin Coble, Bryce Currie, Markayla Davis, Cardaysia Douglas, Kayla Douglas, Tacorius Douglas, Desaray Driver, Porscha Fields, Teddy Frederick, Nakayla Gause, Bria Grant, Jataz Gray, Malik Green, Jerrod Hammond, Aaliyah Haynes, Anna Haynes, Tyeshia Houston, Destin Jameson, Hailey Kelley, Salud Kennamer, Chris Kent, Karyn Kinnon, Rachel Lomax, Deshavette Manns, Destiny McNeil, Lamonte Middlebrooks, Kesha Burton, Antasia Moore, Telcia Nelson, Aieral Oldham, Faith Peeler, Keyshia Pruitt, Jasmine Reece, Areionia Sangster, Samantha Sanders, Nakiya Seymour, Iyania Taylor, Austazghia Taylor- Welch, Joneshia Voss, Jalin Winters, Kaleb Witherspoon, Chris Hafford, Jamie Rodriguez, and Eriel Jones.
HHS Color Guard presents colors at Grizzlies game
Members of the Haywood High School JROTC Tn-944 Color Guard team presented our Nations colors at the Memphis Grizzlies game on December 8. They enjoyed the experience and watching the game after their presenation. Members of the Color Guard are Jaylen Winters, Kate Coble, Tradarious Woods, Erin Adkerson and Jasmine Reece. The team is under the direction of Sgt. John Parker.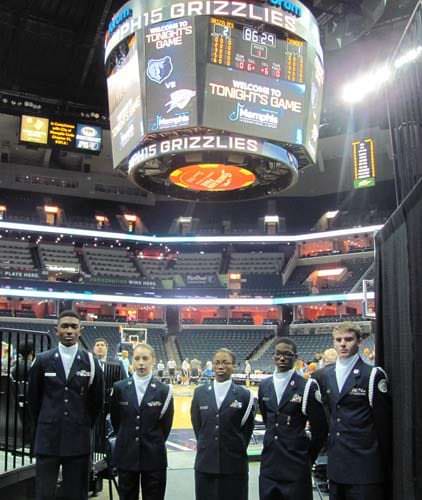 HHS JROTC Cadets honor veterans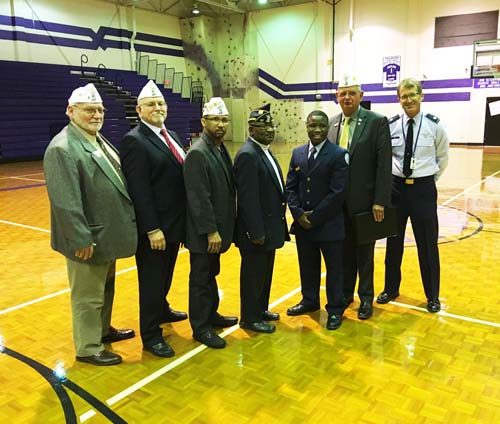 Haywood County's Veterans announced a new scholarship to be awarded each year to HHS JROTC TN-944's top two Air Force cadets. In honor of these veterans and to thank them for the opportunity to earn scholarship awards, the cadets of Haywood High School performed a Pass and Review, saluting them for their courageous service to their country.
HHS JROTC drill team wins first place, twice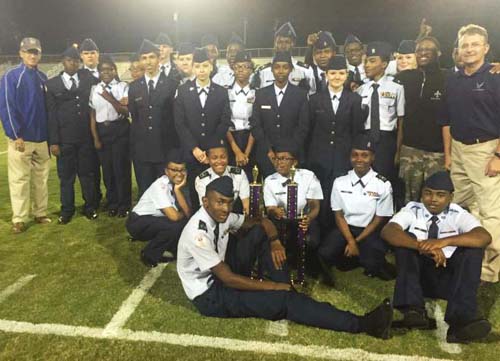 At the JROTC West Tennessee Drill competition on October 1, the HHS JROTC drill team competed against five other area schools and brought home two first-place trophies in Uniform Inspection and Knock Out Drill.
Archives