GEAR UP and others sponsor tours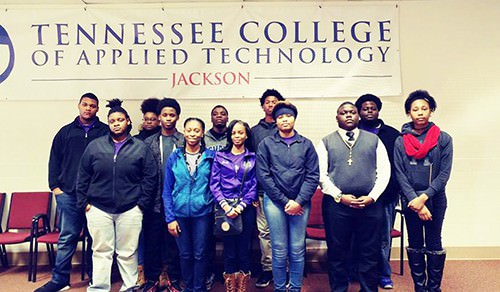 Haywood County GEAR UP TN provided tours at the Tennessee College of Applied Technology in Jackson and Lane College in January for 13 students who are Operation Success students at the Haywood High School REACH Academy. Students met with admission counselors at the TCAT, where they learned about the school and the various programs offered by the college. They were able to see the classrooms for auto collision repair technology HVAC, welding, drafting and CAD, and industrial electricity.
Afterwards, they toured Lane Campus, where they toured the campus, learned about the programs offered at the college, met with the college president, completed college apps, and dined on campus.
Operation Success is a new program piloted last semester at the REACH Academy to help students get college and career-ready with post-secondary options. Collaboration with Jackie Whitten with GEARUP, Cedric Bunch with the After School Program and Almeta Ellis with Brownsville Mayor Bill Rawls' office made these trips possible.
In addition to trips, guest speakers talk to the students, the students fill out job applications and college applications, and learn about dressing for interviews and how to present themselves to others. They also learn money management skills. There was a job fair last summer where local industries presented to the students on campus.