Thirteen graduate from REACH Academy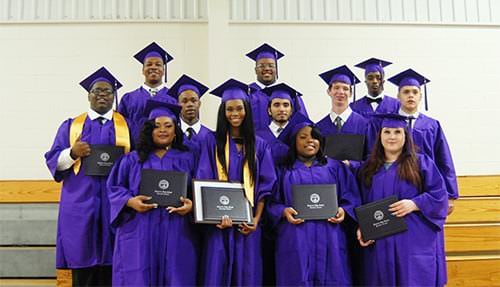 The REACH Academy, at its Sixth Annual Commencement Ceremony, celebrated the success of 13 graduates on Tuesday, December 13, at Sunny Hill Innovative Learning Center. These students received their Haywood High School diplomas as a large crowd of family, friends, teachers and REACH supporters celebrated with them.
Graduates were Valedictorian Shaderricka Foster, Salutatorian Donte' Easterling-Bowers, Luis Bautista, Donavan Bobbitt, Trayverius Byrum, Shaliya Chapman, Sam Doaks III, Tadarius Foster, Bailie Howard, Richard Martin, Carlos Savage, Tierre Spivey, and Kevin Steele.
Opening the program with a prayer was the REACH Class of 2016 Valedictorian Shaderricka Foster. Participating in the ceremony were REACH Director Drayton Hawkins, Graduation Coach Stephen May, Superintendent of Schools Teresa Russell, HHS Principal Dr. Jerry Pyron, and HHS Senior Class President Mikayla Flagg. Presenting the commencement address was Dr. Logan Hampton, President of Lane College, and Achana Jarrett, Director of the Haywood County Arts Council, presented a vocal selection.